SOAR Training in Key West
SOAR Training at JFK Special Warfare Center located on NAS Key West

Chuck, aka "Big Daddy" Meier puts some explanation to these pictures that Joyce and I took from Sigsby Naval Air Station Annex in Key West.
When Chuck saw this picture this is what he said "The Helo Pics brought back old Memories. I know exactly where you all were sitting when taking those shots. I have done my share of falling out of helicopters. That "Drop Zone" is appropriately named "Shark Drop Zone"."
Don't you just know that the trainees look forward to being dropped into the "Shark Drop Zone".
Chuck seems to think these pictures are capturing some SOAR training by the 160th Special Operations Aviation Regiment (Airborne) of the United States Army.
To give you an idea of what the 160th SOAR is all about I pulled this information out of Wikipedia:
"The 160th Special Operations Aviation Regiment (Airborne) is a special operations unit of the United States Army that provides helicopter aviation support for general purpose forces and Special Operations Forces. Its missions have included attack, assault, and reconnaissance, and are usually conducted at night, at high speeds, low altitudes, and on short notice. The 160th SOAR is headquartered at Fort Campbell, Kentucky. The 160th SOAR (A) are also known as the Night Stalkers and their motto is Night Stalkers Don't Quit."
Wikipedia also has this to say:
"The 160th SOAR (A) consists of the Army's best-qualified aviators and support soldiers. Officers volunteer while enlisted soldiers volunteer or are assigned. All soldiers receive intensive training upon joining the 160th and are required to pass the Green Platoon course. The basic Night Stalker course for enlisted soldiers lasts five weeks; the officer course 20 to 28 weeks. A new Night Stalker arrives to their unit Basic Mission Qualified (BMQ), after a series of test qualifications, experience and leadership, the Night Stalker is designated Fully Mission Qualified (FMQ).
So, what kind of missions do these folks do?
Do you remember "Somali and the Black Hawk Down" incident? If not here is a summary In October 1993 in Somalia, these guys were involved in the Battle of Mogadishu, which later became the subject of the book Black Hawk Down, and its film adaptation. Two of their Black Hawks, Super 6-1 (piloted by Cliff Wolcott), and Super 6-4 (piloted by Mike Durant), were shot down in the battle. Five of the nineteen men killed in the Battle of Mogadishu were members of the SOAR team, who were lost along with the two Black Hawks.
That is not all that they are involved in but it does give you an idea of the type missions they prepare for. In other words, bad, bad, bad stuff.
Our friend Chuck aka "Big Daddy" Meier who was a Navy Rescue Swimmer and very familiar with the training these folks were receiving had this to say about the following pictures and the training going on. "The Helicopters are CH-47 Chinooks, and the PAVLO SH-60's which both come standard with mid- air refueling probe and they are not just for looks. Most likely these helicopters are from the famed 160th SOAR unit. Which is a Very High Speed group of operators / pilots that take their jobs very, very, seriously. What these guys call normal flight ops will make your average pilot shit their pants suck their thumbs, roll up in the fetal position and hollar for their mommies. Normal flight ops for a SORE guy is classified as Nap of the Earth flying. And if a SORE pilot comes home with out branches in the landing gear he wasn't doing it right. Just to get in the 160th SOAR you have to be invited. It's the cream of the crop. You cant be a second rate throttle jockey and expect to make it. Being in SORE its not IF your going to get into the SHIT! --its WHEN .

Spy rigging training for the famed 160th SOAR unit
What is "spy rigging" you say? Well, it is a rope designed to be hung from a helicopter to which Special Forces have attached for the purpose of inserting them into or extracting them from dense jungle or other places where helicopters can not land. Sometimes it is called dope on a rope.
One thing I can assure you these folks will never be satisfied with a ferris wheel ride again....or any other ride at the local fair for that matter.
Spy Rigging EOD Sailors from a Sikorsky MH-60 helicopter out of San Diego
Five Sailors assigned to Explosive Ordnance Disposal Mobile Unit Three (EODMU-3), cling to a line beneath a MH-60S Knighthawk helicopter. The EOD Team was demonstrating "spy-rigging," an method used by Special Operations groups for hasty placement and extraction in hostile areas.

The men hanging on the end of this rope have their arms and legs extended to stop from spinning beneath the helicopter. Without arms and legs extended they will spin like a top.
Remember how much fun it was to hold your hands in the air at the top of the roller coaster? Well this experience takes "hold your hands out" to a whole other level. Amen!
Marines dangling from a "Spy Rope" rig as they are extracted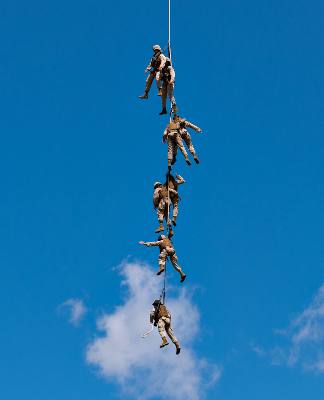 These marines are being extracted from a "land" environment whereas the pictures taken in Key West are of Army Special Operations trainees being extracted from the water.
No matter whether the extraction is from the water or dry land the ride has to be one these folks will never forget. Amen!
Army Special Operations guys training in Spy Rope Training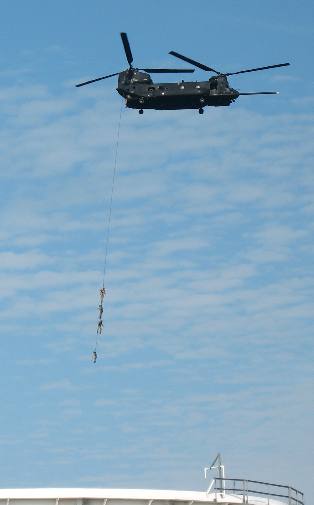 The Army Special Operations guys in this picture dangling below the CH-47 Special Operations Chinook helicopter were in training at the JFK Special Operations School in Key West, Florida.
Pave-Low modifications/upgrades were made to Special Operations that consisted of a variety of "upgrades" and special electronics such as, but not limited to:
Numerous electronic upgrades including– terrain-following radar, forward-looking infrared, ring laser gyro inertial, doppler integration, moving map display, hover coupler, and night-vision compatible lighting inside and out.
PAVLO SH-60 performing a "helocasting" training mission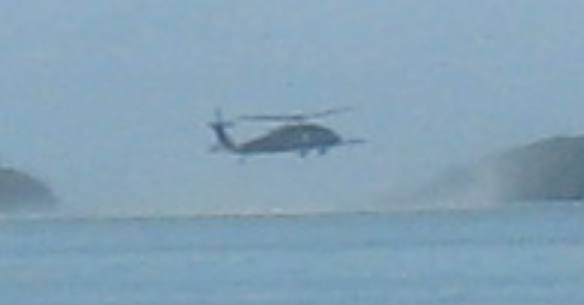 PAVLO SH-60's both come standard with midair refueling probe and they are not just for looks. Most likely these PAVLO SH-60s are from the famed
160th SOAR unit.
Helocasting is an airborne technique used by, Special Operations forces to insert into a hostile environment controlled by the enemy. The Special Operations Team is flown, by helicopter, to the insertion point. Once on site, the helicopter assumes an altitude just above the water's surface and an airspeed of 10 knots or less. Team members then exit the aircraft and enter the water.
Now the EXIT is the "fun" part thus the term "helocasting".
CH-53E Sea Stallion conducting a helo-cast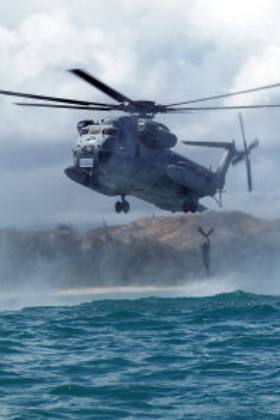 In this picture one individual is seen exiting the helicopter in this "insertion" training exercise.
In some cases, personnel may be inserted along with a inflatable boat for over-the-horizon operations. When a fully inflated boat is transported and inserted with personnel, this type of operation is known as a "hard duck".
The CH-53E Sea Stallion is a helicopter capable of inserting a fully inflated boat during a helo-cast.
In cases where a fully inflated boat cannot be accommodated by the aircraft as in an H-60, it can be partially deflated for transit and inflated at the insertion point by means of a foot pump.
This type of operation is known as a "soft duck". If inflation to any degree is not feasible, a "rolled duck" may be performed.
Once team members are in the water, they may swim to the objective or, in the case of a "hard duck", "soft duck", or "rolled duck", conduct an over-the-horizon transit to the objective, via the inflatable boat

Retrieving Special Operations troops via Spy Rigging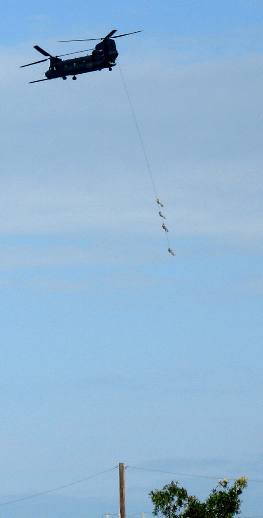 Once Special Operations Teams are inserted they must be retrieved. Rapid retrieval may be from land or from the sea. This spy rigging training was from the sea at the JFK school in Key West, Florida.
Keep in mind that these trainees, probably with the 160th SOAR unit have just been plucked from the waters off Key West in what is known as the "Shark Drop Zone". If the name of the drop zone don't just scare the bee jeebees out of you this thrill ride would.
Each of these trainees have been dropped into the water by another helicopter in an operation called "helo-casting". The Helicopter in this picture is a CH-47 Chinook outfitted for Special Forces work. Note the refueling probe sticking out the front of this CH-47. That refueling probe enables the CH-47 to be refueled in flight thus vastly extending its range.
I want to thank Chuck "Big Daddy" Meier for helping me describe these pictures. Big Daddy was a Navy Rescue Swimmer before becoming a contractor working for SOC (Special Operations Command) during the Iraq War years.
Chuck currently resides in Key West with his wife Dallas and works at the world famous Steel Horse Saloon.
Chuck aka "Big Daddy" Charles Meier during good times in the Iraq Sand Box
Chuck aka "Big Daddy" experiences a Bad Day in the Sand Box
Chuck aka "Big Daddy" Charles Meier's Life as a Rescue Swimmer for the US Navy
Chuck aka "Big Daddy" Meir at the world famous Steel Horse Saloon
Order "Big Daddy's" Book "Letters from the Sand Box"
Until next time remember how good life is.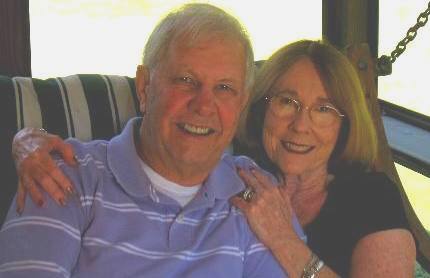 Mike & Joyce Hendrix who we are
We hope you liked this page. If you do you might be interested in some of our other Travel Adventures:
Mike & Joyce Hendrix's home page
Travel Adventures by Year ** Travel Adventures by State ** Plants ** Marine-Boats ** Geology ** Exciting Drives ** Cute Signs ** RV Subjects ** Miscellaneous Subjects
We would love to hear from you......just put "info" in the place of "FAKE" in this address: FAKE@travellogs.us
Until next time remember how good life is.