Cobia Fishing off Pensacola, Florida
Cobia fishing trip out of Pensacola, Florida
Life is not all about trips in our motorhome unfortunately. Sometimes we stop by our stick & brick house in Pensacola. Joyce spends as much of her time as possible with Stephen our Grandson while I spend the majority of my time reading, studying and more reading in preparation for our next trip along the Lewis & Clark Trail this summer.
Thankfully, I also did some fishing.
Mike with nice cobia
Jeff, my son, invited me to go cobia fishing one day in early April. Cobia fishing is exciting and I never pass on a chance like that. Cobia are big fish that look remarkably like sharks. They spend winters in the warm waters of the Caribbean and south Florida. As water temperature begins to rise cobia began their annual migration to the northern Gulf Coast.
Sight fishing for Cobia is the method that provides so much excitement. We were fishing on a private 35' sport fisherman equipped with twin diesels and a huge tower. Controls for running the boat are located in the tower. The tower provides a super platform to spot migrating cobia.
Once in the Gulf we positioned ourselves about ½ mile off the beach and headed east, toward Destin, at about 5-knots. The young whippersnappers positioned themselves in the tower where visibility was best. I stayed down below where I could "work-the-deck".
They spotted several leatherback sea turtles, a few green turtles and some migrating rays. Cobia are known to travel with these sea creatures so we spent time circling each looking closely for cobia. Then Jeff spotted a lone cobia and cast to him from the top of the tower. The cobia did not take his bait. The boys up top circled the boat around keeping an eye on the fish. A second cast put the live eel in front of the cobia. It was a perfect cast and the big cobia swallowed that slimy eel like it was Blue Bell ice cream.
That is when the fun began. The fish was 40-pounds and not happy about being hooked. Chris had hooked the fish from the tower. Picture if you can Chris fighting that big cobia 30' up in the tower. The rod & reel with that fish on needed to be on the deck where it would be easier to fight and land.
Getting the reel & rod, with the wild fish on the business end, down to the deck where the fight can continue is a modern marvel. This boat has a pulley system from the top of the tower to the deck. Attached to the pulley rope is a "substantial-clip". Chris deftly attached the reel & rod to that clip and motioned for me to pull it down. It is an ingenious rig. Since I was working the deck the rod with the fish on was sent down to me. I unclipped the reel & rod and fought the cobia for about 20-minutes before it tired and we were able to boat it.
Did I catch that cobia? Not really but I had a hand in it. Jeff spotted the fish, Chris hooked it. I reeled it in and Chris netted it while Jeff kept the boat in position. I probably had the easiest job since all I had to do was hang on and reel.
It was a pretty fish. Unfortunately, we only saw one other cobia and it was not hungry. Did I mention how good they are to eat?
Until next time remember how good life is.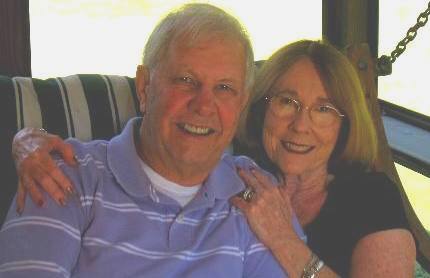 Mike & Joyce Hendrix who we are
We hope you liked this page. If you do you might be interested in some of our other Travel Adventures:
Mike & Joyce Hendrix's home page
Travel Adventures by Year ** Travel Adventures by State ** Plants ** Marine-Boats ** Geology ** Exciting Drives ** Cute Signs ** RV Subjects ** Miscellaneous Subjects
We would love to hear from you......just put "info" in the place of "FAKE" in this address: FAKE@travellogs.us
Until next time remember how good life is.