Charles "Big Daddy" Meier - Iraq
Chuck and Andy in 2004 in a little place called Ramadi, Iraq. Andy is one of Big Daddy's great friend's and one of the best fire arms instructors ever.
Big Daddy says "Andy has forgotten more about weapons and fire arms then I will ever know. A great guy and one hell of a gun slinger"
Chuck says "Andy takes not just tactical shooting, but shooting in general to a whole new level. A real Jedi. He was with me right after I was blown up (more on that later). The company sent him along with my ass for moral support. We stay in touch" to this day."
That would be one of the tools of the trade, Barrette 50 Cal. Beautiful
weapon, used during those times that you may need to reach out and touch savages from afar. Not something that you would use for an everyday shooter, cause it kicks like a mule, but will knock damn near anything with a motor or a heart beat out of commission .
It can and has been used as a SASR—"Special Applications Scoped Rifle", and is used as an anti-materiel rifle and explosive ordnance disposal (EOD) tool.
The long effective range, over (1 mile), along with high energy ammunition, allows for effective operations against targets like radar cabins, trucks, parked aircraft etc.,. The M82 can also be used to defeat human targets from standoff range or against targets behind cover.
Big Daddy was visiting a good friend who builds Custom Fire Arms, ( Tom Carbone ) AKA Tommy Glock. He just happened to have one laying around the office. Now ain't that a cool day at the office.

In Chuck's words:
"This was my Iraqi rescue. I found it as a fuzzy little puppy in the
desert, Hodji's were kicking at her, and throwing rocks at her.
Mostly because they are fucking savages, compounded because their religion believes that dogs are unclean and should not be touched. So in their philosophy they should kick it, throw rocks at and stone it to death. Now, I have a warm spot in my heart for dogs and puppies. So, I Slapped the the dog shit (no pun intended) out of several Hodjis, to save her. I put this little puppy in my helmet and fed it M.R.E.'s (Meal Ready to Eat). That brought her back to life and that's how she got her name M.R.E., pronounced Marie. She stayed with me the whole time I was in An Najef.

Marie ended up being the perfect guard dog, and became our "Compound Dog".
Marie hated the Hodji as much as they hated her. She hated them back 10-fold.
This worked out great for me. Extra eyes on the ground and nose in the air. She would not let a Hodji with in 50-yards of my ass with out sounding an alarm. Marie had a vicious bark, and the Hodji's Knew I would let her bite the hell out em if they didn't pay respect and keep their distance. Hell I liked that dog more then I like most of the Hodji's . Marie was a hell of a companion, had a great personality, unconditional love and funny as hell.
Never bitched about anything. She was always by my side. She would sleep with me at night, go out on patrol with me. When I left to rotate out of country the first time I had to leave her in Iraq, because at that time the government would not let her clear customs. I gave her to a team mate & friend of mine named Billy . He was a professional dog handler and trained her to be a bomb/drug dog. When Billy's time was up, he was able to bring MRE back State Side. MRE (Marie) currently lives in Louisiana with him.
Big Daddy shooting the coveted AT-4.
This is a one shot Anti Tank Weapon. One time use. The launcher and projectile are manufactured prepackaged and issued as a single unit of ammunition with the launcher discarded after a single use. Quoting Chuck it is "basically a BIG Ass PVC pipe with a kick ass rocket in it."
Big Daddy went on to clarify what was happening......"We found a place in Ad Diwaniyah that a group of Hodji's rat holed a house full of rocket fuel that they were not supposed to have and didn't want to give it back either. It it was my job to remove it from the planet. Mission accomplished, you should have seen the fireball."
In Chuck's words "the 4th of July ain't got shit on me."
Big Daddy with a gun we picked up out of an old Ammo Cache they found. They pulled it right out of the cosmaline, a grease used to keep it from corroding.
Chuck identified the gun as a Sten (or Sten gun) which was a family of British 9 mm submachine guns. In Big Daddy's opinion it was a great piece of equipment and he loved shooting the thing..
Big Daddy went on to explain that Sten was the manufacturer and they used simple stamped metal components and minor welding, which
required a minimum of machining and manufacturing. Much of the production could be performed by small workshops, with the firearms assembled at the company site. Over the period of manufacture the Sten design was further simplified: the most basic model, the Mark III, could be produced from five man-hours work. Some of the cheapest versions were made from only 47 different parts. It was distinctive for its bare appearance (just a pipe with a metal loop for a stock), and its horizontal magazine. The Mark I was a more finely finished weapon with a wooden foregrip and handle; later versions were generally more spartan, although the final version, the Mark V, which was produced after the threat of invasion had died down, was produced to a higher standard.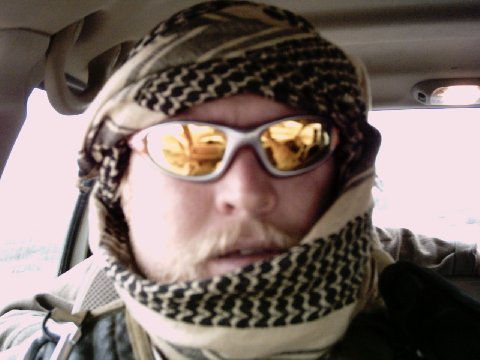 A shemagh is worn as part of men's Arab and Middle Eastern clothing. It's a scarf worn on the head. It comes in multiple colors and patterns.
Saudi's mostly wear the red and white patterns. The rest of the Arab
world wear both red and white and black and white. Other colors have
started to become popularized matching the colors with the color of the
various Arabic disdashas or thobes.
This is a self portrait of Big Daddy's sweet ass on one of his first convoys in 2003. It was taken some where between Baghdad and Bucca.
A shemagh was one of the first things that you would get as a Contractor. It was classified as gucci gear. It was an attempt to
blend in, not likely when your riding around in an ford F-350 but what the heck.
Hodji hasn't been wearing them for the last thousand years because they don't work in the environment that is lived in. This was a functional fashion
disaster, but the purpose was served.
Don't you just love the "LOOK", tan shemagh with high lighted oakley glasses. The shemagh, or head Scarf is great for keeping the sun off your head, wind and dust out of your face and at night cold off your neck. It is also great as concealing your identity. During the day and on long patrols you can also wet them down and remain cool. Chuck and his buds had a saying, "if you can't be cool, look cool"... and "Big Daddy" sure do look cool..

This is what remains of Big Daddy Meier's Ford F-350 up-armoured truck. This is what contractors were using in the sand box. They were very useful for the climate. But, as you can see not very good protection from a 155-MM IED (as in Improvised Explosive Device). At least Chuck says this is what did the damage since that is what the investigation team wrote in their report.
This picture was taken in northern Tikrit, Iraq home to the late Saddam Hussein. Big Daddy and his company were on an old tank base providing security to EOD crews cleaning up tons of unexploded ordinance.
This is the scene that ended Chuck "Big Daddy" Meier's career in Iraq.
From here, with severe, wounds Big Daddy was flown to Germany then back to the states.
You can read the complete story of "Big Daddy's" years in the Sand Box in his book "Letters from the Sandbox" available here:
Boys and Girls we are going to finish this story in the next travel log..... "Bad Day in the Sand Box". Things really did turn bad as you can imagine from the looks of this vehicle. Click here to finish the story "Bad Day in the Sand Box".
Big Daddy's Bad Day in the Sandbox
Chuck "Big Daddy" an icon (DJ & Head bouncer) at the World Famous Steel Horse Saloon in Key West, Florida
Chuck "Big Daddy" life as a Navy Rescue Swimmer
Big Daddy Meier has written a book "Letters from the Sand Box" that you can order here: Letters from the Sand Box
Until next time remember how good life is.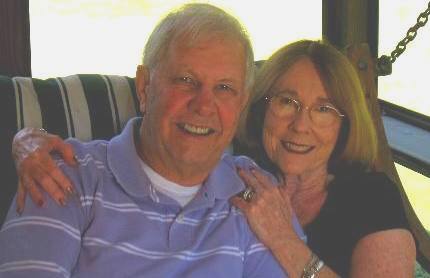 Mike & Joyce Hendrix who we are
We hope you liked this page. If you do you might be interested in some of our other Travel Adventures:
Mike & Joyce Hendrix's home page
Travel Adventures by Year ** Travel Adventures by State ** Plants ** Marine-Boats ** Geology ** Exciting Drives ** Cute Signs ** RV Subjects ** Miscellaneous Subjects
We would love to hear from you......just put "info" in the place of "FAKE" in this address: FAKE@travellogs.us
Until next time remember how good life is.