Red Rocks Amphitheater Morrison, Colorado
This is a picture taken one afternoon at Red Rocks Amphitheater in Red Rocks Park near Morrison, Colorado. We are near the top of Red Rocks Amphitheater looking to the northeast. Denver is in the distance. Red Rocks Amphitheater seats over 9,000 and the acoustics are great for outdoor venues.
This huge monolith is located on the north side of Red Rocks Amphitheater What you are looking at is 300-million year old sandstone, shale and conglomerate deposited during the Pennsylvanian and Permian eras.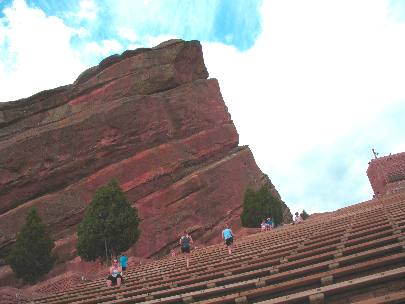 This is a view of the sandstone monolith on the south side of Red Rocks Amphitheater You can see the various bands of sandstone, shale and conglomerates deposited around 300-million years ago then pushed up or "uplifted" to this 45-degree angle during the formation of the present day Rocky Mountains.
This picture is looking across Red Rocks Amphitheater somewhere near the bottom..
Until next time remember how good life is.
Mike & Joyce Hendrix who we are
We hope you liked this page. If you do you might be interested in some of our other Travel Adventures:
Mike & Joyce Hendrix's home page
Travel Adventures by Year ** Travel Adventures by State ** Plants ** Marine-Boats ** Geology ** Exciting Drives ** Cute Signs ** RV Subjects ** Miscellaneous Subjects
We would love to hear from you......just put "info" in the place of "FAKE" in this address: FAKE@travellogs.us
Until next time remember how good life is.