Key West Characters Sapodilla tree & Chicle
February, 2010
We are dry camping along with some 700 other RV'ers at the Navy Base here in Key West. Actually, there are two bases within the NAS Key West complex that make up the 700-plus campsites. The two locations are at Sigsby and Trumbo Point. Sigsby is located 3 to 4 miles from "Duval Street" in Key West while Trumbo Point Campground is located 6 to 8 blocks from "Duval Street". We are staying at Trumbo Point, an easy walk to Duval-Street. But remember this is Dry Camping. There is central dump station and fresh water. Generators can run from 6am to 10PM. Life is good.
Commercial Campgrounds in Key West start at $100 a night and are located about 5-miles from Duval Street. Parking in Key West starts at $13 a day and goes up. The $13 parking site is about 6 blocks from Duval Street. The closer you get to Duval Street the more expensive the parking site.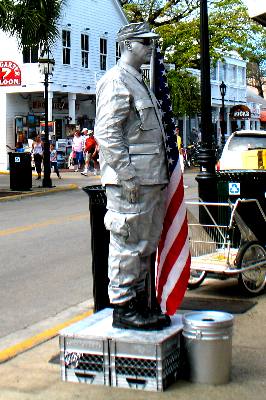 While this might look like a statue I can assure you it is not. This is a live individual. He is painted in silver except for his boots. He stands perfectly still. Sometimes he will shout Hooooooo Raaaaaaa. You know that thing Marines are known for shouting. Folks go by and pose for pictures then donate a dollar or so in his silver tip bucket.
Joyce got good at walking by this fellow without making eye contact. When she would get right in front of him she would shout Hoooooo Raaaaa to which he would smartly salute and shout back Hoooooooo Raaaaaaa. Passer-bys loved it and he got used to Joyce passing by and sparring with him. The best part of it all was neither would make eye contact. All the Hoooooooo Raaaaaa's would take place as if rehearsed. Joyce would continue walking like nothing had happened.
Biker with yellow parrot riding on his head riding down Duval Street in Key West
This biker has a yellow parrot on his head. The yellow parrot is hard to see but if you look close you can see it. In Key West you never know what you will see next. One never know what they will see riding down Duval Street in Key West.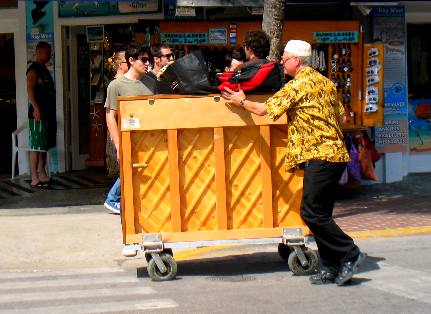 This is a local musician. He has his piano mounted on those wheels. You can see him pushing his piano down Duval Street or a variety of other streets for that matter as he makes his way from one gig to the other. Here he is on Front Street, across the street from Sloppy Joe's, about to turn on Duval Street.
Here he is on Duval Street headed to an afternoon gig at Hogs Breath Saloon. He will push that piano down Duval Street to where you see those bicycles parked on the other side of Duval Street. He will turn into the Parking lot by those bicycles and make his way to the stage at Hogs Breath Saloon.

He plays another gig at B.O.'s Fish Wagon which is about 8-blocks away after he gets done at Hogs Breath
This fellow has a large parrot riding on his shoulder while riding down Duval Street.
Sapodilla tree & Chicle the Key West Story
This is a sapodilla tree. You do know about a sapodilla tree, don't you. Well, just in case you have led a sheltered life I will share a little about the sapodilla tree and why you can find sapodilla orchards in some places. In order to enlighten you, assuming that you need enlightening, I will first tell you that a sapodilla tree is important because it produces chicle. Chicle is the gummy sap of the Sapodilla tree. Now I am sure you know what the significance of chicle is, don't you. OK, if not then I will give you a another clue: In the early 1870's chicle began to replace beeswax as the main ingredient in chewing gum.
Chicle is where the brand name Chicklets came from ---- and I know you have heard of Chicklets.
Now to the significance of the sapodilla tree you see in this picture. This tree is the last surviving tree from a large sapodilla orchard that once thrived here in Key West.
Now aren't you glad you know where the gum in chewing gum comes from?
This character is just one of many in Key West. This fellow makes his living dressed as a pirate complete with peg-leg and a parrot riding on his shoulder. Tourist gladly give him a few dollars to get their picture made with him and his parrot.
From what we can see he actively plies his shtick while the cruise ships are in port.
"Sign Guy" with buddy "God Hates USA" demonstrating on Duval Street in Key West, Florida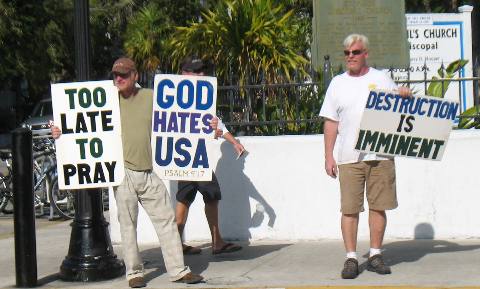 The guy on the left is known colloquially as the "Sign Guy" or the "God hates Fags" guy. I have no idea who his buddy is today. The signs completely baffle startled tourists on Duval Street. Most tourist will still be scratching their heads when they sail away on the cruise boat.
The "sign guy" sans his accomplice generally stands on street corners around the tourist areas with signs that say"God Hates Fags" or "God Hates USA".
The "sign guy" and his accomplice are some rather normal looking characters. I watched these characters display their signs to traffic on Duval Street one afternoon. Joyce was shopping in a store while I rode the bench outside when I decided to take this picture. There are so many "out of the ordinary" characters and sights in Key West it is difficult deciding which is significant enough to include in a travellog. The longer I watched these two the more I got to thinking about what the voices in their heads were telling them. I asked the other folks around me what the signs were about and no one seemed to know. One man did say that the other side of the sign with "God Hates USA" on it said something about gays. So that may be what the voices they hear in their heads are referring to. I tried hard to "understand" their message and see if I could determine where they were coming from. I looked up Psalms 9:17 which reads: The wicked shall be sent away to hell; this is the fate of all the nations forgetting the Lord. The other two signs did not have a reference leaving me to wonder why the voices in their heads are saying it is "too late to pray" and "Destruction is Imminent". I might have been able to piece together some significance if they would have just attached references. They do look normal except for the signs, you might see one of these fellows at a NASCAR event but probably not the opera. Without the signs they would not have made my "Characters of Key West" travellog.
Until next time remember how good life is.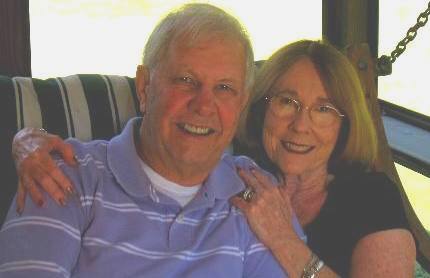 Mike & Joyce Hendrix who we are
We hope you liked this page. If you do you might be interested in some of our other Travel Adventures:
Mike & Joyce Hendrix's home page
Travel Adventures by Year ** Travel Adventures by State ** Plants ** Marine-Boats ** Geology ** Exciting Drives ** Cute Signs ** RV Subjects ** Miscellaneous Subjects
We would love to hear from you......just put "info" in the place of "FAKE" in this address: FAKE@travellogs.us
Until next time remember how good life is.