January 31st, 2009
This travellog covers several days of exploring Key West eating key lime pie, and keeping a close eye on B.O's Fish Wagon Restaurant near the large marina in Key West.
We are dry camping on the Navy Base at Trumbo Point in Key West. I am a retired DOD civilian and the Navy allows retired DOD civilians to camp in the Navy facilities as long as there is space available. We are paying $12 a night to dry camp on a grass field along with over 600 other RV's. All I can say is: It is wonderful.
Key West has a long and storied history. The plaque on this old tree attest to a small portion of that history.
Many Cubans have lived on Key West since the 1800's and are a large part of the community and the communities history.
The Florida Keys are Key Lime pie country and Key Lime pie shoppes are as prevalent as bars.
To make Key Lime pie easier to "eat & run" they invented the Key Lime Pie Bar.
Did I mention Key West is a good place to get fat?
Captain Tony passed away in November of 2008. Capt. Tony was a local legend and character that among other things was elected Mayor of Key West. Capt. Tony's Saloon is located in the Old Town District of Key West.
Several of these markers and guide posts adorn Key West.
Names of some bars & eateries are special, including this one.
Parking in Key West is at a premium as is real estate. This is typical parking for a million dollar place only a few blocks off Duval Street. Note the motor scooter in front of the white electric vehicle.
Joyce took this rooster's picture as he was prancing around the District Attorney's reserved parking space at the Monroe County Court House.
Celebrity cruise line had one of their monster cruise ships at the dock. The boarding ramp is down the path those folks are walking.
This is the other half of the ship that did not fit into the above picture. Like I said it was a big cruise ship.
Joyce was trying to get that sail boat that was passing under the bow of the cruise ship.
Communities have distinctive ways of decorating. Key West is no different, however, it does not fit any mold. This derelict bicycle was hanging from the second floor of an obvious flop house. It had been in that position for some time since it was decorated with Christmas lights. Nothing you see in Key West should shock you.
B.O.'s Fish Wagon a wildly popular sea food restaurant near the wharf. What roof it has is salvaged tin. The bar these folks are eating and ebbing at is on the sidewalk. You can see a parking meter if you look closely. This place does a brisk business probably because of their prices. Other sea food places are on the water and have to charge for their prime real estate. Besides, the flavor of Key West walks past your dining position on the sidewalk providing the entertainment that other places pay to provide.
The fellow in the middle of this picture is a Jimmy Buffetesque performer at B.O.'s Fish Wagon sidewalk eaterie. Note how he blends in with the diners who really aren't paying attention to his crooning. Such is Key West. I suspect he is performing for a fish sandwich since I am fairly sure the establishment doesn't spring for any entertainment.
This is what the side of that restaurant looks like late at night. Talk about a "fish house" B.O.'s is ------ well it says fish wagon. VBG
Now Love Lane is a cute name for a street.
These colorful crab trap buoys were hanging across a store door that was not in use.
This rooster was seeking shade on the front porch of a nice residence.
One of the upscale places to stay in Key West.
And another upscale Inn.
Chickens were perched on a fence out of the way of the resident yapping hair ball (dog). Most roosters we see are only chasing one hen. This bad boy has three chicks that are courting him it seems. He has no idea what kind of trouble that is going to lead to. VBG
Until next time remember how good life is.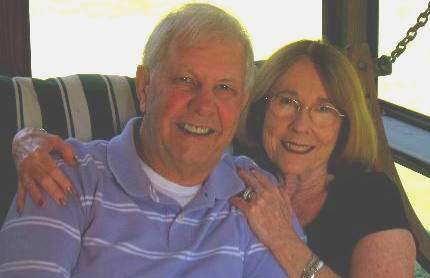 Mike & Joyce Hendrix who we are
We hope you liked this page. If you do you might be interested in some of our other Travel Adventures:
Mike & Joyce Hendrix's home page
Travel Adventures by Year ** Travel Adventures by State ** Plants ** Marine-Boats ** Geology ** Exciting Drives ** Cute Signs ** RV Subjects ** Miscellaneous Subjects
We would love to hear from you......just put "info" in the place of "FAKE" in this address: FAKE@travellogs.us
Until next time remember how good life is.