January 25th through 29th, 2009
This travellog covers several days of exploring Key West.
We are dry camping on the Navy Base at Trumbo Point in Key West. I am a retired DOD civilian and the Navy allows retired DOD civilians to camp in the Navy facilities as long as there is space available. We are paying $12 a night to dry camp on a grass field along with over 600 other RV's. All I can say is: It is wonderful.
Island colors and palm trees on display.
Gingerbread and sherbet colors on display near the southernmost spot in the continental USA.
Fine example of "gingerbread" architecture in this old Key West, Florida home
Ginger bread is "Key West" --- especially on the older restored homes.
Gingerbread architecture and Island Colors displayed on this Key West, Florida house
Gingerbread and island colors are showcased on this old home.
Reported to be Kenny Chesney's Key West "cottage"
Kenny Chesney's new "cottage" in Key West. This is one of Kenny's "secret" hideaways it just happens to be in Margaritaville. Virtually no one knows Kenny has a house on Key West (he only recently purchased it). We only found out because we met the owner of one of the hottest nightspots on Duval Street, it was late, and the libations were working, and we were interested listeners. We had been discussing musical talent in Nashville and how he wished he could attract some of that level talent to his place.
If you are really interested contact me and I will give you an address.
We learned several years later that Kenny may never have purchased the house or if he did he quickly turned it. Rumor has it that he has a place on Sunset Key. Having a place on Sunset Key makes more since than this residence only two houses off Duval Street in Old Town Key West makes more sense.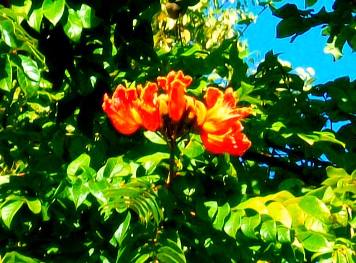 This bloom is on an African Tulip tree growing on the Earnest Hemingway estate in Key West.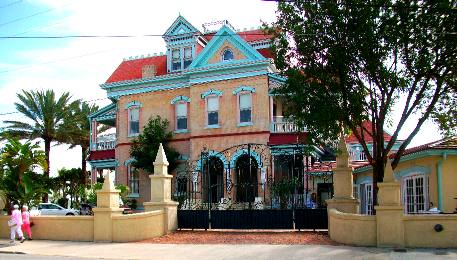 And folks this grand old house is the "Southernmost House" in the continental USA.
This is the sign outside the Southernmost House pictured above.
Until next time remember how good life is.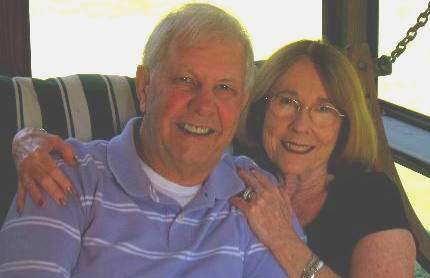 Mike & Joyce Hendrix who we are
We hope you liked this page. If you do you might be interested in some of our other Travel Adventures:
Mike & Joyce Hendrix's home page
Travel Adventures by Year ** Travel Adventures by State ** Plants ** Marine-Boats ** Geology ** Exciting Drives ** Cute Signs ** RV Subjects ** Miscellaneous Subjects
We would love to hear from you......just put "info" in the place of "FAKE" in this address: FAKE@travellogs.us
Until next time remember how good life is.