Key West
Sunset Celebration at Mallory Square in Key West, Florida
January 25th through 29th, 2009
This travellog covers several days of exploring Key West.
We are dry camping on the Navy Base at Trumbo Point in Key West. I am a retired DOD civilian and the Navy allows retired DOD civilians to camp in the Navy facilities as long as there is space available. We are paying $12 a night to dry camp on a grass field along with over 600 other RV's. All I can say is: It is wonderful.
Mallory Square crowd gathering for the nightly sunset celebration a Key West, Florida tradition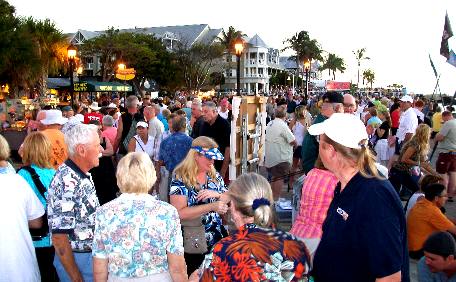 Joyce shot this picture of the crowd gathered at Mallory Square for the evening sunset ritual. There is actually three to five times this many people you just can't get them all in a single picture.
And this is the event that everyone is gathered to watch.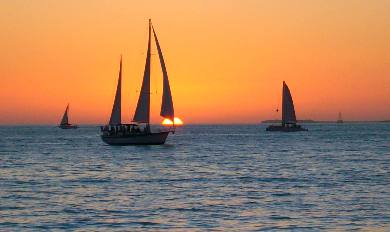 The big event only lasts a few minutes but this Key West sunset does not disappoint.
Gulf Shrimper facing angry storm clouds as it approaches Key West, Florida
You can see all kinds of interesting sights while gathered at Mallory Square in Key West waiting on the Sunset Celebration.
Joyce snapped this picture of a cold front moving over the Gulf of Mexico as a lone shrimp boat makes its way to port. This cold front wreaked havoc on the heartland and extended freezing temperatures deep into Florida. We have been seeing news reports on this front as it made its way south, now it has finally reached us. We were in the mid-80's this morning with high humidity. By evening we were in the 60's and the wind was blowing a gale that continued all night. This front emptied the swimming pools. Halter tops and short shorts were quickly replaced with long sleeves and jeans. This picture shows the leading edge of that cold front. It was a bad boy. Kentucky got hit especially hard when it rolled through there.
Sea birds flying past Mallory Square in Key West, Florida
It is a certainty that those gathered at Mallory Square in Key West for the Sunset Celebration will witness several of these seabird flybys.
We enjoyed watching this large congregation of sea birds that massed around a parking lot near our campground in front of a cold front that moved through this morning. Note how the sky is overcast now that the front has moved through.
Seabirds milling around Mallory Square prior to the evening sunset celebration in Key West, Florida

Several thousand of these birds milled in the area mostly resting on the parking lot but would take to the air on occasion then settle down just as quick.
Until next time remember how good life is.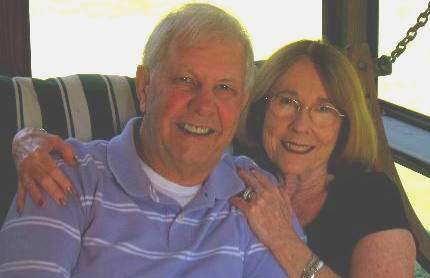 Mike & Joyce Hendrix who we are
We hope you liked this page. If you do you might be interested in some of our other Travel Adventures:
Mike & Joyce Hendrix's home page
Travel Adventures by Year ** Travel Adventures by State ** Plants ** Marine-Boats ** Geology ** Exciting Drives ** Cute Signs ** RV Subjects ** Miscellaneous Subjects
We would love to hear from you......just put "info" in the place of "FAKE" in this address: FAKE@travellogs.us
Until next time remember how good life is.