Tropical Vegetation Big Pine Key, Florida Keys
January 24th, 2009
This travellog covers our day trip from Key West to Big Pine Key.
We are dry camping on the Navy Base at Trumbo Point in Key West. I am a retired DOD civilian and the Navy allows retired DOD civilians to camp in the Navy facilities as long as there is space available. We are paying $12 a night to dry camp on a grass field along with over 600 other RV's. All I can say is: It is wonderful.
We drove the almost 30-miles to Big Pine Key for the day. We had heard about the Flea Market on Big Pine Key and also wanted to eat at the No Name Pub plus there was an old abandoned "Bat House" on one of the Keys between Key West and Big Pine Key. We didn't find the bat house but we did have fun at the Flea Market which is a big-event on Saturdays for the entire lower Keys. If you are in the area make plans to head by that Flea Market on Saturday morning and bring an appetite. There is good fresh sea food served for a really good price at the concession stand.
Beautiful coconuts turning ripe in someone's yard.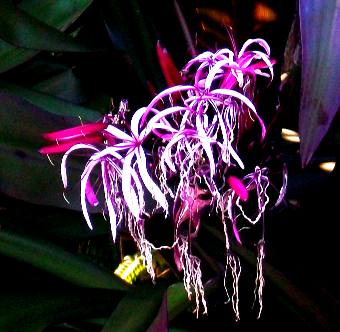 This bloom is on a giant red leaf crinum lily. They are beautiful to say the least.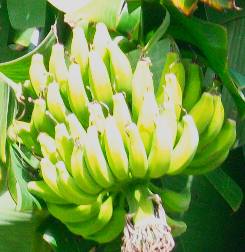 These bananas were growing in someone's yard.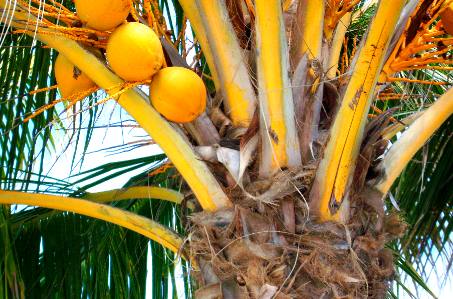 Coconuts on a coconut palm.
The flower of the banana plant is sometimes referred to "banana heart" or "banana blossom". When a banana plant is large enough to bloom and bear fruit that purple-maroon torpedo shaped growth you see in the picture appears out of the top of the stalk. This purple-maroon growth is in layers, called "bracts", which peel up each day revealing the flowers, which appear in groups, called "hands". Each day, after some hours, the bract and the blossoms will fall off. This opening of one of the bracts and exposing flowers is virtually a daily occurrence until all flowers have been exposed.
Tiny bananas that still have the flower attached.
You can still see the flowers on the ends of the new bananas. Now you know how the bananas you like form in that beautiful purple heart or blossom.
These blooms are on an orchid tree.
Coconuts littering the ground.
A travelers palm showing off outside an establishment dressed in Caribbean colors.
African tulip tree bloom on display in residential yard in the Florida Keys
This bloom was on a large African tulip tree. Trees covered with these bright red/yellow flowers are sights to behold.
Papayas are common fruit trees on Big Pine Key and indeed the entire Florida Keys
Papayas that are NOT ripe.
Until next time remember how good life is.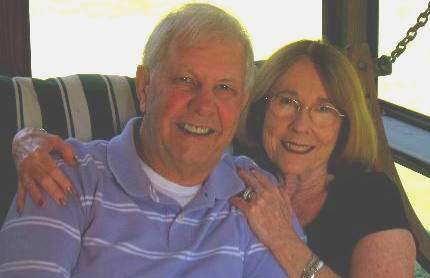 Mike & Joyce Hendrix who we are
We hope you liked this page. If you do you might be interested in some of our other Travel Adventures:
Mike & Joyce Hendrix's home page
Travel Adventures by Year ** Travel Adventures by State ** Plants ** Marine-Boats ** Geology ** Exciting Drives ** Cute Signs ** RV Subjects ** Miscellaneous Subjects
We would love to hear from you......just put "info" in the place of "FAKE" in this address: FAKE@travellogs.us
Until next time remember how good life is.