Muley Point overlooking the San Juan River
Muley Point overlooking the San Juan River in Utah
May 19, 2007.
We stayed in Cottonwood Campground in Bluff, Utah. Several private RV-Parks were available in Bluff. We chose Cottonwood. The others were just as nice. One mile west of town is Sand Island Department of the Interior Campground with no utilites. It was OK as well. Cottonwood was $20 for a FHU site.
We had a list of things we wanted to experience today and all of them were around Mexican Hat, Utah. We covered our ride to Mexican Hat in another travelogue. In this one I am going to cover our visit to the Great Goosenecks of the San Juan River and our ride out to Muley Point.
To get to the Goosenecks one has to drive east out of Mexican Hat on US-163 for about 5-miles then turn north on SR-261 for about a mile before turning west on SR-316. Within 4-miles or so you arrive at the parking area where you can view the Great Goosenecks of the San Juan River.
From the Goosenecks we backtrack the 4-miles or so on SR-316 to SR-261 and head to the famous Moki Dugway and Mulie Point Overlook.
To get to Mulie Point one has to experience climbing the Moki Dugway because you have to turn west off SR-261 at the top of the Moki Dugway.
The climb up the Moki Dugway is covered in another travelogue. So for now I am going to skip over the Moki Dugway and go directly to where we turned off SR-216 onto Muley Point Road at the top of the Moki Dugway. Don't worry Muley Point road is well marked at the top of the Moki Dugway.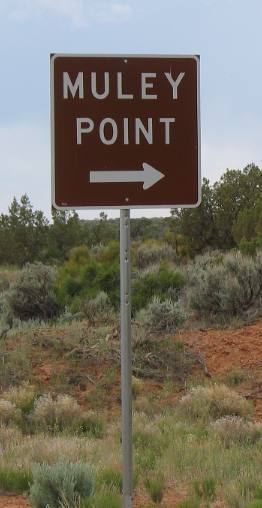 Muley Point Road is a fairly well maintained road for this part of the world. As you can see it is gravel and dirt.
Before you can turn on Muley Point Road you have to climb the Moki Dugway which is a totally awesome drive that no visitor to southeastern Utah should miss. At the top of the Moki Dugway is where you will find Muley Point Road. The turn off to Muley Point on SR-261 is located at N37degrees 16.672' and W109 56.579' for those of you that want that exact location. From there follow the Muley Point signs and head west.
Hundreds of millions of years of geology exposed in these sedimentary formations.
There is a road visible down there. Can you imagine the drive on that road?
And this is the view from Muley Point. It overlooks the meandering San Juan River a few miles downstream from the Goosenecks.
The San Juan River is at the bottom of this canyon.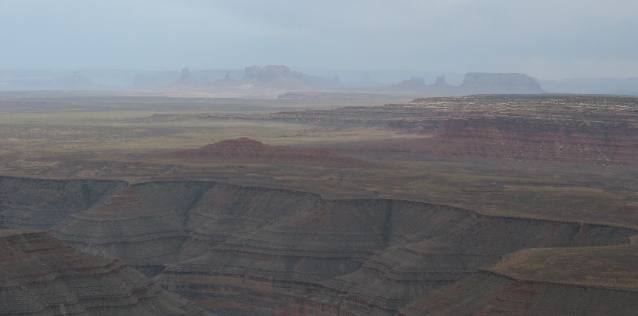 Those formation in the distance look so much like Monument Valley but I don't think they are part of the famous Monument Valley.
If you liked this Travel Adventure you might like one of these:
Moki Dugway Moki Dugway is a series of sharp switchbacks down a steep gravel road over less than three miles: One of the best drives you will ever do.
Natural Bridges National Monument in southern Utah
I can't think of a better ending to a wonderful day.
Until next time remember how good life is.
Mike & Joyce Hendrix
Mike & Joyce Hendrix who we are
We hope you liked this page. If you do you might be interested in some of our other Travel Adventures:
Mike & Joyce Hendrix's home page
Travel Adventures by Year ** Travel Adventures by State ** Plants ** Marine-Boats ** Geology ** Exciting Drives ** Cute Signs ** RV Subjects ** Miscellaneous Subjects
We would love to hear from you......just put "info" in the place of "FAKE" in this address: FAKE@travellogs.us
Until next time remember how good life is.