East Oregon Agriculture along the Powder River
This scenic drive took us from Baker City east on SR-86 along the Powder river to Richland.

June 16, 2007.
We are staying at Mountain View Travel Park in Baker City. $24.79 FHU, shade and a nice enough RV-Park. It must be a former KOA (Keep On Adding)since they charge extra for everything, $2 extra for wifi, $ 2 extra for larger sites, you get the picture ---- KOA Keep On Adding..
This was our day to check out Hells Canyon. It is a 90-plus mile drive, one way, from Baker City to Hells Canyon and the Snake river. I do not know what your idea of eastern Oregon is but let me tell you it is totally different from Portland and the Cascade Mountains along the coast.
Eastern Oregon is an extension of the great desert. However, things change often and rapidly. Eastern Oregon is a region of contrasts, as in hills, mountains and valleys. These changes in elevation create changes in vegetation.
Mountains play host to a variety of evergreen trees, quaking aspen, and other plants that respond to more water and cooler temperatures.
Oasis in the eastern Oregon Desert
Valleys along river banks provide lush pastures for cattle in an otherwise desert environment.
East Oregon agriculture made possible with irrigation
A mowed hay field with the hay raked into rows for drying.
East Oregon agriculture made possible with irrigation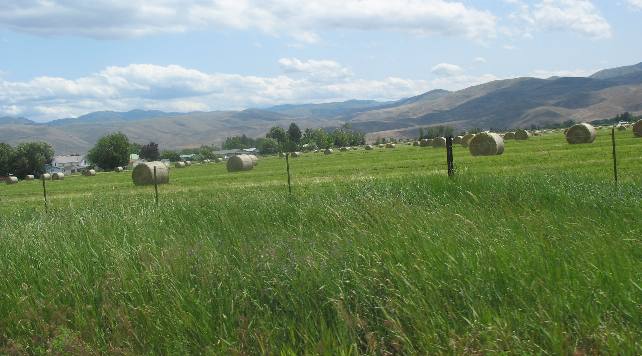 Reservoirs hold and distribute water that is used for agriculture in suitable areas. Hay is one of the major crops. Note that the desert starts where the irrigation stops. Trees are visible where irrigation is available. Sagebrush is the only thing that grows in areas where there is no irrigation.
Old hay barn in eastern Oregon desert
Old barns like this are minders of other times in this valley.
Note the barren hillsides where there is no irrigation. Without irrigation this is nothing but east Oregon desert.
Brownlee Reservoir on Powder River in Oregon
As large as this field is the farmer on that tractor will be mowing for several more days before he starts raking and baling.
Note that the other side of the reservoir is an example of the east Oregon desert. Without irrigation this is truly a desert.
Irrigation is responsible for creating these lush pastures. That is Brownlee Reservoir on the Powder River near Richland, Oregon.
Brownlee Reservoir near Richland, Oregon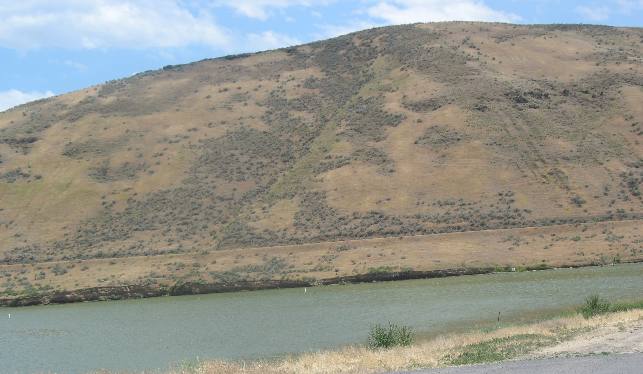 Brownlee Reservoir near Richland emphasizes that eastern Oregon is truly a desert. Look closely at the hill on the far side of the reservoir. Sage brush is all you see other than sparse brown grass on that hillside.
Although you can see water in Brownlee Reservoir you do not see the first tree anywhere.
Barn in Halfway, Oregon
This barn near Halfway is typical of many in the area.
Mike & Joyce Hendrix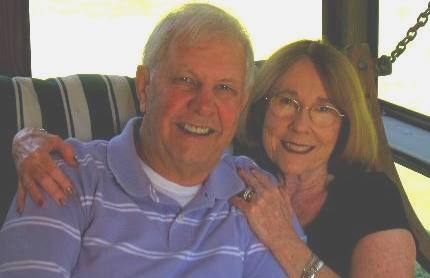 Mike & Joyce Hendrix who we are
We hope you liked this page. If you do you might be interested in some of our other Travel Adventures:
Mike & Joyce Hendrix's home page
Travel Adventures by Year ** Travel Adventures by State ** Plants ** Marine-Boats ** Geology ** Exciting Drives ** Cute Signs ** RV Subjects ** Miscellaneous Subjects
We would love to hear from you......just put "info" in the place of "FAKE" in this address: FAKE@travellogs.us
Until next time remember how good life is.