Oregon's Powder River Geology along SR-86
This scenic drive took us along the Powder River on SR-86 between Baker City and Richland, Oregon..

June 16, 2007.
We are staying at Mountain View Travel Park in Baker City. $24.79 FHU, shade and a nice enough RV-Park. It must be a former KOA (Keep On Adding)since they charge extra for everything, $2 extra for wifi, $ 2 extra for larger sites, you get the picture ---- KOA Keep On Adding..
This was our day to check out Hells Canyon, but that will come in several other travelogs. It is a 90-plus mile drive, one way, from Baker City to Hells Canyon and the Snake River. I do not know what your idea of eastern Oregon is but let me tell you it is totally different from Portland and the Cascade Mountains along the coast.
Eastern Oregon is an extension of the great desert. However, things change often and rapidly. Eastern Oregon is a region of contrasts, as in hills, mountains and valleys. These changes in elevation create changes in vegetation.
Mountains play host to a variety of evergreen trees, quaking aspen, and other plants that respond to more water and cooler temperatures.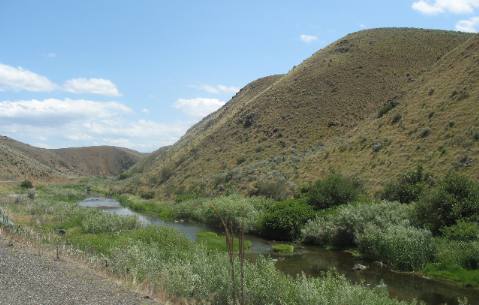 At lower elevations eastern Oregon is extremely dry as evidenced by these pictures. Note that vegetation is only flourishing in the riparian area along the Powder River. Often outcrops of lava from long extinct volcanos are visible.
The Powder River along SR-86 east of Baker City, Oregon is a good example of east Oregon desert.
Geologic "intrusion" or dike of igneous rock
This is an example of a dike or intrusion. Long ago deep within the earth liquid magma was trying to make its way to the surface. In doing so it was pushing up and breaking the layers of earth above it. As the earth above it cracked the liquid magma would "intrude" into the crack creating a dike. What we see here is where the softer material that was "intruded" long ago has eroded away leaving the basalt (former magma that cooled and became solid while underground).
Do note that this is typical east Oregon desert.
"Hole-in-the-Wall" landslide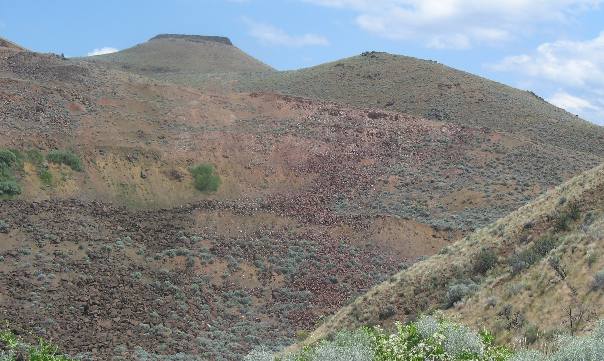 This picture is of a landslide -- the "Hole-in-the-Wall" landslide that occurred in September of 1984. The landslide covered SR 86. By the way we are standing on SR 86 taking these pictures. Because the landslide covered SR 86 hundreds of local residents in communities east of here were isolated. The slide also blocked the Powder River, creating a half mile long reservoir.
I do not know what was done to clear the debris blocking the Powder River. I also do not know if they moved SR 86 to this location. It certainly does not appear that debris was cleaned off this location so I would suppose that the current road was moved up here to a higher location.
If you are interested in other landslides covered in our travels here are some links:
The Gros Ventre Slide near Jackson, Wyoming & Grand Teton National Park
The Yellowstone earthquake of 1959 also knows as the Hebgen Lake earthquake & slide near West Yellowstone, Montana
Oregon fence material showing Agriculture along the Powder River and east Oregon desert
Oregon uses contraptions such as this for fence posts especially along corners of property.
This picture unwittingly shows some east Oregon agriculture where irrigation is applied and the east Oregon desert where irrigation is not available.
Oasis in the east Oregon desert
Valleys along river banks provide lush pastures for cattle in an otherwise desert environment.
Look across the river and you will see that the east Oregon desert extends to a few feet of the Powder River. The silver-blue shrubs you see on the far side of the river is sage brush. The silver-blue shrubs you see at the bottom of this fence is also sage brush. Sage brush begins the moment irrigation stops.
Brownlee Reservoir near Richland, Oregon showcasing the eastern Oregon desert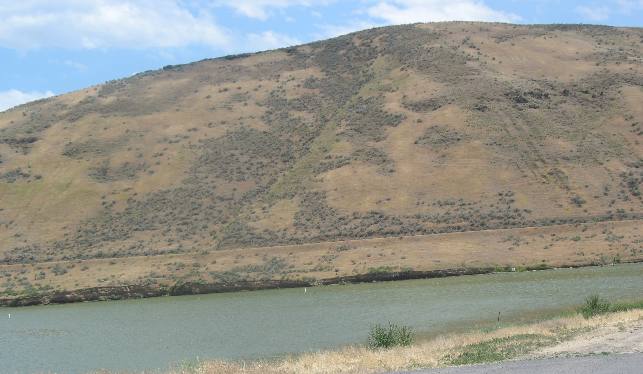 Brownlee Reservoir near Richland emphasizes that eastern Oregon is truly a desert. Look closely at the hill on the far side of the reservoir. Sage brush is all you see other than sparse brown grass on that hillside.
East Oregon Desert surrounding Brownlee Reservoir near Richland, Oregon
Although you can see water in Brownlee Reservoir you do not see the first tree anywhere. This is classic eastern Oregon Desert.
Summit on Oregon State Road-86
We took this picture from the summit on SR 86 between Richland and Half Way.
Mike & Joyce Hendrix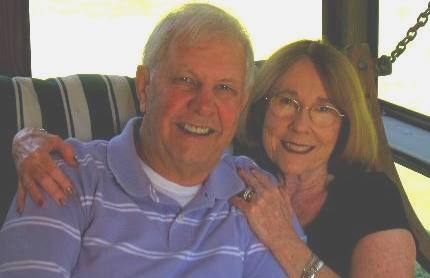 Mike & Joyce Hendrix who we are
We hope you liked this page. If you do you might be interested in some of our other Travel Adventures:
Mike & Joyce Hendrix's home page
Travel Adventures by Year ** Travel Adventures by State ** Plants ** Marine-Boats ** Geology ** Exciting Drives ** Cute Signs ** RV Subjects ** Miscellaneous Subjects
We would love to hear from you......just put "info" in the place of "FAKE" in this address: FAKE@travellogs.us
Until next time remember how good life is.