Quake Lake earthquake landslide area and visible scarps
Aug 1-4, 2007.
We are staying in Grizzly RV-Park in West Yellowstone, Montana just out the west gate of Yellowstone National Park. We stayed in a different site every night because we did not have reservations and at this time of year they are FULL. The only way we got to stay there for 4-nights was to move into cancellation sites. The rates range from around $37 to $47 depending on a variety of things but generally back in sites were cheaper than pull-thru sites. Then they charge $4 for wifi. I suppose the pull-thru sites are a bit larger so the BIG rigs would probably be forced into one of them. Grizzly is a nice park, the nicest campground in the area. Bottom line is if you are planning to visit WEST YELLOWSTONE during July thru Aug-15 you need a reservation as every campground in the area is FULL. After August 15 you can have your choice of campgrounds with no reservations. Keep in mind that you can stay in a MUCH cheaper PPA (PassPort America) Campground a few miles west of town.
Madison River flowing downstream of the earthquake slide that created Quake Lake
We are traveling east on US 287 about 20-miles northwest of West Yellowstone, Montana. The bare spot on the mountainside is where a magnitude 7.5 earthquake triggered a landslide in August of 1959 that completely covered the Madison River seen here.
In fact the landslide buried the river under several hundred feet of debris.
Look closely at this section of the river because much of that landslide material was removed in order to allow the Madison River to flow again thus removing the possibility of a major flood if that landslide dam gave way after water backed up behind it.
Quake Lake on the Madison River in Montana
Earthquake Lake was formed in August of 1959 when a 7.5 magnitude earth quake triggered slide blocked flow of the Madison River. A 50 foot spillway was hurriedly cut through the slide by the U.S. Army Corps of Engineers to avert a possible flood downstream. Five miles of U.S. Highway 287 were flooded or outright destroyed.
The dead trees along the lakeshore were drowned by high water 48-years ago.
Quake Lake on the Madison River in Montana
Earthquake Lake as seen several miles from the landslide that created the lake.
Look in the center of the picture for the mountain with the bare spot on it. That is where the slide took place that dammed the Madison River creating this lake.
Now let's go back and visit the slide area that created Earthquake Lake.
Scar from the massive slide created by earthquake that dammed the Madison River
The entire mountainside fell not just that kinda bare spot. Remember that this quake and the resultant landslide took place in August of 1959 some 48 years ago. Only a few scattered trees have managed to find a foothold on the scar in those 48-years.
The bottom part of this landslide is what the U.S. Army Corps of Engineers removed in an effort to get the Madison River flowing again. Although the Corps of Engineers removed a lot of material there is still enough material remaining to create the dam that holds back Earthquake Lake. I suspect, from the looks of Earthquake Lake, that there is 50' to 100' of landslide material still in place.
When we were in this area 6-years ago we stopped and visited the Earthquake Visitor Center operated by the National Forestry Service. If you are ever in West Yellowstone, Montana you should take time to visit the Earthquake Visitor Center. It is located about 20-miles northwest of West Yellowstone, Montana on US 287.
Earthquake scarps along Hebgen Lake north of West Yellowstone, Montana
When we are in this area we are constantly looking for scars from earthquakes.
Two scarps can be seen in this picture. Both were created in the August 1959 earth quake that created Earthquake Lake.
If you do not see the scarps they are the two almost horizontal lines through the center of this picture. The bottom of this mountain fell along the fault while the uphill side rose.
Visible scarps
This picture was taken shortly after an earthquake, before vegetation and erosion begin to cover evidence of the scarp. In this instance it appears that there was only a few feet of vertical movement. Also note that there are three scarps not just one.
The telltale sign of an earth quake scarp is a scar running horizontally on the side of a mountain.
Fault scarp
In this picture it is easy to see the scarp running for over a mile along this mountain. The movement in this scarp is much greater than a few feet.
The ground on one side of the fault rose up while ground on the other side of the fault dropped. This cliff like break is called a fault scarp. I think on this scarp one side dropped 22 feet.
Visible scarps
This area has been struck with multiple quakes in the past but the scars are still visible even if they have been covered by vegetation.
Until next time remember how good life is.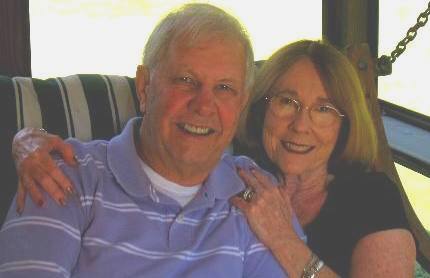 Mike & Joyce Hendrix who we are
We hope you liked this page. If you do you might be interested in some of our other Travel Adventures:
Mike & Joyce Hendrix's home page
Travel Adventures by Year ** Travel Adventures by State ** Plants ** Marine-Boats ** Geology ** Exciting Drives ** Cute Signs ** RV Subjects ** Miscellaneous Subjects
We would love to hear from you......just put "info" in the place of "FAKE" in this address: FAKE@travellogs.us
Until next time remember how good life is.