Helena, Montana Sun Sets & Meriwether Fire
July 24, 2007.
We are staying in Lincoln Road RV-Park Helena, Montana less than a mile west of I-15 at exit 200. Lincoln Road RV-Park is about 10-miles north of downtown Helena but in a very good position access everything in the area. $25.04 with Good Sam discount plus-taxes for FHU in nice gravel pull thru sites with some shade. Free wifi was available but no cable TV.
Joyce took this picture of the Meriwether Fire the afternoon before we took a boat ride and experienced the fire up close and personal.
The Meriwether Fire was with us our entire visit in Helena. It was located north of Helena along a rugged stretch of the Snake River know as Gates to the Mountains.
One evening the sun put on a good show for us.
This is another picture of the Meriwether fire in what is referred to as a "blow-up".
Montana sunset picture from the rodeo in Helena
Another picture taken while we were at the rodeo in Helena.
This horse almost launched a Montana cowboy into the spectators seats. At least it looks like the cowboy will land on his feet. We gave him a few "style-points" for this dismount.
Is dismount a word? If not I just invented it.
Budweiser Clydesdales performing at Helena, Montana Rodeo
Near the end of the rodeo each night the Budweiser Clydesdales would trot into the arena and put on a show. They are fun to watch and are such pretty animals. We stopped by to look at the Clydesdales after the show one night and talked with some of the handlers. The largest horse in the group weighs 1,250 pounds. From Helena they are going to Sturgis, South Dakota for bike week. They all seemed to be looking forward to that.
Until next time remember how good life is.
Mike & Joyce Hendrix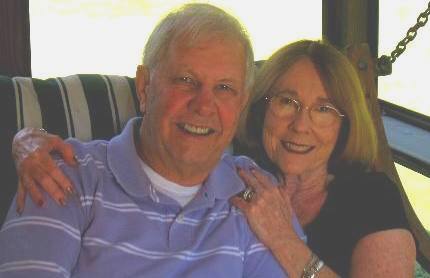 Mike & Joyce Hendrix who we are
We hope you liked this page. If you do you might be interested in some of our other Travel Adventures:
Mike & Joyce Hendrix's home page
Travel Adventures by Year ** Travel Adventures by State ** Plants ** Marine-Boats ** Geology ** Exciting Drives ** Cute Signs ** RV Subjects ** Miscellaneous Subjects
We would love to hear from you......just put "info" in the place of "FAKE" in this address: FAKE@travellogs.us
Until next time remember how good life is.