Montana Capitol Building & Montana Historical Museum
Montana Capitol Building & Montana Historical Museum
July 24, 2007.
We are staying in Lincoln Road RV-Park Helena, Montana less than a mile west of I-15 at exit 200. Lincoln Road RV-Park is about 10-miles north of downtown Helena but in a very good position access everything in the area. $25.04 with Good Sam discount plus-taxes for FHU in nice gravel pull thru sites with some shade. Free wifi was available but no cable TV.
Helena is the Capitol City of Montana and a nice clean college town as well, at least that is the impression we got during our stay. Helena is situated against the foothills of the Rocky Mountains in an area Lewis and Clark called "Prickly Pear Valley" when they traversed it in 1805. In 1864, gold was found in Last Chance Gulch and a community sprang up around the placer gold. The fledgling gold camp developed into the city of Helena. Unlike many early gold camps, the community did not die when the gold ran out. Merchants used Helena's strategic location near mines, ranches, and freighting routes to create a banking and supply center. By 1875 Helena's economic and political power was such that it wrested the territorial capital from Virginia City another famous gold mining town (this was before Montana was a state).
Montana became a state in 1889 and Helena is where the Capitol Building was constructed.
Before touring the Capitol Building we visited the Montana Historical Museum across the street from the Capitol. One of the exhibits in the museum was this white buffalo.
White buffalo "Big Medicine" on display in Montana Historical Museum
This white buffalo goes by the name Big Medicine.
To most Native American bands on the Great Plains who depended on the bison for their survival, a white calf carried sacred importance. Many of these native tribes imbued the white bison with supernatural powers and some Montana tribes --- like the Blackfeet --- considered him the property of the sun. The man who killed a white bison received his power from the sun and the "good medicine" held by the white hide extended to the hunter's family and his entire band.
In 1933, at the National Bison Range near Moiese on the Flathead Indian Reservation, a white calf was born to a naturally brown mother. He became known as "Big Medicine", in recognition of his symbolic importance to Native Americans.
"Big Medicine" lived his entire life on the National Bison Range, but his fame spread worldwide. He grew to more than 1,900 pounds, rose to six feet at the hump, and measured almost 12 feet from the tip of his nose to the end of his tail.
A bison's normal lifespan is about 20 years, but, because of his significance, "Big Medicine" was given special care to prolong his life. He spent much of his maturity in the Bison Range's smaller exhibition pasture where he received individual attention. During the last three years of his life he was fed a diet of steamed barley soaked in molasses, high-protein rabbit pellets, two kinds of bran, and tender, third-cut alfalfa. Nevertheless his weight dropped considerably. When "Big Medicine" died in 1959 at the age of 26 he weighed only 1,193 pounds and his hide was a poor specimen because of his advanced age and condition.
Following his death, Big Medicine's hide was -------- well he was mounted. "Big Medicine" is now on display at the Montana History Museum in Helena.
Montana Capitol Building
This is the Montana Capitol building. It is faced with sandstone from a Columbus, Montana quarry.
Scagliola columns
Don't these look like beautiful marble columns? As beautiful as they are they aren't marble. These are scagliola columns (scagliola is a plaster technique that mimics marble).
Scagliola columns
This is another view of more scagliola columns.
Driving the Golden Spike
This captures part of the 90-panel barrel vault comprised of original and reproduction glass. Also in view are the scaliola columns designed to resemble Italian marble.
The painting under the barrel vault is depicting "Driving the Golden Spike" it documents the completion of the Northern Pacific Railroad's transcontinental line at Gold Creek, Montana, in 1883--- a significant event in Montana History and indeed our nation's history.
You will recall the first transcontinental railroad was completed in 1869 with the driving of the "golden spike" at Premonitory, Utah.
I wish I could give you some information about the stained glass arch but none was provided.
Until next time remember how good life is.
Mike & Joyce Hendrix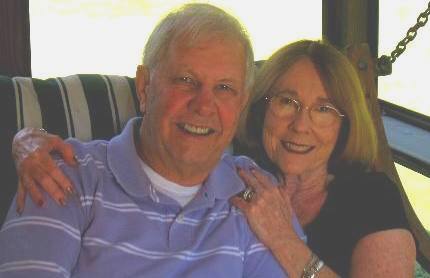 Mike & Joyce Hendrix who we are
We hope you liked this page. If you do you might be interested in some of our other Travel Adventures:
Mike & Joyce Hendrix's home page
Travel Adventures by Year ** Travel Adventures by State ** Plants ** Marine-Boats ** Geology ** Exciting Drives ** Cute Signs ** RV Subjects ** Miscellaneous Subjects
We would love to hear from you......just put "info" in the place of "FAKE" in this address: FAKE@travellogs.us
Until next time remember how good life is.