Helena, Montana's tame deer
July 24, 2007.
We are staying in Lincoln Road RV-Park Helena, Montana less than a mile west of I-15 at exit 200. Lincoln Road RV-Park is about 10-miles north of downtown Helena but in a very good position access everything in the area. $25.04 with Good Sam discount plus-taxes for FHU in nice gravel pull thru sites with some shade. Free wifi was available but no cable TV.
Helena is the Capitol City of Montana and a nice clean college town as well, at least that is the impression we got during our stay. Helena is situated against the foothills of the Rocky Mountains in an area Lewis and Clark called "Prickly Pear Valley" when they traversed it in 1805. In 1864, gold was found in Last Chance Gulch and a community sprang up around the placer gold. The fledgling gold camp developed into the city of Helena. Unlike many early gold camps, the community did not die when the gold ran out. Merchants used Helena's strategic location near mines, ranches, and freighting routes to create a banking and supply center. By 1875 Helena's economic and political power was such that it wrested the territorial capital from Virginia City another famous gold mining town (this was before Montana was a state).
Montana became a state in 1889 and Helena is where the Capitol Building was constructed. In another travelogue we will take a tour of the Capitol Building. But before we tour the Capitol I want to give you some "flavor" from what we saw and appreciated.
Deer resting in residential yard Helena, Montana
One thing we noticed when driving around Helena was "pet" deer making themselves at home deep in the city with no woods within miles.
The deer laying under the apple tree in this yard is less than 2-blocks away from the Capitol. We saw that same deer in this yard several times during our stay.
Deer crossing street in residential area of Helena, Montana
This deer is crossing a busy intersection also within two blocks of the Capitol.
Deer grazing in residential area of Helena, Montana
This deer was between the Capitol and downtown which are only 6 to 7 blocks from each other.
Deer in Helena Montana residential neighborhood
This deer was munching foliage in the historic section of Helena where all the mansions are located.
Deer resting in residential yard in Helena, Montana
I can't remember where the yard was where we saw this deer taking a siesta on someone's manicured lawn.
Deer "lunching" in residential yard in Helena, Montana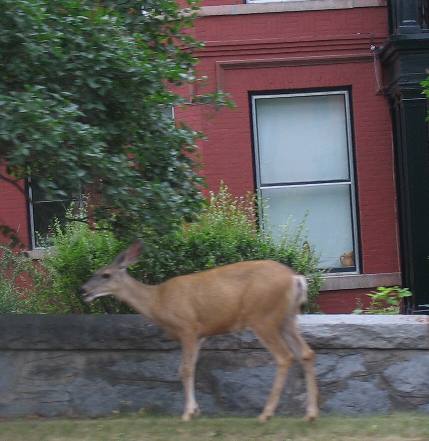 This is an aristocrat deer as he has decided to reside in the mansion district.
Until next time remember how good life is.
Mike & Joyce Hendrix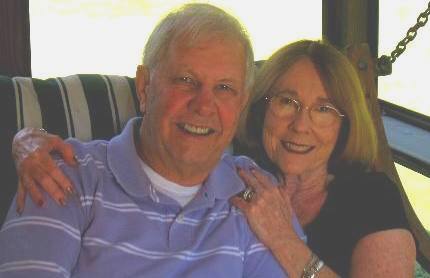 Mike & Joyce Hendrix who we are
We hope you liked this page. If you do you might be interested in some of our other Travel Adventures:
Mike & Joyce Hendrix's home page
Travel Adventures by Year ** Travel Adventures by State ** Plants ** Marine-Boats ** Geology ** Exciting Drives ** Cute Signs ** RV Subjects ** Miscellaneous Subjects
We would love to hear from you......just put "info" in the place of "FAKE" in this address: FAKE@travellogs.us
Until next time remember how good life is.