Grain Elevators of Idaho
Grain elevators on the outskirts of Grangeville on the southern side of the Camas Prairie
Leaving Grangeville we see a familiar sight that will be with us all day and that is grain processing and storage facilities like this one.
Grain elevators on the outskirts of Grangeville on the southern side of the Camas Prairie
Grain storage facilities come in all sizes and shapes.
I don't understand it but grain loading and storage facilities continue to pop up generally where railroad lines run close to the highway.
At this point we are 5 to 10 miles from what I would consider the Camas Prairie where the bulk of the grain is grown but these grain storage and handling facilities continue to dot the landscape.
We are almost to Lewiston when we spot this large grain storage facility.
Huge grain storage & processing facilities like these huddle in one corner of Nezperce.
This picture does not do this building justice since I had to reduce it in size. It is a huge grain storage building.
Note the size of this grain elevator as compared to that Jacklin Seed Company trailer. These grain elevators are part of the farm product storage complex in Nezperce. I say farm product storage since beans and canola seeds are a large part of agriculture on the Camas Prairie.
This is an old grain elevator. It was a common design used from the early 1900s to mid 1980s and an important part of Western Idaho agriculture.
They have to set aside some space to store the grain they are growing.
Grain elevator near the Canadian border in extreme northern Idaho
Grain elevators come in all shapes and sizes.
Until next time remember how good life is.
Mike & Joyce Hendrix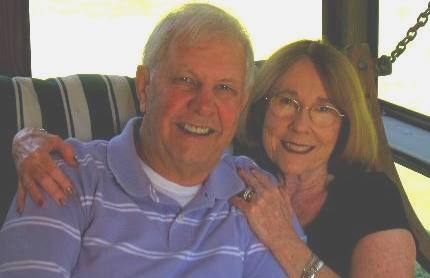 Mike & Joyce Hendrix who we are
We hope you liked this page. If you do you might be interested in some of our other Travel Adventures:
Mike & Joyce Hendrix's home page
Travel Adventures by Year ** Travel Adventures by State ** Plants ** Marine-Boats ** Geology ** Exciting Drives ** Cute Signs ** RV Subjects ** Miscellaneous Subjects
We would love to hear from you......just put "info" in the place of "FAKE" in this address: FAKE@travellogs.us
Until next time remember how good life is.