June 23, 2007.
We moved the motorhome from White Bird to Grangeville this morning. Grangeville is only about 18-miles north of White Bird. After an exciting drive up Old White Bird Hill we started down from the summit to Grangeville.
This sign is at the top of White Bird Hill which is now behind us as we start down the other side of White Bird Hill heading toward Grangeville.
Our first view of the famous Camas Prairie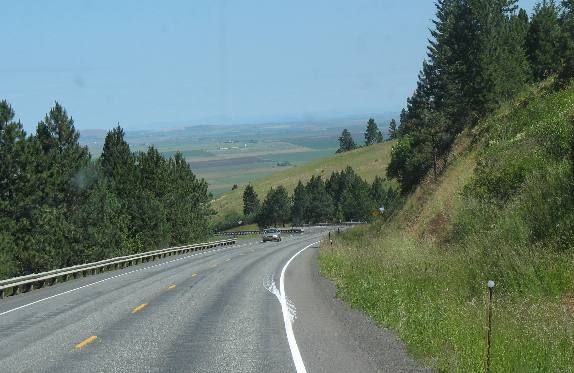 Near the bottom of the northbound grade heading into Grangeville Joyce snapped this picture that shows our first glimpse of the Camas Prairie made famous in journals of the Lewis and Clark expedition.
Near the bottom of the northbound grade we stopped for this historic kiosk explaining the Camas Prairie.
Grangeville, Idaho
Grangeville, like all small towns in the Camas Prairie, have huge grain elevators where grain is accumulated and loaded for shipment to far away places.
Also at the bottom of the grade and 4 to 5 miles north of Grangeville is Tolo Lake. Tolo Lake has a heart warming story to go along with it's name.
War has a way of making heroes and heroines of ordinary mortals. To some, Tolo, a Nez Perce Indian woman, was never ordinary. Her given name was Alab-lemot but, because she loved to gamble, she was called Tolo (in Chinook jargon, Tolo means "win"). She was strong, determined, motherly and sometimes feisty.
In 1877, Tolo lived with her sisters and two daughters in the settlement at Slate Creek and was loved and respected by everyone. When word came of a possible Nez Perce uprising, Tolo Rode 28 miles to Florence to warn her friends. She rode all night over a rugged trail, and returned to Slate Creek the next day with help for the settlers.
The Slate Creek settlers believed that Tolo's efforts discouraged an attack on the stockade. In appreciation, Tolo was allotted land off the reservation. Later, a small lake on the Camas Prairie, where the Nez Perce camped and held pow wows, was named Tolo Lake in her honor.
Until next time remember how good life is.
We hope you liked this page. If you do you might be interested in some of our other Travel Adventures:
We would love to hear from you......just put "info" in the place of "FAKE" in this address: FAKE@travellogs.us
Until next time remember how good life is.