Florence, Idaho the old mining town
June 22, 2007.
We spent the night at Angel's Nook RV-Park in White Bird, Idaho. $12.80 FHU no TV signal, no cell phone service, no wifi. Actually, there is no TV service or cell phone service in town. This is a small private RV-Park definitely mom & pop but close to town in the back yard of one of the oldest homes in town an an easy walk to everything in White Bird. It is a Passport America Park and we would stay there again.
Fabulous Florence, Idaho
While Florence, Idaho is a ghost town now it was a rip roaring place at one time. According to one resident P.W. Gillete's diary dated June 15, 1862: "Here the congressman, legislator, judge, divine, doctor, lawyer, merchant, farmer, laborer and sailor mingle in the same crowd, wear like slouch hats, blue shirts and ragged or patched breeches. Nearly all of this vast horde of gamblers, roughs and desperadoes are from California. There is no law here, or none that sees, abates, retards or punishes crime. Scarcely a day passes that someone is not killed or wounded. There has been strong talk of establishing a vigilance committee, but as yet nothing has been done. The decent people of Florence endure these outrages with remarkable fortitude."
This Florence he is writing about was a bustling mining town in the 1860s, located about 50-miles south of Grangeville.
Florence experienced a gold rush which caused its population to boom from 50 to 9,000 people in one year. Gold was discovered in the Florence Basin in August of 1861. By winter, more than 3,000 prospectors flocked to the area. In that year more than one million dollars worth of gold had been produced from placer mining alone. And that was in 1860 dollars! By June 1862, the population peaked to 9,000, producing $7 million worth of gold that year. By 1863, the rush was over. Mining activities continued for the next 20 years with a mixed population of Chinese and white.
Following a moderately inactive period at Florence in the 1880s, modern technology for quartz mining revived the area in 1895. People once again converged on Florence and population rose to about 1,000 in 1897. Disorder between owners of the Old Florence townsite and new gold-seekers press the founding of New Florence, 1/4 mile south. The old townsite was torn down for salvage wood and was mined for scraps of gold which may have fallen through the floorboards of a number of structures.
By 1897 only a few buildings were standing in Old Florence. By 190, the mining boom had diminished and only occasional stamp mills persisted in their operation. Some minor booms did occur between 1900 and 1940, but none was comparable to those of the 1860s and 1890s.
It is estimated that between 1860 and 1866 close to $15-million worth of gold dust was taken out of Florence. Gold dust refers to gold that is extracted by placer mining, and placer mining is where miners sift soil generally in river and creek beds looking for flakes of gold. That is distinguished from hard rock mining also called quartz mining which locates gold in quartz rocks then has to crush the quartz rock to release the "flakes" of gold. Quartz rock was crushed in stamp mills. Once the flakes of gold are released from the quartz" then miners could use washboards and like contraptions to wash away the rock and retrieve the gold flakes.
Idaho became a "Territory" in March of 1863. Not a state but a "Territory". Statehood will come later.
Staple foods of the 1860s were sourdough bread or flapjacks, beans, bacon, tea and whiskey.
Chinese played a significant role in Florence between 1864 and 1890. In 1870, 50% of the population of the area was Chinese.
The richest single claim in Florence appears to have been that of Jacob Weiser (for whom the Weiser River was named) and his partners. The gold was reportedly two inches thick on the bedrock. The claim yielded some $20,000 in just eight days of cleanup. One pan from the claim yielded $151.50 and two men with a rocker acquired $1.800 in just three hours -- that would be roughly $2,800, and $333,500, respectively, at current gold prices. Weiser sold his interest in the claim for $10,000 and left Florence with a mule-load of gold dust worth about $30,000 which would be worth more than $500,000 at current prices.
Florence, Idaho was originally settled as a mining camp in the winter of 1863. Today it is a ghost town.
Until next time remember how good life is.
Mike & Joyce Hendrix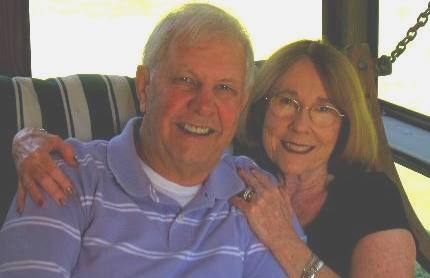 Mike & Joyce Hendrix who we are
We hope you liked this page. If you do you might be interested in some of our other Travel Adventures:
Mike & Joyce Hendrix's home page
Travel Adventures by Year ** Travel Adventures by State ** Plants ** Marine-Boats ** Geology ** Exciting Drives ** Cute Signs ** RV Subjects ** Miscellaneous Subjects
We would love to hear from you......just put "info" in the place of "FAKE" in this address: FAKE@travellogs.us
Until next time remember how good life is.