White Bird Hill and Camas Prairie

Idaho: A drive over White Bird Hill on "Old US 95" while watching traffic on the NEW US 95. Talk about an awesome set of switchbacks!

June 23, 2007.
We are staying at Mountain View MH & RV Park in Grangeville. It is a Passport America Park $14 for FHU, cable & wifi. It isn't a resort but we had shade and a nice large site in a clean environment 208-983-2328. If you are looking for a "Resort"-- Christmas tree RV-Resort is on US 95 less than a mile from the middle of town.
We moved the motorhome from White Bird to Grangeville this morning. Grangeville is only about 18-miles north of White Bird but that 18-miles is one heck of a drive. White Bird Hill is located between White Bird on the South and Grangeville on the north.
Mountain Directory West the "definitive" book providing information about locations and descriptions of over 400 Mountain Passes and Steep Grades in eleven Western States describes White Bird Hill like this:
(on US 95 south of Grangeville, ID)
"The summit of White Bird Hill is about 8-miles south of Grangeville. This is a long, steep hill going south. The northbound descent is only about 2 1/2 miles of 6-7% grade with 55 mph speed limit.
The Southbound descent is 8 miles of 7% grade with 3 runaway truck ramps. The speed limit for trucks is 35 mph. The road alternates from two lane to three lane. Most of the south side of the hill is three lane. There is a truck turnout for brake checks about 1/2 mile below the summit on the south side. There are numerous signs about speed limit for trucks, grade and length warnings, and runaway truck ramp warnings.
The runaway truck ramps are 1 1/2, 3, and 6 1/2 miles down from the summit. All are upsloping ramps. The grade does last for the promised 8 miles with a two lane bridge at the bottom of the hill. This is a dangerous hill for large and heavy vehicles. Use caution."
The description in Mountain Directory West is of the NEW US 95. We took the OLD US 95 and I took these pictures of NEW US 95 from the old highway. That is the NEW US 95 in this picture.
This picture shows a small stretch of OLD US 95 out the front window of our motorhome with NEW US 95 climbing from left to right across the picture in the distance.
Several locals told us that many log trucks would exit the NEW US 95 in White Bird and take the OLD narrow, switchback riddled US 95 since the grade was spread out over about 4 extra miles making it much easier on those trucks hauling heavy loads over the grade. The new US 95 was constructed so modern automobiles can put the petal to the metal and continue cruising at 70 mph over the grade. Loaded trucks that stay on the new US 95 can be reduced to less than 15 mph as they struggle to make it up the grade. Eight miles of 8% grade is a LONG pull for a heavily loaded rig.
With that as a background my motorhome would not have any problem climbing the grade on White Bird Hill but I wanted to experience the OLD US 95 with all the switchbacks, like things used to be.
It was worth it. If you visit the are take the time to experience OLD US 95. If you are in an RV I would suggest traveling up the hill rather than down since controlling your speed to less than 15-mph on all the switchbacks may be problematic. You won't have any problem going too fast when traversing the grade uphill. VBG
Today the "old White Bird Hill" is a Backcountry Drive that can be accessed near the summit of White Bird Hill from US 95 or from the town of White Bird at the bottom of the hill. It was considered an engineering feat in its day as it zigzagged gaining 2,900 feet in elevation in 14 miles. Prison labor helped construct the road. Paved in 1938, it is listed on the National Register of Historic Places. Some publications refer to the OLD US 95 as "the Spiral Highway". With all the switchbacks that is an appropriate description.
I am glad we did it. This is by far the best "Hill" we have negotiated in a motorhome.
We are nearing the summit and the switchbacks are behind us. Things are leveling out at this point.
Summit of White Bird Hill on US-95 between White Bird and Grangeville, Idaho
This is a memento of White Bird Hill.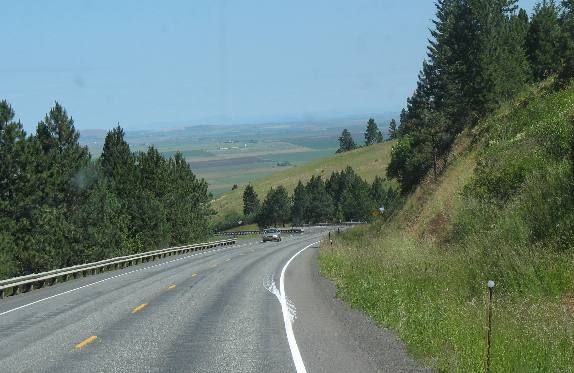 Near the bottom of the northbound grade heading into Grangeville Joyce snapped this picture that shows our first glimpse of the Camas Prairie made famous in journals of the Lewis and Clark expedition.
Near the bottom of the northbound grade we stopped for this historic kiosk.
Grangeville on the northern edge of the Camas Prairie in western Idaho
Grangeville, like all small towns in the Camas Prairie, have huge silos where grain is accumulated and loaded for shipment to far away places.
Also at the bottom of the grade and 4 to 5 miles north of Grangeville is Tolo Lake. Tolo Lake has a heart warming story to go along with it's name.
War has a way of making heroes and heroines of ordinary mortals. To some, Tolo, a Nez Perce Indian woman, was never ordinary. Her given name was Alab-lemot but, because she loved to gamble, she was called Tolo (in Chinook jargon, Tolo means "win"). She was strong, determined, motherly and sometimes feisty.
In 1877, Tolo lived with her sisters and two daughters in the settlement at Slate Creek and was loved and respected by everyone. When word came of a possible Nez Perce uprising, Tolo Rode 28 miles to Florence to warn her friends. She rode all night over a rugged trail, and returned to Slate Creek the next day with help for the settlers.
The Slate Creek settlers believed that Tolo's efforts discouraged an attack on the stockade. In appreciation, Tolo was allotted land off the reservation. Later, a small lake on the Camas Prairie, where the Nez Perce camped and held pow wows, was named Tolo Lake in her honor.
Until next time remember how good life is.
Mike & Joyce Hendrix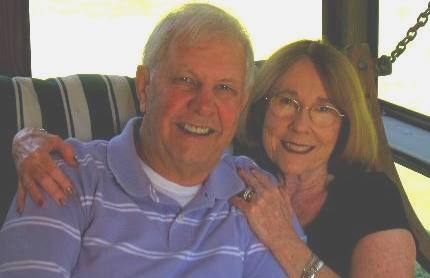 Mike & Joyce Hendrix who we are
We hope you liked this page. If you do you might be interested in some of our other Travel Adventures:
Mike & Joyce Hendrix's home page
Travel Adventures by Year ** Travel Adventures by State ** Plants ** Marine-Boats ** Geology ** Exciting Drives ** Cute Signs ** RV Subjects ** Miscellaneous Subjects
We would love to hear from you......just put "info" in the place of "FAKE" in this address: FAKE@travellogs.us
Until next time remember how good life is.