Walters Ferry on the Snake River in Idaho

June 10, 11,12 & 13 2007.
We are staying at Garrity RV Park in Nampa 10-miles west of Boise. It was $21 per-night for FHU & Cable while every place else in the area seemed to start at $26 and rapidly go up. Garrity was just fine. It was clean, well managed, the sites were close but we were not there and didn't go outside except when heading to and from the automobile. There was a good number of permanent or long term in the campground but they were being managed properly thus were no problem. We would stay at Garrity again but those that like to spend the day and evening under the awning sipping cool ones might rather be in one of the other area parks. N43° 35.245' W116° 31.592'
We headed west of Boise to the Raptor Center. While we didn't take a lot of pictures in the Raptor Center it was what we expected and is worth a visit when you visit Boise.
Our next journey took us to Eagle Island State Park located in Eagle a small community 10-miles north of Boise. Usually State Parks feature unique historic places or geological places of wonder. Eagle Island turned out to be nothing more than local swimming hole on a piece of property donated to the State of Idaho by a local farmer. This became another strike for the Boise area as visiting Eagle Island State Park was a total waste.
Ok, there is a scenic drive beginning in Eagle and heading north through Emmett and points north. This scenic drive was suppose to be a drive through fruit orchards. From Eagle to Emmett we did not see the first orchard. Well, we didn't see an orchard until we got to a scenic overlook above the Payette Valley where Emmett is located. So much for that stretch of scenic drive through fruit orchards. It was nothing more than desert. It is beginning to seem that nothing in the Boise area is as tourist information suggests.
Pearl, Idaho Gold Mines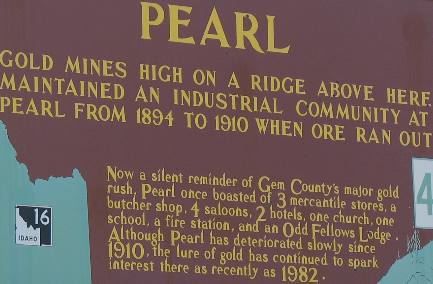 At the overlook above the valley surrounding Emmett we read about the gold mine at Pearl 10-miles or more east of here in the mountains.
Freezeout Hill near Boise
This kiosk was also at the pullout and was about happenings in the well watered Payette Valley where Emmett is located.
After visiting Emmett we decided that this was NOT going to be the route we would be taking north. Things were just not as portrayed. It does appear that orchards may become more prevalent north of Emmett.
Wednesday found us scouting areas to the south and west of Nampa (Boise). We took SR-45 southwest out of Nampa heading to the Snake River and the historical site of Walters Ferry.
For fifty years from 1863 an important link in the Boise-San Francisco stage route.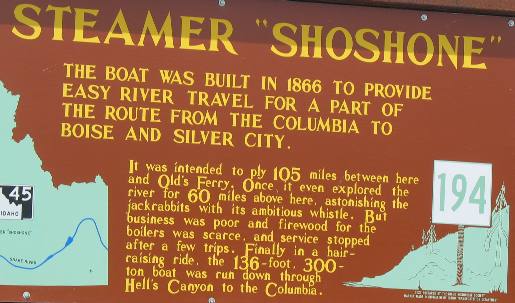 At the site of Walters Ferry we were able to learn about this steamer on the Snake River that did not make a go of it. I bet that was one hair-raising ride through Hell's Canyon to the Columbia River.
Walter's Ferry Museum
At the Walter's Ferry site an individual has developed a "menagerie" for lack of a better term. Museum might describe a portion of what is there but smorgasbord would be a better description. When you arrive at the Snake River on SR 45 proceed to the store/gas station on the north & east side of the river. As you pull into the store notice that there is a small road leading to the river, take it as if you were going to the river. As you near the river you can turn to your left where there will be a parking lot.
If you are in an RV I would leave in at the top of the hill in the parking lot around the gas station. It is a very short walk down to the Snake River and everything available at the museum/menagerie.
Basalt near Walter's Ferry
A thin layer of basalt covered this mesa. As the basalt weathers it crumbles and falls down the face of this cliff it created a "dark-face" on the otherwise light colored sediments.
Givens Springs north of Walters Ferry
Givens Springs was located on the west side of the river. If we were doing the drive again we would take the east side of the river from Walters Ferry (at the Snake River Bridge on SR 45) to Marsing, OR. (SR 45 Bridge on the Snake River) on Map Rock Road.
Bales of alfalfa north of Walter's Ferry, Idaho
Bales of hay along the Snake River Valley between Walters Ferry and Marsing.
Mowing alfalfa hay north of Walters Ferry
Irrigated hay fields make up the vast majority of farming in this region.
This is an interesting piece of geology. Note the thin lava rock cap overlying softer sedimentary layers. Also note the uplift on the left side pushing the original flat landscape to what looks like a 45-degree angle.
Froman's Ferry
This kiosk was located near the SR 55 bridge over the Snake River in Marsing. The sign was located on the Idaho side of the bridge.
Great Egret
This great egret was fishing in a small pond near the bridge in Marsing It is amazing to us to see this bird so far north. They are very common in Florida and Louisiana swamp areas.
Peach orchard Marsing, Idaho
Marsing had some peach orchards.
Irrigated corn field west of Boise, Idaho
But large fields of corn seem to have replaced the more common hay fields.
Until next time remember how good life is.
Mike & Joyce Hendrix
Mike & Joyce Hendrix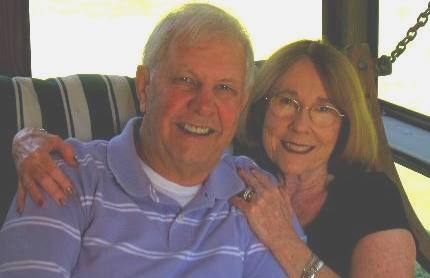 Mike & Joyce Hendrix who we are
We hope you liked this page. If you do you might be interested in some of our other Travel Adventures:
Mike & Joyce Hendrix's home page
Travel Adventures by Year ** Travel Adventures by State ** Plants ** Marine-Boats ** Geology ** Exciting Drives ** Cute Signs ** RV Subjects ** Miscellaneous Subjects
We would love to hear from you......just put "info" in the place of "FAKE" in this address: FAKE@travellogs.us
Until next time remember how good life is.