Idaho Agriculture
June 1, 2, & 3rd, 2007.
We are in Burley/Heyburn, Idaho on the Snake River, staying in Heyburn Riverside City RV-Park 679-8158 full hookups $21 in a very nice RV-Park located on the Snake River next to the Heyburn-Burley Chamber of Commerce Tourist Information Center and a city park (US-30 on the northeast side of the Snake River Bridge.)
Coors Grain elevators in Southern Idaho west of Burley
Idaho agriculture heading heading to market.
Coors has a barley processing facility in Burley as well as this McCain food processor. The Coors barley will be shipped by rail to the Coors brewery in Golden, Colorado.
McCain potato processing plant west of Burley, Idaho
We are not familiar with the McCain brand name. Does anyone know what types of food products they specialize in?
I received information from LeeAnn, my Canadian friend and proofreader, that McCain was a Canadian company specializing in frozen food products like French fries, potato nuggets and hash browns. Just guessing but they probably produce frozen potato products under "house-brand" names American . In any event this is Idaho agriculture at its best.
Idaho Agriculture WSI Union Seed silos
Grain elevators & Idaho agriculture like a hand & glove
This is a familiar site in almost every town in southern Idaho, indeed agriculture is king. This is a grain farming area.
More Idaho Agriculture evident in these bean shipping containers
We see these large bins stacked around many silos. Someone told us that beans were transported in them. Now I wonder what kind of beans. Does anyone know what type of bean is grown in southern Idaho? We did not see any beans growing. They may have been being planted and not up yet.
More Idaho Agriculture highlighted in these Southern Idaho grain elevators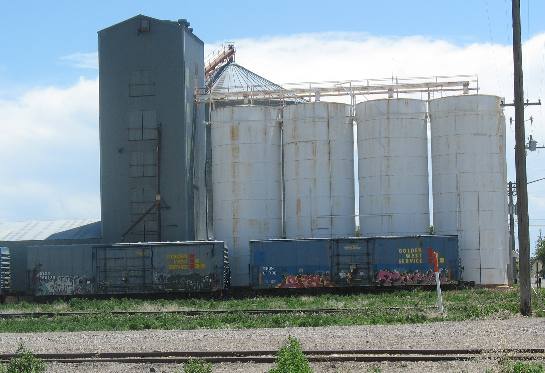 Every small town in southern Idaho has several of these agriculture related facilities.
Idaho Agriculture evident in these Southern Idaho sugar beets
While we have not seen any processing plants we are seeing fields of sugar beets. In fact 10% of the farmed land may be planted in sugar beets. I do wonder where the processing plant is.
More southern Idaho Agriculture seen in this irrigated grain field
Grain is the predominant crop all of it made possible by the Minidoka Dam Irrigation Project that was constructed in the early 1900's.
Perfect southern Idaho Agriculture picture of a large grain elevator
This is a familiar site along both sides of the Snake River downstream of the Minidoka Project where Idaho agriculture is made possible by the plentiful water that turns the desert green.
Even if the government gave me 160-acres of this land I would not be confident that I could grow enough on it to feed my family. It looks like sage brush and lava rocks to me. But who am I!
It seems to me that winning a lottery and winning 160-acres of this would be like getting a lump of coal in your Christmas stocking.
Land like that shown above can be made to look like this with a LOT of work and plenty of water.
Idaho Agriculture evident in these potatoes
Potatoes seem to occupy 20% of the available land.
Idaho Agriculture evident in these potato storage barns

Potato storage barns. I think we saw these modern potato barns in Eden.
Idaho Agriculture thriving in this potato field with sprinkler heads
More potatoes. Like grain fields they seem to stretch from horizon to horizon.
Idaho Agriculture in this picture of farmer cutting alfalfa hay
Alfalfa hay is another big crop in this area. This farmer is cutting his alfalfa.
Idaho Agriculture showcased with this hay storage
Idaho Agriculture showcased in this cut hay drying in rows
This recently mowed alfalfa is drying before the bailing machines move into the field.
Evidence of Idaho Agriculture: Hay bailing machines
Bailing machines about to deliver bails.
Drying rows of hay showcase Idaho Agriculture
Southern Idaho dust devil
A cold front was coming through and with it the expected winds. We spotted this dust devil or small tornado snaking across some plowed fields. They are interesting to watch but do not seem to represent any real danger.
Until next time remember how good life is.
Mike & Joyce Hendrix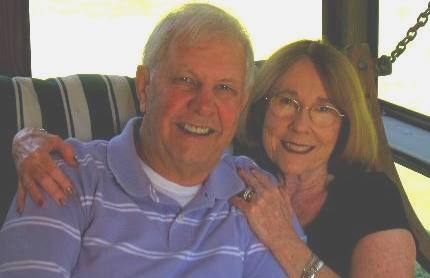 Mike & Joyce Hendrix who we are
We hope you liked this page. If you do you might be interested in some of our other Travel Adventures:
Mike & Joyce Hendrix's home page
Travel Adventures by Year ** Travel Adventures by State ** Plants ** Marine-Boats ** Geology ** Exciting Drives ** Cute Signs ** RV Subjects ** Miscellaneous Subjects
We would love to hear from you......just put "info" in the place of "FAKE" in this address: FAKE@travellogs.us
Until next time remember how good life is.