Boise, Idaho

June 10, 11,12 & 13 2007.
We are staying at Garrity RV Park in Nampa 10-miles west of Boise. It was $21 per-night for FHU & Cable while every place else in the area seemed to start at $26 and rapidly go up. Garrity was just fine. It was clean, well managed, the sites were close but we were not there and didn't go outside except when heading to and from the automobile. There was a good number of permanent or long term in the campground but they were being managed properly thus were no problem. We would stay at Garrity again but those that like to spend the day and evening under the awning sipping cool ones might rather be in one of the other area parks. N43° 35.245' W116° 31.592'
Boise for us was a major disappointment. It wasn't one thing is was a number of things. We tried hard to do things in Boise but virtually nothing worked. We tried to take a tour train around downtown Boise but after arriving early and waiting for 30-minutes or more employees arrived and announced that it was full. About 30 tourist there to do the train were told they didn't get there early enough. OK, we will get there earlier tomorrow. Tomorrow came and we were the first ones sitting there waiting for the tour train to show up. Then the train showed up but this time no one who was there waiting to board the tour train got on because every seat was taken by two groups of children who had "reservations". Tour employees did not know anything about these "reservations". One of the tour employees talked with those of us in line before the tour train arrived. About the time the tour train pulled up a bus load of children unloaded with reservations. Again, everyone in line was turned away after waiting.
That was strike one. Strike two came when we went to tour the State Capitol like the brochure from the tourist bureau advertised. This time we found the Capitol Building being renovated and will be unavailable for tours for the next 4-years. Why is the tourist bureau pushing State Capitol tours when the Capitol building is fenced off with security guards preventing anyone from entering for the next 4-years? OK, that was strike two. Strike three was the Idaho History Museum being closed after we made a trip in to Boise from Nampa to visit the museum. This museum was closed on Monday but we did get to do it on Tuesday when we returned to downtown Boise.
How many strikes does it take to strike out? Next we headed to the Basque district looking for the Basque Museum that also was closed on Monday. That isn't all the remainder will be revealed later in this travelogue.
For now we found a wonderful rose garden in Julia Davis Park that for a few minutes made up for some of the bad experiences that had been plaguing us.
Roses in Julia Davis Park in Boise
This is a world-class rose garden in Julia Davis Park in downtown Boise. We didn't visit Boise to do a rose garden but this garden partially made up for the other blunders.
Roses in Julia Davis Park in Boise
Rose in Julia Davis Park in Boise
Rose in Julia Davis Park in Boise
Sacajawea & Pomp Monument in Boise
Sacajawea & Pomp Monument in Boise
Sacajawea & Pomp Monument in Boise, Idaho. It is located at the entrance to the Historical Society Building.
Idaho State Capitol Building Boise, Idaho
This is the State Capitol building that is closed and under renovation for the next 4-years while tours are being pushed by the Tourist Information Center.
Liberty Bell replica on display outside the State Capitol Building Boise, Idaho
This Liberty Bell replica was on display outside the Capitol Building.
Boise tour train
This is the tour train that we could not get on for a variety of reasons during our two day attempt to experience the tour.
This was the only thing we have found open since arriving in Boise this morning. It wasn't the Basque Museum but we did enjoy wandering around in the market.
Tuesday found us back in downtown Boise where we spent a few hours touring the Idaho History Museum, in Julia Davis Park, that was closed yesterday. We had a good experience in the Idaho History Museum. Then we headed west of town to the Raptor Center. While we didn't take a lot of pictures in the Raptor Center it was what we expected and is worth a visit when you visit Boise.
After visiting Emmett we decided that this was NOT going to be the route we would be taking north. Things were just not as portrayed. It does appear that orchards may become more prevalent north of Emmett.
Wednesday found us scouting areas to the south and west of Nampa (Boise). We took SR-45 southwest out of Nampa heading to the Snake River and the historical site of Walters Ferry.
For fifty years from 1863 an important link in the Boise-San Francisco stage route.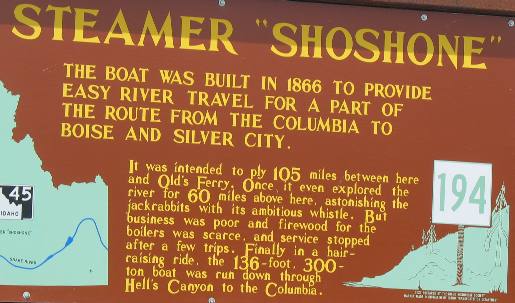 At the site of Walters Ferry we were able to learn about this steamer on the Snake River that did not make a go of it. I bet that was one hair-raising ride through Hell's Canyon to the Columbia River.
At the Walter's Ferry site an individual has developed a "menagerie" for lack of a better term. Museum might describe a portion of what is there but smorgasbord would be a better description. When you arrive at the Snake River on SR 45 proceed to the store/gas station on the north & east side of the river. As you pull into the store notice that there is a small road leading to the river, take it as if you were going to the river. As you near the river you can turn to your left where there will be a parking lot.
If you are in an RV I would leave in at the top of the hill in the parking lot around the gas station. It is a very short walk down to the river and everything available at the museum/menagerie.
Until next time remember how good life is.
Mike & Joyce Hendrix
Mike & Joyce Hendrix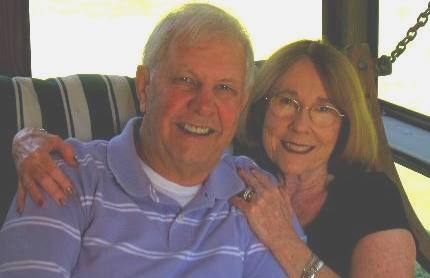 Mike & Joyce Hendrix who we are
We hope you liked this page. If you do you might be interested in some of our other Travel Adventures:
Mike & Joyce Hendrix's home page
Travel Adventures by Year ** Travel Adventures by State ** Plants ** Marine-Boats ** Geology ** Exciting Drives ** Cute Signs ** RV Subjects ** Miscellaneous Subjects
We would love to hear from you......just put "info" in the place of "FAKE" in this address: FAKE@travellogs.us
Until next time remember how good life is.