Canadian Rockies in Kootenay National Park

July 7, 2007.
We are staying in the Tunnel Mountain National Park Campground in Banff, Alberta. Tunnel Mountain Campground offers full hookups, no hookups, and electricity only. We are in one of the $29.70 electricity only sites. I do not know what FHU or no hookups cost but they are all in the same area. All sites are paved.
The Canadian Rocky Mountains in this area are comprised of limestone and shales deposited on an ancient sea bottom millions of years ago.
We are following a creek at this point but will soon meet the Kootenay River and will follow it to the Continental Divide not far from Banff.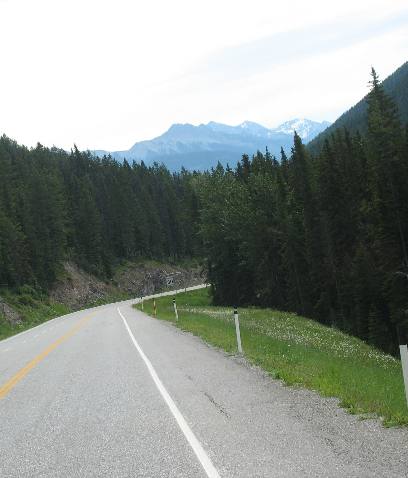 At times we get a peak at the mountains we are threading our way through.
PH 93 in this section is a nice modern highway complete with guard rail. Notice the snow covered mountains we are passing.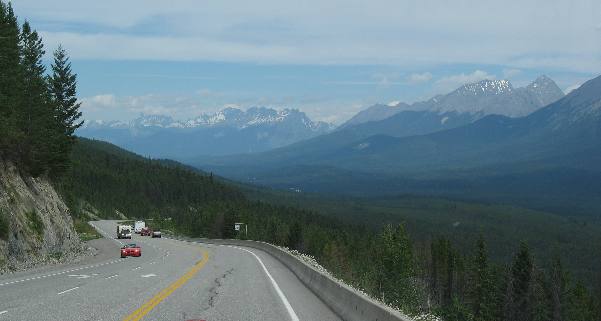 We must have followed this valley for 30 to 40 miles with spectacular views of snow capped mountains every way we looked on PH93 in Kootenay Natonal Park.
Joyce is doing a good job taking these pictures out the front window of our motorhome.
Shadows on the mountains along with the deep green of the conifer forest make every turn exciting.
From here it looks like the mountains have no forest on them.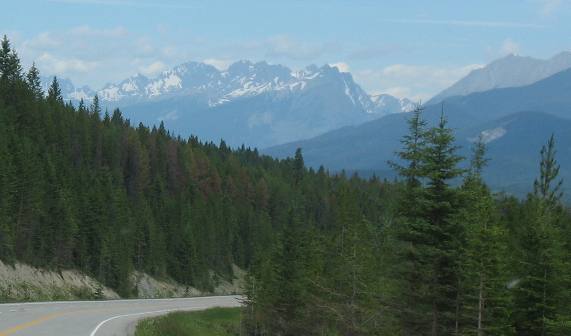 Some of that snow is actually deep glaciers that will not melt over the summer.
Now we are following the Kootenay River to its headwaters high on the Continental Divide.
We are going to have to find a pass through those mountains that form the backbone of the Rocky Mountains.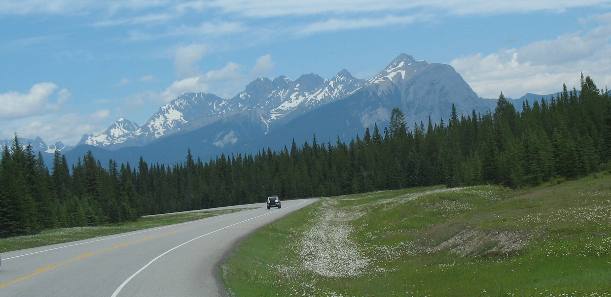 In addition to the deep green of the conifer forest small white flowers are lining the highway.
We keep getting higher and higher as we continue to follow the Kootenay River. Note that we are getting much closer to the snow.
The valley is beginning to narrow and we are getting closer to the mountain.
By this time I think we are starting to cross the mountain instead of just following the valley.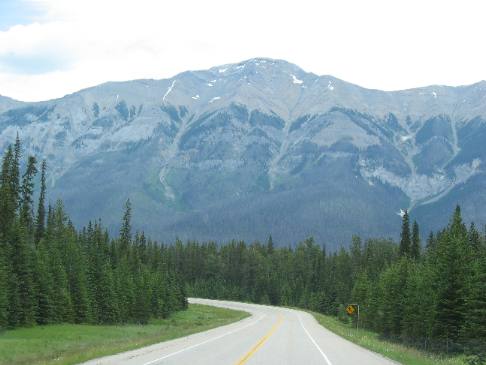 Those are avalanche chutes and we are getting closer to them.
Snow avalanches and rock slides cut swaths through green vegetation.
Many large rocks, some weighing several tons, roll and bounce all the way to the bottom.
You can clearly see where avalanches and rock slides have created these distinctive trails through the vegetation.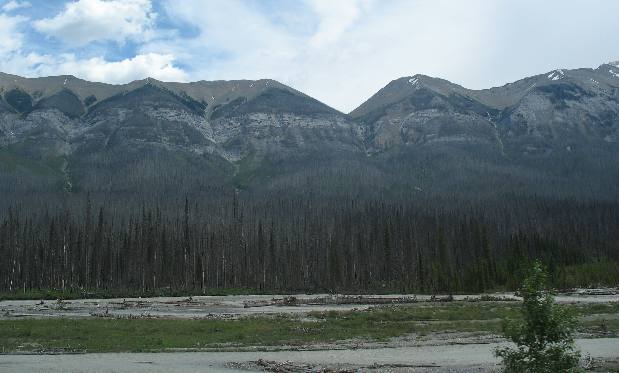 In this picture you can easily see the layers of sedimentary rock rising from the Kootenay River.
Now the glaciers are not much higher than we are. Note the avalanche chutes.
The early part of this drive,--- the part within 10 or so miles of Radium Hot Springs is comprised of these roadcuts. Soon we will pop out into a series of magnificent valleys.
Until next time remember how good life is.
We hope you liked this page. If you do you might be interested in some of our other Travel Adventures:
We would love to hear from you......just put "info" in the place of "FAKE" in this address: FAKE@travellogs.us
Until next time remember how good life is.