Mountains of Kootenay National Park

July 7, 2007
We are staying in the Tunnel Mountain National Park Campground in Banff, Alberta. Tunnel Mountain Campground offers full hookups, no hookups, and electricity only. We are in one of the $29.70 electricity only sites. I do not know what FHU or no hookups cost but they are all in the same area. All sites are paved.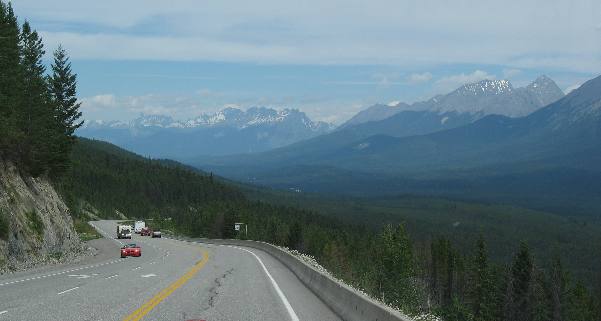 We must have followed this valley for 30 to 40 miles with spectacular views of snow capped mountains every way we looked on PH93 in Kootenay Natonal Park.
Joyce is doing a good job taking these pictures out the front window of our motorhome.
Some of the mountains are more spectacular than others.
Shadows on the mountains along with the deep green of the conifer forest make every turn exciting.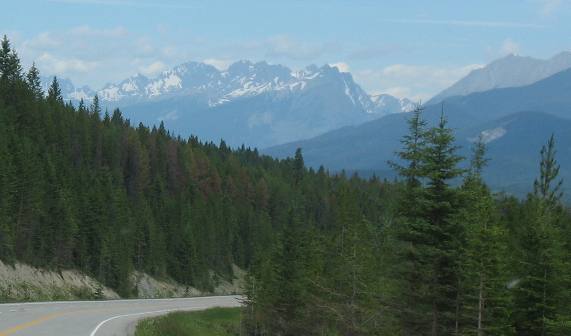 Some of that snow is actually deep glaciers that will not melt over the summer.
Scenes like this will take your breath away.
The valley is beginning to narrow and we are getting closer to the mountain.
It isn't all up hill but most of it sure is. After all we have to climb to the Continental Divide on PH 93 in the Canadian Rockies.
We seem to be missing the uphill grade signs. Anyway, PH 93 through Kootenay National Park in the Canadian Rockies is a fun drive in our motorhome.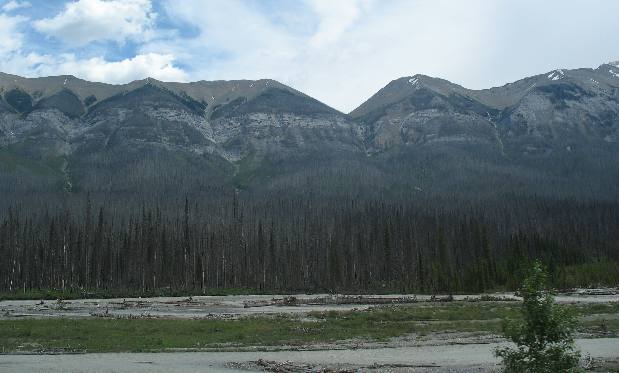 In this picture you can easily see the layers of sedimentary rock rising from the Kootenay River.
Until next time remember how good life is.
We hope you liked this page. If you do you might be interested in some of our other Travel Adventures:
We would love to hear from you......just put "info" in the place of "FAKE" in this address: FAKE@travellogs.us
Until next time remember how good life is.