Canadian Rockies, PH93 & Kootenay National Park

July 7, 2007.
We are staying in the Tunnel Mountain National Park Campground in Banff, Alberta. Tunnel Mountain Campground offers full hookups, no hookups, and electricity only. We are in one of the $29.70 electricity only sites. I do not know what FHU or no hookups cost but they are all in the same area. All sites are paved.
We left Radium Hot Springs this morning heading to Banff on PH 93 through Kootenay National Park. Immediately upon leaving Radium Hot Springs we entered the National Park then went through the "springs". From the "hot springs" the road passes through one of the most awesome roadcuts anywhere. One has to wonder why a road cut and not a tunnel. About the same time there is a sign warning about an 11% grade with no indication how long the grade is going to be. An 11% grade will get your attention especially if it is going to be 11% for very long. But for now it is back to negotiating these mind boggling road cuts.
These folks didn't remove any more rock than absolutely necessary. It does seem to me that they could have removed more around this curve. I know I cheated on the yellow line since my outside mirror didn't hit that rock.
Just past the road cut area is this reddish color hill of earth that I do not recognize. What is it doing here? Has it got something to do with the thermal activity less than a mile away? I don't guess I will ever know unless someone is kind enough to provide me with some information. Any takers?
It probably has something to do with iron since it is very near, if not part of, Iron Gates Canyon------ do you suppose this is part of the "iron gate" and the red color has to do with iron content?
When this road was built a decision had to be made. In the 1920s, the first road through the Canadian Rockies, the Banff-Windermere Highway was constructed. By 1964, this section of the road was outdated. In order to save the Iron Gates Canyon from the destructive impact of the new road, a tunnel was built.
You might not have noticed even with the information about the tunnel above but if you look in the top left hand corner of this picture you will see the tunnel that was constructed to save Iron Gates Canyon.
The early part of this drive,--- the part within 10 or so miles of Radium Hot Springs is comprised of these roadcuts. Soon we will pop out into a series of magnificent valleys.
Slowly we are making our way out of the roadcuts and past that 11% grade. Thankfully, that grade was a short one, steep but short.
Now you can see some "flat" space along with the steep roadcuts.
The Canadian Rocky Mountains in this area are comprised of limestone and shales deposited on an ancient sea bottom millions of years ago.
We are following a creek at this point but will soon meet the Kootenay River and will follow it to the Continental Divide not far from Banff.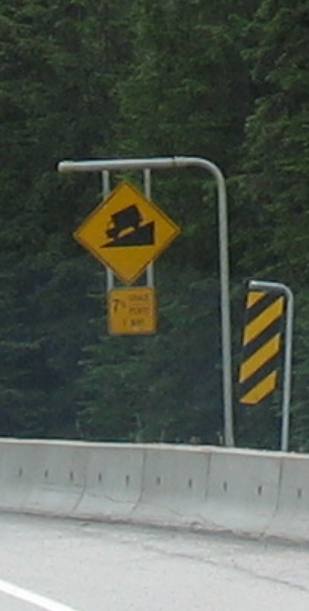 Seven percent grades like this were common throughout the journey on PH 93 from Radium Hot Springs to Banff.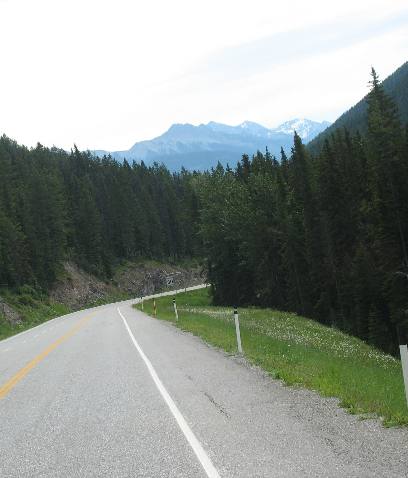 At times we get a peak at the mountains we are threading our way through.
PH 93 in this section is a nice modern highway complete with guard rail. Notice the snow covered mountains we are passing.
Just another 7% grade.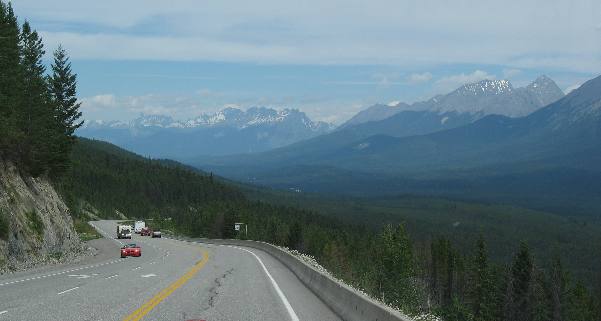 We must have followed this valley for 30 to 40 miles with spectacular views of snow capped mountains every way we looked on PH93 in Kootenay Natonal Park.
Joyce is doing a good job taking these pictures out the front window of our motorhome.
Some of the mountains are more spectacular than others.
Shadows on the mountains along with the deep green of the conifer forest make every turn exciting.
From here it looks like the mountains have no forest on them.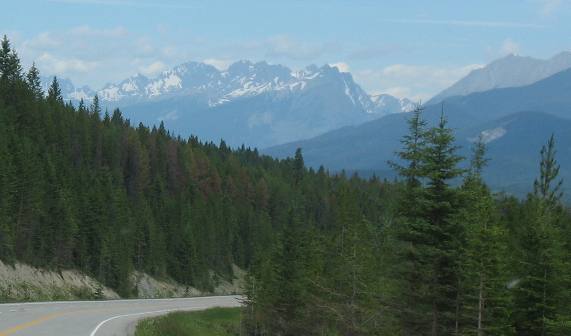 Some of that snow is actually deep glaciers that will not melt over the summer.
Scenes like this will take your breath away.
Now we are following the Kootenay River to its headwaters high on the Continental Divide.
We are going to have to find a pass through those mountains that form the backbone of the Canadian Rocky Mountains.
The milky color of the Kootenay River is from tiny bits of rock called glacial flour. This is pure glacier run off and the water is saturated with small particles of rock that have been ground to pieces by the glaciers.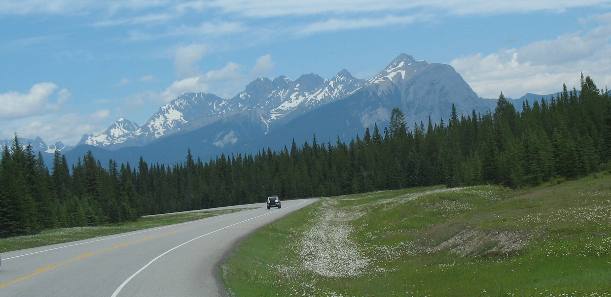 In addition to the deep green of the conifer forest small white flowers are lining the highway.
We keep getting higher and higher as we continue to follow the Kootenay River. Note that we are getting much closer to the snow.
The white flowers are so thick along here that they appear to be snow.
The valley is beginning to narrow and we are getting closer to the mountain.
By this time I think we are starting to cross the mountain instead of just following the valley.
Isn't this a magnificient view of the Canadian Rockies from PH93 in Kootenay National Park.
It isn't all up hill but most of it sure is. After all we have to climb to the Continental Divide on PH 93 in the Canadian Rockies.
We seem to be missing the uphill grade signs. Anyway, PH 93 through Kootenay National Park in the Canadian Rockies is a fun drive in our motorhome.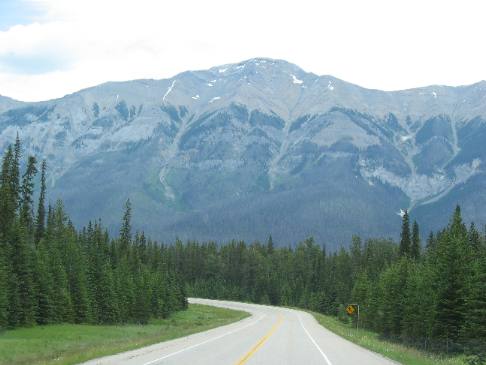 Those are avalanche chutes and we are getting closer to them.
Snow avalanches and rock slides cut swaths through green vegetation.
Many large rocks, some weighing several tons, roll and bounce all the way to the bottom.
You can clearly see where avalanches and rock slides have created these distinctive trails through the vegetation.
Remember that this is limestone and shales that have been thrusted up when two of the earths plates collided.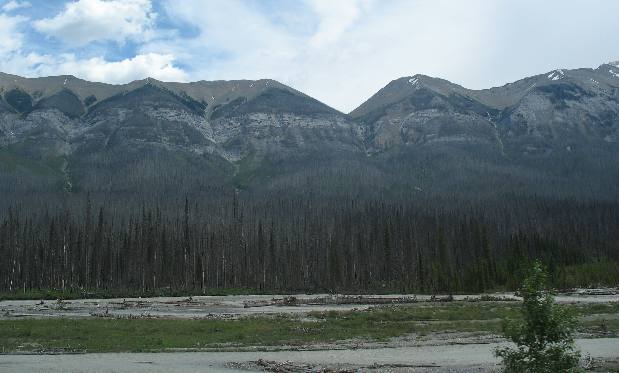 In this picture you can easily see the layers of sedimentary rock rising from the Kootenay River.
Now the glaciers are not much higher than we are. Note the avalanche chutes.
We are nearing the pass over the Continental Divide.
This is the last picture from British Columbia. Shortly we cross over the Continental Divide and enter Alberta, where we will drop down into Banff.
Until next time remember how good life is.
We hope you liked this page. If you do you might be interested in some of our other Travel Adventures:
We would love to hear from you......just put "info" in the place of "FAKE" in this address: FAKE@travellogs.us
Until next time remember how good life is.