Kootenay River in Kootenay National Park

July 7, 2007.
We are staying in the Tunnel Mountain National Park Campground in Banff, Alberta. Tunnel Mountain Campground offers full hookups, no hookups, and electricity only. We are in one of the $29.70 electricity only sites. I do not know what FHU or no hookups cost but they are all in the same area. All sites are paved.
Scenes like this will take your breath away.
Now we are following the Kootenay River to its headwaters high on the Continental Divide.
The milky color of the Kootenay River is from tiny bits of rock called glacial flour. This is pure glacier run off and the water is saturated with small particles of rock that have been ground to pieces by the glaciers.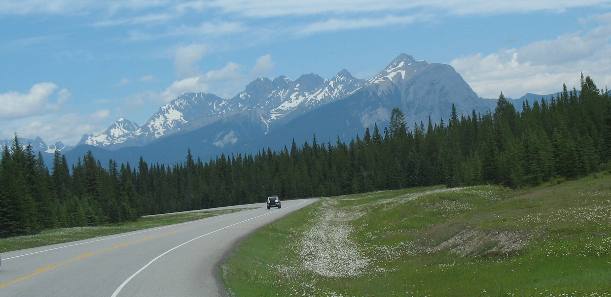 In addition to the deep green of the conifer forest small white flowers are lining the highway.
We keep getting higher and higher as we continue to follow the Kootenay River. Note that we are getting much closer to the snow.
The white flowers are so thick along here that they appear to be snow.
The valley is beginning to narrow and we are getting closer to the mountain.
Remember that this is limestone and shales that have been thrusted up when two of the earths plates collided.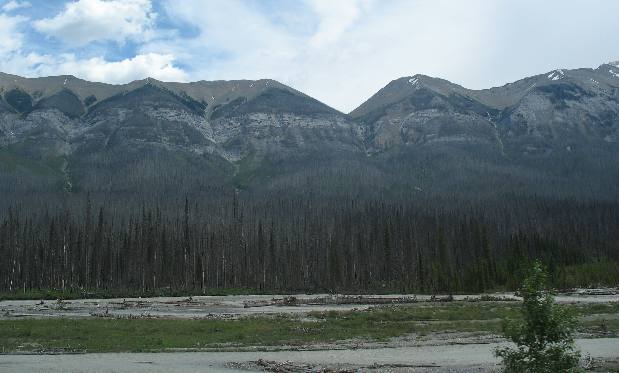 In this picture you can easily see the layers of sedimentary rock rising from the Kootenay River.
We are nearing the pass over the Continental Divide.
Until next time remember how good life is.
We hope you liked this page. If you do you might be interested in some of our other Travel Adventures:
We would love to hear from you......just put "info" in the place of "FAKE" in this address: FAKE@travellogs.us
Until next time remember how good life is.