Pictures from around Hill Spring and the Great Canadian Barn Dance
July 12, 13, & 14, 2007
We are staying in the campground at The Great Canadian Barn Dance in Hill Spring, Alberta. The campground is a PPA park $12.50 weekdays with no discount on weekends thus $25 for 30-amps and water. We located this place 6-years ago and had a good time at the Barn Dance, this time we decided to stay at their campground. These are great people. If you are looking for the Great Canadian Barn Dance and Campground it is located at: N49° 20.635' W113° 36.972' for those of you not into GPS drive 14-miles south of Pincher Creek on PH 6, then turn east on PR 505 and go another 14-mles where you will see the signs for the Great Canadian Barn Dance. Turn north on that road the Great Canadian Barn Dance will be less than 3-miles up that road on the west side.
For those of you that are not familiar with PPA (Pass Port America) it is an organization you can join for less than $50 per-year. Campgrounds that belong to PPA offer 1/2 price discounts. That kind of savings can quickly add up. While participating PPA parks generally have some restrictions on dates the PPA offer is valid, or possibly days of the week the discount is valid, or perhaps the number of days that the PPA discount will be honored the discount is genuine. Many times PPA campgrounds are new campgrounds that need help in getting established. Other times PPA campgrounds may be on the outskirts of town instead of in the "prime" location thus they need to provide an incentive for campers to stay with them. Whatever the reason PPA campgrounds generally provide a much cheaper option. PPA is the only campground organization that I think is worth the cost. PPA does not have a gimmick. What you see is what you get. Once you join they send you a directory listing all participating campgrounds. The PPA directory is the FIRST directory we check when trying to locate a place to spend the night. You can join PPA by calling 228-452-9972. If you decide to join PPA, it would be nice if you gave them my number "R-0156251" as the PPA member that told you about PPA. In return PPA will give me a $10 credit toward next years membership. I will thank you in advance for that kindness. Thank you.
Sunsets from our campsite at The Great Canadian Barn Dance can be spectacular. That doesn't happen every night but of the 6-nights we were there two nights turned out pretty good with this one being the best by far.
The sun is setting over the Canadian Rockies about 80-miles north of the US border.
The cloud cover seemed to be just right to make the sky turn red. Most of the other nights the sun disappeared without any color at all.
The mountains are 20 to 50 miles west of us but they make such a fantastic backdrop.
A few dairies dotted the landscape. Even this dairy was surrounded by grain fields.
The above dairy was very near the community of Hill Spring.
This prairie pothole in Hill Spring supported a flock of black tern feeding on minnows. That single bird is one of the black tern.
One of the large farmers in the area had fence posts adorned with caps. We have seen boots, shoes, catfish heads, bass heads, deer antlers, and now hats adorning fence posts.
The land around here is either producing hay or grain or sometimes canola. This farmer is putting up a lot of hay.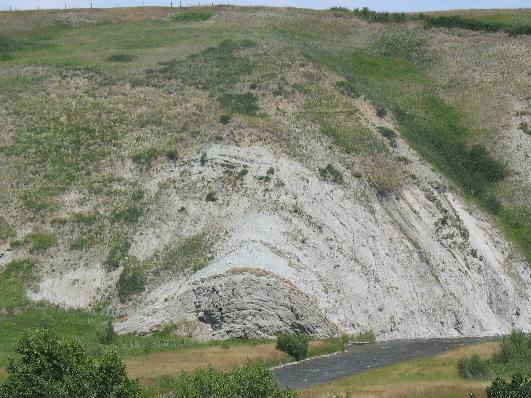 We learned from a local that rocks near the river down there contained a lot of fossils so we took time to go looking for them today. We did not find any but we did marvel at the geology presented by the river cut. That gray mass of limestone is bent in what geologist refer to as an anticline. Even the untrained eye can see where this once flat sedimentary rock has been bent.
This anticline can be seen below the Waterton Spillway in Hill Spring, Alberta.
I know it didn't look like any water was flowing down that spillway in the above picture but from this angle it is obvious a good bit of water is flowing over that spillway.
Grain and hay are the staples of farming in Hill Spring, Alberta. Waterton NP is in the distance.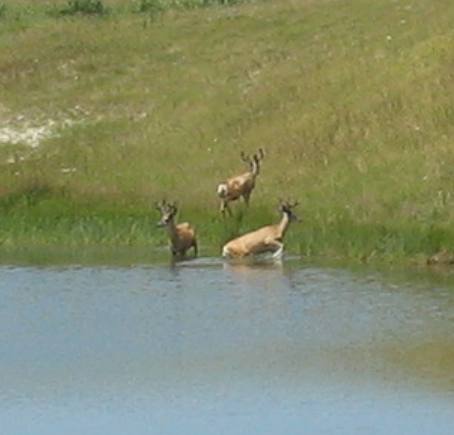 How about these nice bucks cooling off on a hot day!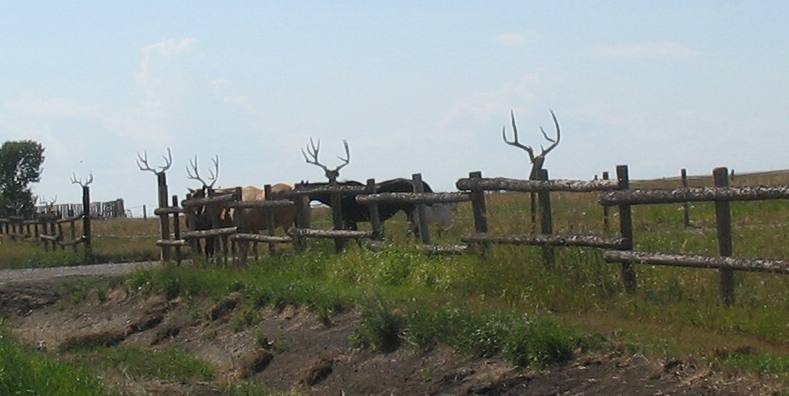 This fence was adorned with trophy antlers. I am impressed. We call this fence art.
Until next time remember how good life is.
Mike & Joyce Hendrix who we are
We hope you liked this page. If you do you might be interested in some of our other Travel Adventures:
Mike & Joyce Hendrix's home page
Travel Adventures by Year ** Travel Adventures by State ** Plants ** Marine-Boats ** Geology ** Exciting Drives ** Cute Signs ** RV Subjects ** Miscellaneous Subjects
We would love to hear from you......just put "info" in the place of "FAKE" in this address: FAKE@travellogs.us
Until next time remember how good life is.