Hill Spring and the Great Canadian Barn Dance & Campground
July 12, 13, & 14, 2007
We are staying in the campground at The Great Canadian Barn Dance in Hill Spring, Alberta. The campground is a PPA park $12.50 weekdays with no discount on weekends thus $25 for 30-amps and water. We located this place 6-years ago and had a good time at the Barn Dance, this time we decided to stay at their campground. These are great people. If you are looking for the Great Canadian Barn Dance and Campground it is located at: N49° 20.635' W113° 36.972' for those of you not into GPS drive 14-miles south of Pincher Creek on PH 6, then turn east on PR 505 and go another 14-mles where you will see the signs for the Great Canadian Barn Dance. Turn north on that road the Great Canadian Barn Dance will be less than 3-miles up that road on the west side.
For those of you that are not familiar with PPA (Pass Port America) it is an organization you can join for less than $50 per-year. Campgrounds that belong to PPA offer 1/2 price discounts. That kind of savings can quickly add up. While participating PPA parks generally have some restrictions on dates the PPA offer is valid, or possibly days of the week the discount is valid, or perhaps the number of days that the PPA discount will be honored the discount is genuine. Many times PPA campgrounds are new campgrounds that need help in getting established. Other times PPA campgrounds may be on the outskirts of town instead of in the "prime" location thus they need to provide an incentive for campers to stay with them. Whatever the reason PPA campgrounds generally provide a much cheaper option. PPA is the only campground organization that I think is worth the cost. PPA does not have a gimmick. What you see is what you get. Once you join they send you a directory listing all participating campgrounds. The PPA directory is the FIRST directory we check when trying to locate a place to spend the night. You can join PPA by calling 228-452-9972. If you decide to join PPA, it would be nice if you gave them my number "R-0156251" as the PPA member that told you about PPA. In return PPA will give me a $10 credit toward next years membership. I will thank you in advance for that kindness. Thank you.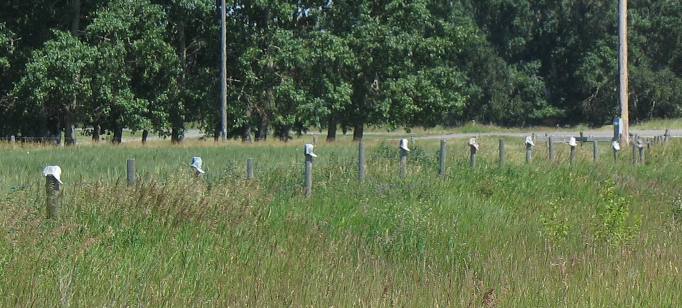 This is a good shot of a "hat art" fence located on PH 505 not far from Hill Spring.
Every once in a while we see a farmer that decorates his fence with something. We have seen cat fish heads, deer altlers, old boots, old shoes, and this one has hats. Joyce and I have started calling these displays "fence art".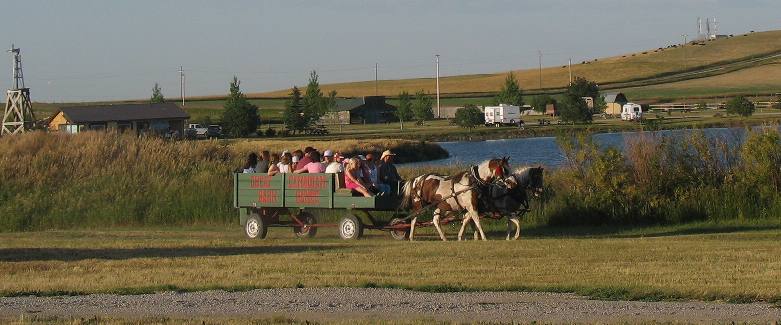 Wagon rides are one of the fun activities at the Great Canadian Barn Dance. In the late afternoons and evenings People from all over gather at the Great Canadian Barn Dance for Dinner and whatever activities are on schedule from Dances to Jam Sessions. When not eating, dancing or singing everyone likes to ride around the lake in the wagon.
Machinery and storage facilities awaiting grain harvest time.
These are pictures from the one night that produced a good sunset with color---out of the 6-nights we stayed at the Great Canadian Barn Dance Campground.
St. Henry's Roman Catholic Church Hill Spring
This is the still operating St. Henry's Roman Catholic Church near Hill Spring. It is located on top of one of the highest hills in the area with a commanding view of the prairie in all directions.
St. Henry's Roman Catholic Church Hill Spring
Back in 1896, a Blood (type of Indian like Black Foot or Cherokee) Indian that went by the name of Charcoal, killed his wife's lover. Charcoal's wife's affair with her cousin, Medicine Pipe Stem, broke one of the most fundamental rules of Blood society. When they would not end their relationship, Charcoal felt he had no choice. Killing Medicine Pipe Stem made Charcoal a murderer in the eyes of the North West Mounted Police and the government, but it was not a simple crime of passion or revenge. Convinced that he faced only execution if he surrendered, Charcoal became a fugitive. For weeks his thefts of food and horses and several armed confrontations terrorized southern Alberta from the Porcupine Hills to the U.S. border. Patrols of Mounted Police and Indian scouts tried in vain to find him. Finally, on November 10, 1896, a patrol led by Sergeant W.B. Wilde of the North West Mounted Police caught up with Charcoal in the foothills just south of Pincher Creek. Sergeant Wilde was undoubtedly a brave and capable police officer, but he probably did not understand just how desperate Charcoal had become. Threatened with arrest, Charcoal shot Wilde.
By the following day Charcoal was captured and behind bars. He was transported to Fort Macleod and put on trial for the murders of Medicine Pipe Stem and Sergeant Wilde. He was quickly convinced and executed at Fort Macleod on March 16, 1897. It was the last act in a tragic chain of events that pitted the traditional beliefs of First Nations against the new laws of Canada.
I am sure that events such as this happened across the United States as well. The difference is this one has been recorded on a historical kiosk just south of Pincher Creek.
More of that antler fence art.
Black tern working a prairie lake for minnows on the surface.
Prairie lakes, green grain fields with the Rocky Mountains for a background. These folks have it all.
This is Payne Lake located on the prairie not far from Waterton NP. If you are interested in staying here there are no utilities. Sites are $15 and it is 5-miles down a gravel road. You can probably find information by Googling Alberta Environment.
Until next time remember how good life is.