Waterton National Park
July 12, 2007.
We are staying in the campground at The Great Canadian Barn Dance in Hillspring, Alberta. The campground is a PPA park $12.50 weekdays with no discount on weekends thus $25 for 30-amps and water. We located this place 6-years ago and had a good time at the Barn Dance, this time we decided to stay at their campground. These are great people. If you are looking for the Great Canadian Barn Dance and Campground it is located at: N49° 20.635' W113° 36.972' for those of you not into GPS drive 14-miles south of Pincher Creek on PH 6, then turn east on PR 505 and go another 14-mles where you will see the signs for the Great Canadian Barn Dance. Turn north on that road the Great Canadian Barn Dance will be less than 3-miles up that road on the west side.
For those of you that are not familiar with PPA (Pass Port America) it is an organization you can join for less than $50 per-year. Campgrounds that belong to PPA offer 1/2 price discounts. That kind of savings can quickly add up. While participating PPA parks generally have some restrictions on dates the PPA offer is valid, or possibly days of the week the discount is valid, or perhaps the number of days that the PPA discount will be honored the discount is genuine. Many times PPA campgrounds are new campgrounds that need help in getting established. Other times PPA campgrounds may be on the outskirts of town instead of in the "prime" location thus they need to provide an incentive for campers to stay with them. Whatever the reason PPA campgrounds generally provide a much cheaper option. PPA is the only campground organization that I think is worth the cost. PPA does not have a gimic. What you see is what you get. Once you join they send you a directory listing all participating campgrounds. The PPA directory is the FIRST directory we check when trying to locate a place to spend the night. You can join PPA by calling 228-452-9972. If you decide to join PPA, it would be nice if you gave them my number "R-0156251" as the PPA member that told you about PPA. In return PPA will give me a $10 credit toward next years membership. I will thank you in advance for that kindness. Thank you.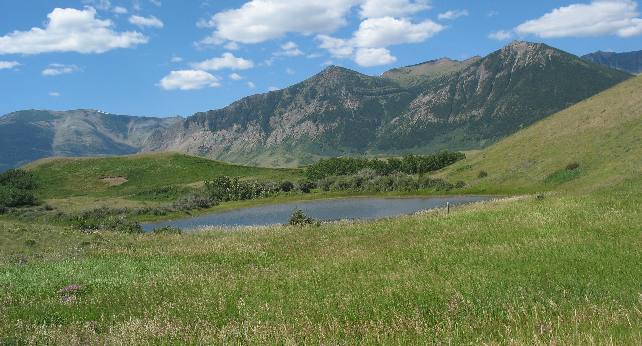 This is a kettle pond left when a big chunk of ice broke off the main glacier and made this depression before finally melting.
The tilted layers of sediments in this block identify these mountains as part of the Front Range.
In a wet area Joyce spotted these showy fleabane. Our friend Suzie Kisner, a retired middle school science teacher, spent time last summer identifying this flower and drilling it into my memory system when we visited with her and her husband, Buddy, in the Tetons last summer. Thanks Suzie. Because of you I was able to remember the name this summer.
We spotted these showy fleabane in the same wet environment like were we first saw them in the Tetons.
Now this is a flower that was growing along side the showy fleabane but I have no idea what they are. Feel free to help us with identification.
This is a lake that was created by a huge block of ice. The material on this side of the lake is the glacial till that was pushed up against the large block of ice by other glaciers.
Lakes formed in this manner are referred to in geologic terms as kettle lakes.
A number of rock slides can be seen on the face of this mountain. Note that the sedimentary layers are laying fairly flat generally indicating that the mountain is part of the Main Range of the Rockies.
The Prince of Wales Hotel in Waterton National Park.
Geology in Waterton National Park
Rock slides grace the glacier carved face of this mountain. I particularly like the gentile curvature of the layers of sedimentary rock.
Driftwood along a lake in Waterton National Park
The volume of driftwood along this shore was an amazing sight.
Mike & Joyce Hendrix who we are
We hope you liked this page. If you do you might be interested in some of our other Travel Adventures:
Mike & Joyce Hendrix's home page
Travel Adventures by Year ** Travel Adventures by State ** Plants ** Marine-Boats ** Geology ** Exciting Drives ** Cute Signs ** RV Subjects ** Miscellaneous Subjects
We would love to hear from you......just put "info" in the place of "FAKE" in this address: FAKE@travellogs.us
Until next time remember how good life is.