Places Visited:
Texas: Fredericksburg and Luckenbach
Thursday, June 16: Lady Bird Johnson City Park Fredericksburg, Texas. $20 -- 50-amp FHU including, cable TV; paved interior roads & sites: N30° 14.355' W98° 54.573' --- 830-997-4202
Sissors tail flycatcher on fence at Ladybird Johnson City Park in Fredericksburg, Texas
On the road leading into Lady Bird Johnson Campground we stopped to get this pic of a scissors tail flycatcher perched in the fence between us and the adjacent airport property. Note how long the tail is. When this fly catcher catches a flying bug this acrobatic bird uses the long tail as a huge rudder to stop and turn on a dime.
Friday, June 17: Lady Bird Johnson City Park Fredericksburg, Texas. $20 -- 50-amp FHU including, cable TV; paved interior roads & sites: N30° 14.355' W98° 54.573'
830-997-4202
Joyce did some reading last night, as a good tour guide will do, and discovered that Sunday is going to be the Waylon Jennings Birthday Bash at Luckenbach, Fredericksburg Trade Days are happening, and Stonewall is having a Peach festival and rodeo Friday and Saturday night plus the Exotic Animal Auction in Harper is Saturday and Sunday. There is more to do than we can possibly do justice to ------ but you can bet we are going to try.
Joyce posing with an antique wagon in Fredericksburg, Texas
We wandered through the booths at "trade days" and enjoyed ourselves as much as possible on a hot summer day then we purchased some fresh peaches from one of the vendors. Back at the motorhome hiding from the heat of the afternoon we indulged in some Blue Bell Home Made Vanilla with fresh peaches. Sinful, absolutely sinful but --- oh so good. VBG
As it cooled down we headed to the rodeo and dance in Stonewall where we had a blast. When these small Texas towns host a rodeo and dance the entire community turns out to have a good time and this one was no exception. The dance was outdoors on a huge concrete slab surrounded by picnic tables.
Saturday, June 18: Lady Bird Johnson City Park Fredericksburg, Texas. $20 -- 50-amp FHU including, cable TV; paved interior roads & sites: N30° 14.355' W98° 54.573'
830-997-4202
We headed to Harper and the exotic animal auction this morning. That event is always something I enjoy. Today they had American bison, Cape buffalo, zebra, several varieties of antelope, many different exotic deer species, several varieties of oryx, ostriches, emus, rhea, turkeys, quail, guinea fowl, ducks, geese, rabbits, exotic pigs, border collies, peacocks, chukars, pigeons, dove, and about any thing else exotic you might think of.
When we tired of that we spent some time in Fredericksburg wandering through the Shoppe's. When in Fredericksburg that is just part of the ritual.
Acoustic music being provided at a restaurant in downtown Fredericksburg, Texas
Always on the lookout for special events Joyce found a place with entertainment for lunch. A young man from North Dakota was playing an acoustic guitar and providing some good vocals. He was performing many of his own songs and they were pretty good. This is the life, it can't get much better.
Old German "Sunday" home in Fredericksburg, Texas
Fredericksburg has done a wonderful job of preserving its German heritage. This Sunday house is just one example. In the mid-1800's and indeed well into the 1900's area ranchers and farmers maintained "Sunday" homes in Fredericksburg. Families would make the weekly trip to town in order to get supplies and attend church on Sunday. There is a good number of these small homes still here in Fredericksburg with many of them being occupied. This is but one example. Note the native limestone porch and steps. The building is constructed on limestone piers as well.
Our plan was to wait for it to cool off then stop by Luckenbach for a few hours followed by moseying down to the rodeo and dance in Stonewall to finish off the night. It didn't work out that way. When we got to Luckenbach both roads into town were closed off as in barricaded. All traffic to Luckenbach was detoured into a large parking lot that we had never realized was there. Actually, this parking lot is a huge pasture that takes up the majority of the land inside the Luckenbach Loop. We had been to Luckenbach when they had something going on but nothing this big. Horse trailers, horses and pickup trucks were everywhere. The Waylon Jennings Birthday bash is supposed to be tomorrow, could they be starting the Waylon party on Saturday. If so it promised to be big!
As it turned out the Waylon Jennings Birthday Bash was last weekend, this was a trail-ride. The trail-ride group had rented the dance hall in Luckenbach and a band was going to perform from 8:00 until------------------!!! Those in the trail-ride group got in free while the rest of us ponied up $10 each to enter the dance hall and join the fun. Needless to say Joyce and I never made it to the rodeo & dance in Stonewall. We sat with a group of wonderful Texans that made us feel at home. We find good people everywhere we go.
When we passed through here (Luckenbach) in April, on our way to California, we sat around a potbellied stove and listened to freelance pickers perform. There was no need for a potbellied stove tonight. It was Texas hot but those Texans still wear blue jeans and starched cotton shirts. Anyone can easily tell who the Texans & tourist are. Tourists are in shorts and T-shirts or knit shirts. Texans wouldn't be caught dead in shorts or T-shirt no matter how hot.
Parking area at Luckenbach, Texas

There was close to 200 participants in the trail-ride utilizing the huge parking facilities here in Luckenbach for the night. Families and friends of the trail-riders joined them for the night's dinner and dancing. They were a good fun loving bunch with pickup trucks, horse trailers, horses, dogs and all the regalia that a good trail ride entails.
All the lights were off when we arrived back at the RV-Park. I wonder why? VBG
Sunday, June 19: KOA East Houston/Baytown in Baytown, Texas (exit 797 eastbound & exit 800 west bound) $26 -- 50-amp FHU paved interior roads & sites: N29° 49.393' W94° 52.193'
Today was the day we chose to "get through San Antonio and Houston" on I-10. It was a good plan. I wouldn't want to traverse either of those cities on I-10 on a normal weekday. It was bad enough on Sunday. Traffic flowed nicely through both but the flow was thick. It wouldn't take much more traffic through either city to create major problems. Both cities had large sections of I-10 under construction with the attendant small lanes squeezed between menacing concrete barriers. Even on Sunday it was obvious more traffic volume was utilizing the roadway than designers ever anticipated.
We made it through both cities and stopped for the night in Baytown, Texas about 20-miles east of Houston.
Texas continues to be abnormally green. They have received a lot of rain this year and everything looks so good. Ranchers have to be ecstatic.
Until next time remember how good life is.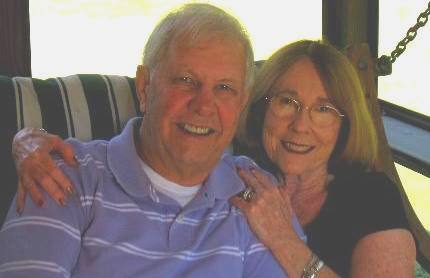 Mike & Joyce Hendrix who we are
We hope you liked this page. If you do you might be interested in some of our other Travel Adventures:
Mike & Joyce Hendrix's home page
Travel Adventures by Year ** Travel Adventures by State ** Plants ** Marine-Boats ** Geology ** Exciting Drives ** Cute Signs ** RV Subjects ** Miscellaneous Subjects
We would love to hear from you......just put "info" in the place of "FAKE" in this address: FAKE@travellogs.us
Until next time remember how good life is.