Places Visited:
Monday, April 4 Kerrville-Schreiner Municipal Park Kerrville, Texas $21-30-amp FHU paved interior streets and pads N30° 0.338' W99° 7.573' or 1-mile south of town on SR-173 phone 830-257-5392.
After lunch we headed south on SR-16 across that "hill" with the steep grades and numerous switchbacks. Neither of us would say it but we were both looking forward to an apple slushie at the Apple Barn in Medina. It was one of those "understood" things that mates share. The apple slushie was every bit as good as our expectations. Then it was off to Bandera where Joyce wanted to sashay down the isles of those specialty shops full of cow-girl attire. Well, ------------- she perused the offerings in a variety of Texas specialty shops before tiring of her game.
Joyce in the Old Spanish Trail Cafe in downtown Bandera, Texas
We finished off downtown Bandera by stopping in the Old Spanish Trail Café for some Ice Cream. The Old Spanish Trail Café is a "locals" place with lots and lots of history. John Wayne paraphernalia adorns the walls, long ago he made some westerns in Bandera and frequented the Old Spanish Trail Café and they have not forgotten. A unique bar located on one side of the building has a row of saddles for seats. We like to see this western motif but have never seen anyone actually sitting one of those saddles at the bar.
Joyce climbed on one of the saddles for this pic
The City of Bandera maintains a large park along the Medina River in downtown Bandera that is lined with stately old cypress trees. If you are ever in Bandera you should drive through the park and enjoy the view. Bandera is unique in a number of ways but bills itself as the cowboy capital of the U.S. Local advertisements tout the area as having more dude ranches than any place in the country. They also claim that Bandera has more Rodeo Champions per-capita than any other place in the United States. Besides that one of the Dixie Chicks, Emile Robinson, has a ranch between Bandera and Medina.
Bandera is also home to one of Texas oldest honky-tonks in Arkey Blue's Silver Dollar Bar. In the North East Arkey Blue's would be referred to as a rathskeller since Arkey Blue's is in a basement. You enter Arkey Blues from Main Street and immediately go downstairs into the dimly lit bar and dance floor. The back door empties into a ground level parking lot so possibly the entrance is actually where a second story should be in which case it would not be a rathskeller. Anyway, it is a fun place to visit especially at night when they have a country band. Ask me how we know. VBG
Cowboy taking care of business at the Bandera County Courthouse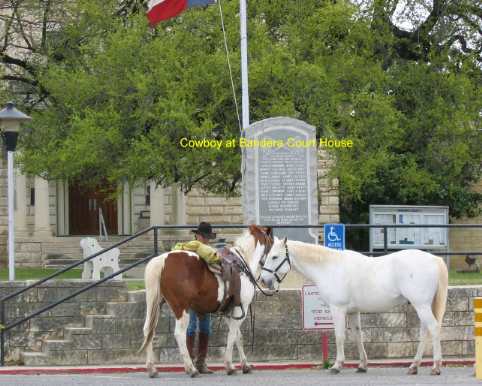 Whether Bandera is the "Cowboy Capitol" or not is probably open to debate but on the way into Bandera this morning we passed a cowboy mounting his horse outside the County Court House. We stopped for Joyce to get a picture of this Cowboy that had come to town on his horse to conduct business at the court house. You gotta love it.
An hour or so later as we drove back to Medina we saw this cowboy and his horses about 5-miles out of town, his business obviously finished and on his way home.
From Bandera we ventured over to the small crossroads community of Tarpley just to see what the "scenic drive" down Ranch-470 would reveal. We saw a good number of blackbuck antelope and a few axis deer but not much else. There are a few of those exotic game ranches on that road but we were unable to spot anything other than antelope and axis deer. We must be getting finicky about what will excite us. In Tarpley we decided we had had enough and headed back to the motorhome.
Until next time remember how good life is.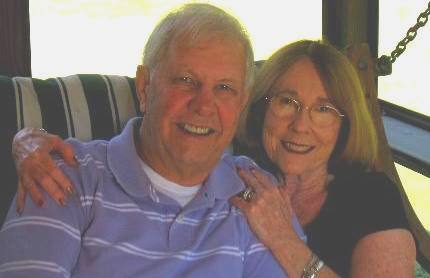 Mike & Joyce Hendrix who we are
We hope you liked this page. If you do you might be interested in some of our other Travel Adventures:
Mike & Joyce Hendrix's home page
Travel Adventures by Year ** Travel Adventures by State ** Plants ** Marine-Boats ** Geology ** Exciting Drives ** Cute Signs ** RV Subjects ** Miscellaneous Subjects
We would love to hear from you......just put "info" in the place of "FAKE" in this address: FAKE@travellogs.us
Until next time remember how good life is.