Places Visited:
Florida: Lido Key Beach Park Sarasota
Thursday, December 22 through Wednesday December 28: Sun N Fun RV-Resort in Sarasota, Florida $35.30 FHU with 50-amps, paved interior roads N27° 20.66' W82° 24.96'
On Monday after Christmas we headed back to Lido Key to walk some of the nature trails. The South Lido Key County Park provides an extremely nice walk starting along the Gulf of Mexico then along the pass between Lido Key and Siesta Key where the shoreline transitions to Sarasota Bay all the way to a mangrove lagoon. The park is a special piece of property on this barrier island that has been preserved. Another nice park is located on the peninsula housing Mote Marine and the Pelican Man Sanctuary. A wide variety of birds are generally hanging around that park. Pelicans, herons and egrets as well as osprey can usually be spotted at the boat ramp behind Pelican Mans Sanctuary.
Small raccoon raiding garbage container in a Lido Key County Park
This county park has a large family of raccoons that roam the park begging and raiding garbage containers.

Great Blue Herons at South Lido Key County Park
This great blue heron was cruising the parking lot looking for bait buckets that might contain a quick bite while the one on the right is foraging in the surf.
Don't you just love the breeding plumage on the great blue heron on the left?
Gulls on beach at South Lido Key County Park
Laughing gulls like these lined the shoreline waiting for a change in tide to deliver bounty from the sea.
Great Egret on beach at South Lido Key County Park
This great egret was begging a fisherman to share catch with him.
Canoers passing by South Lido Key County Park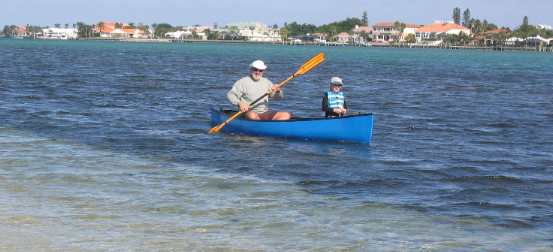 This grandfather was having a good time with his grandson on the eastern shore of the park. Across this inlet is Bird Key a fairly posh island between St Armands Circle and downtown Sarasota.
Willet and Snowy Egret patroling beach at South Lido Key County Park
The willet on the left was patrolling the shoreline in search of a seafood dinner.
The snowy egret on the right seems to be telling me that I am getting into his space. Note his golden slippers.
Great blue heron enjoying South Lido Key County Park
This great blue heron was wading in the shallows while waiting for an unsuspecting fish to enter his space.
Brown Pelican posing at South Lido Key County Park
This pelican is showing off some beautiful plumage.