Places Visited:
Florida: South Lido Key County Park Sarasota
Thursday, December 22 through Wednesday December 28: Sun N Fun RV-Resort in Sarasota, Florida $35.30 FHU with 50-amps, paved interior roads N27° 20.66' W82° 24.96'
On Monday after Christmas we headed back to Lido Key to walk some of the nature trails. The South Lido Key County Park provides an extremely nice walk starting along the Gulf of Mexico then along the pass between Lido Key and Siesta Key where the shoreline transitions to Sarasota Bay all the way to a mangrove lagoon. The park is a special piece of property on this barrier island that has been preserved. Another nice park is located on the peninsula housing Mote Marine and the Pelican Man Sanctuary. A wide variety of birds are generally hanging around that park. Pelicans, herons and egrets as well as osprey can usually be spotted at the boat ramp behind Pelican Mans Sanctuary.
Cones from an Australian Pine tree
Joyce is holding 8 cones from one of the Australian Pines in South Lido Key County Park
Morning glory on beach at South Lido Key County Park
This morning glory adds a splash of color to the lush vegetation along the parks shoreline.
Black Mangrove roots in South Lido Key County Park
These black mangrove roots were located along the bank of a small lagoon in the park.
Canoers passing by South Lido Key County Park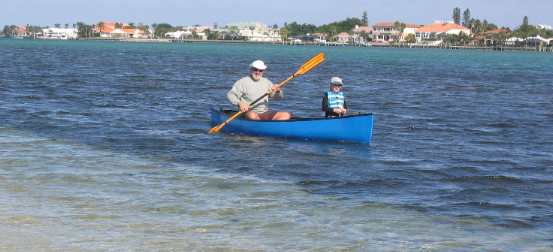 This grandfather was having a good time with his grandson on the eastern shore of the park. Across this inlet is Bird Key a fairly posh island between St Armands Circle and downtown Sarasota.
Mike with the strange roots of white mangrove trees at South Lido Key County Park
These pictures are of white mangrove roots. Notice how different the root systems of the white mangrove is in comparison to the red mangrove's pencil root structure pictured somewhere above.
Baby raccoon enjoying South Lido Key County Park
This little raccoon was just too cute to pass up without taking his picture.
.