January, 6th, 7th & 8th 2009
We are camped at Lake Manatee State Park located on SR 64 about 10-miles east of Bradenton, Florida, where we are paying $18 a night for water and 30-amps. The campground has paved interior roads with sand/shell sites and a central dump station. The main attraction for us is the $18 rate. Campgrounds in the area are generally full during the winter *snow bird* season and run around $50 a night.
Today we are visiting Lido Key, one of the barrier islands near Sarasota, Florida.
When in this area we always like to stop by the New Pass Grill for a simply wonderful burger that we eat at their outdoor dining area. While eating our burgers we enjoy watching all the wildlife hanging around the dock area.
This great egret was waiting for scraps from a fish cleaning table behind the New Pass Grill on the south side of Lido Key, Florida.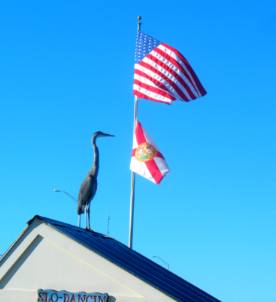 Like the above picture this one was also taken while dining at the New Pass Grill on Lido Key. If you are looking for the New Pass Grill it is located on the water across from the Mote Marine Aquarium on Lido Key.
When Joyce and I saw this great blue heron we couldn't help but comment that it was a very patriotic bird.
Immature white ibis in mangroves around Cortez, Florida
This is an immature white ibis which is fairly common in South Florida. This one was feeding in a mangrove thicket in Cortez, Florida.
Brown pelicans around fish hose in Cortez, Florida
This is a pair of brown pelicans behind a fish house in nearby Cortez, Florida.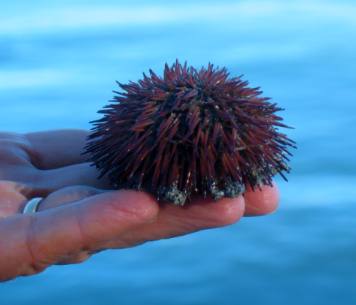 I am holding a sea urchin that was washed up on the beach at the South Lido Beach County Park on Lido Key. They can be found, washed up on inshore beaches around Cortez and Anna Maria Island.