Places Visited:
California: Pebble Beach
Wednesday, June 1: Cypress Bay RV Park Morro Bay, California: $31 FHU-30amp. Paved interior roads & sites. N35° 72.165' W120° 51.044'
We spent time discussing our plans for the next week or so. We have not seen Monterey and Carmel and that seemed like a must for us. However, we were having a hard time locating RV-Parks. They just don't have them in Carmel or Monterey proper. Some were available in cities north and east of Monterey. The more we discussed it the more we realized we just needed to drive the Saturn up US-101 to Monterey and Carmel instead of moving the motorhome up there so that is what we did today.
It took a little over two hours to drive up US-101 to Salinas and over to Monterey in the Saturn where we drove straight to Carmel and the famous 17-mile drive. The 17-mile drive is actually a loop that we started at the US-101 Carmel gate. The first few miles wound around in residential neighborhoods in a pine forest as the road wended its way north traversing several golf courses that have household names with the golfing crowd.
World famous Pebble Beach golf course north of Carmel, California
In matter of fact almost everything is spectacular from the golf courses to the homes to cliffs and sandy beaches.
Gnarled Monterrey cypress trees along coast between Carmel & Pebble Beach, California
Even the gnarled Monterrey cypress trees and other vegetation creates visual splendor.
Pebble Beach Golf Course
We enjoyed the 17-mile drive so much that we turned around at Pebble Beach Golf Resort and retraced our route along the water so we could once again admire not only the natural setting but the lavish mansions. We saw one of these places being "offered" for $14-million and change.
Guiano coated rocks visible on that 17-mile scenic drive along the California coast around Pebble Beach
On some of these cliff edges are some of the world's most powerful views and I suspect weather. This area has been created by the forces of nature and that is its attraction. Raw forces of weather, waves and geologic activity has created this panorama.
Seals birth their young on the beaches around here while sea birds use these guiano coated rocks as their places of solitude. Spanish Sailors named these rocks Blanca rocks or white rocks.
The part of that 17-mile drive along the ocean is probably one of the most scenic drives anywhere.
Cannery Row is main street in Monterey, California
We stopped and walked through the shops and botiques along Cannery Row in Monterey admiring the memorial to John Steinbeck who immortalized Cannery Row with his eponymous book.
Harbor at Monterrey, California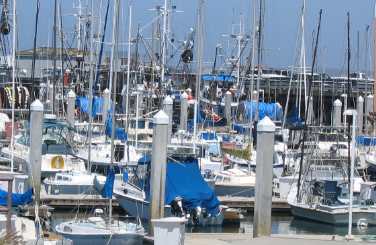 Before leaving Monterey we stopped by the harbor to inspect the boats. I am constantly amazed at the huge marinas full of boats.
What a day! It was our last day on the coast before heading inland for a spell.
Until next time remember how good life is.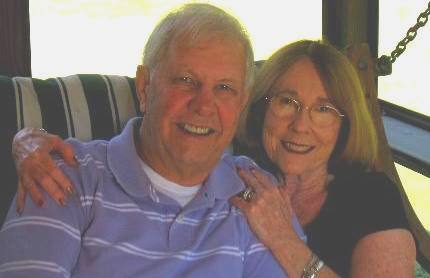 Mike & Joyce Hendrix who we are
We hope you liked this page. If you do you might be interested in some of our other Travel Adventures:
Mike & Joyce Hendrix's home page
Travel Adventures by Year ** Travel Adventures by State ** Plants ** Marine-Boats ** Geology ** Exciting Drives ** Cute Signs ** RV Subjects ** Miscellaneous Subjects
We would love to hear from you......just put "info" in the place of "FAKE" in this address: FAKE@travellogs.us
Until next time remember how good life is.