Carmel-by-the-Sea, California
Places Visited:
California: Carmel-by-the-Sea, California
Tuesday, May 31: Cypress Bay RV Park Morro Bay, California: $31 FHU-30amp. Paved interior roads & sites. N35° 72.165' W120° 51.044'
We started our sight seeing in Monterey, California then drove through Pebble Beach along a 17-mile scenic drive along the coast and ended up in Carmel-by-the-Sea.
Cannery Row is main street in Monterey, California
We stopped and walked through the shops and botiques along Cannery Row in Monterey admiring the memorial to John Steinbeck who immortalized Cannery Row with his eponymous book.
Harbor at Monterey, California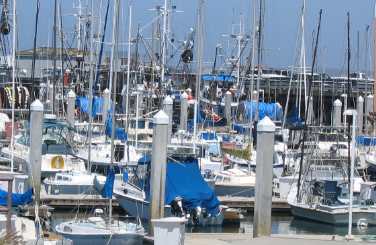 Before leaving Monterey we stopped by the harbor to inspect the boats. I am constantly amazed at the huge marinas full of boats.
Our next stop was in Carmel-by-the-Sea, California.
Business in Carmel-by-the-Sea
After tiring of Monterey we headed down the coast to Carmel-by-the-Sea. Talk about hoity toity this place is it.
Business in Carmel-by-the-Sea
There are few places on earth as incredibly dynamic, yet so quaint and picturesque as the city/town of Carmel-by-the-Bay situated on Carmel Bay in this world-renowned scenic environment.
Fruit stand in Carmel-by-the-Sea
It would be easy to be immersed in the incredible beauty and mesmerizing charm of Carmel's unique brand of enchantment.
Beach at Carmel-by-the-Sea
Joyce is checking out the Pine Inn in Carmel-by-the-Sea
Nestled in a pine forest above a spectacular almost white-sand beach, the one-square mile "village" of Carmel offers endless opportunities for one to part with money in an ecologically harmonious setting.
The place is different, the people are different. Real different, if you get my drift. The residential district has no sidewalks or street lights, and the beach is unadulterated by commercial development. Homes are known only by name and have no street addresses. Remember me saying it was "different". There are no chain restaurants. For that you will have to leave this enclave and venture into Monterrey where "commoners" can dine at Micky D's or Taco Bell. I only saw one gas station and it must have been a concession to the fact that even they have to drive automobiles. I don't know how they do it but women are walking around in "flats" ------ no joke! A city ordinance outlaws high heels! If I am not mistaken Clint Eastwood was the mayor here at one time. Feel free to correct me if that is not correct.
I guess you could say Carmel has European ambience in that it is easy to stroll through winding streets, courtyards and arcades when moseying the 90 some odd art studios and galleries or one of the numerous antique shops, boutiques, intimate cafes and expensive restaurants.
I don't know how but I escaped Carmel with my bank account still present and accounted for. Miracles never cease.
We finished off this day by driving the Big Sur back to our motorhome in Morro Bay. For those of you not familiar with the Big Sur the drive from Carmel on the north end to Morro Bay on the south end is around 130-miles of pure scenery, narrow twisting roads hanging on the edge of cliffs with the Pacific Ocean at the bottom.
What a day! It was our last day on the coast before heading inland for a spell.
Until next time remember how good life is.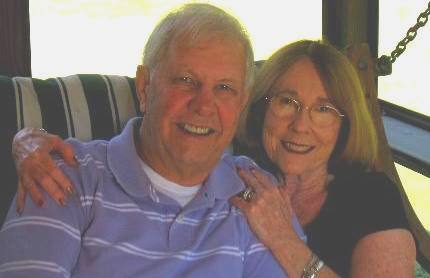 Mike & Joyce Hendrix who we are
We hope you liked this page. If you do you might be interested in some of our other Travel Adventures:
Mike & Joyce Hendrix's home page
Travel Adventures by Year ** Travel Adventures by State ** Plants ** Marine-Boats ** Geology ** Exciting Drives ** Cute Signs ** RV Subjects ** Miscellaneous Subjects
We would love to hear from you......just put "info" in the place of "FAKE" in this address: FAKE@travellogs.us
Until next time remember how good life is.