Places Visited:
California: Pebble Beach
Wednesday, June 1: Cypress Bay RV Park Morro Bay, California: $31 FHU-30amp. Paved interior roads & sites. N35° 72.165' W120° 51.044'
We spent time discussing our plans for the next week or so. We have not seen Monterey and Carmel-by-the-Sea and that seemed like a must for us. However, we were having a hard time locating RV-Parks. They just don't have them in Carmel or Monterey proper. Some were available in cities north and east of Monterey. The more we discussed it the more we realized we just needed to drive the Saturn up US-101 to Monterey and Carmel instead of moving the motorhome up there so that is what we did today.
It took a little over two hours to drive up US-101 to Salinas and over to Monterey in the Saturn where we drove straight to Carmel and the famous 17-mile drive. The 17-mile drive is actually a loop that we started at the US-101 Carmel gate. The first few miles wound around in residential neighborhoods in a pine forest as the road wended its way north traversing several golf courses that have household names with the golfing crowd.
Joyce on a wide sandy beach near Pebble Beach, California
On this leg Joyce and I began to wonder what all the fuss was about then the road jogged west and we were suddenly on a wide sandy beach.
Ocean view on the 17-mile scenic drive near Pebble Beach, California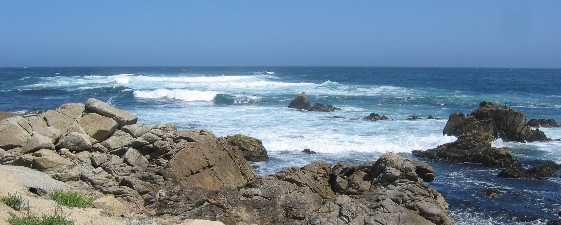 That is when things changed. From then on the 17-mile drive was fabulous.
Coastline along Pebble Beach, California
This area along the coast is touted by some as being "The greatest meeting of land and sea in the world".
Shoreline at Pebble Beach, California
I don't know how one would determine that but the shoreline is spectacular.
Horse ride along the shoreline at Pebble Beach, California

What a wonderful way to enjoy the scenery!
World famous Pebble Beach golf course north of Carmel-by-the-Sea, California
In matter of fact almost everything is spectacular from the golf courses to the homes to cliffs and sandy beaches.
.
What a day! It was our last day on the coast before heading inland for a spell.
Until next time remember how good life is.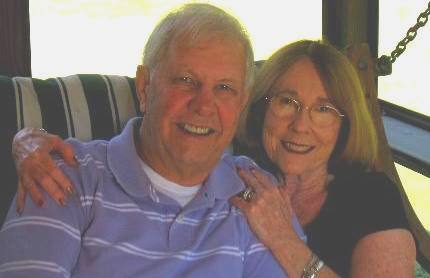 Mike & Joyce Hendrix who we are
We hope you liked this page. If you do you might be interested in some of our other Travel Adventures:
Mike & Joyce Hendrix's home page
Travel Adventures by Year ** Travel Adventures by State ** Plants ** Marine-Boats ** Geology ** Exciting Drives ** Cute Signs ** RV Subjects ** Miscellaneous Subjects
We would love to hear from you......just put "info" in the place of "FAKE" in this address: FAKE@travellogs.us
Until next time remember how good life is.