Places Visited:
California: San Diego, Point Loma
Monday, May 9, Paradise RV-Resort Oceanside, California: $39.50. FHU with 50-amps, Paved interior roads and sites plus cable and free WIFI. N33° 10.707' W117° 21.993'.
We can't believe it but we are still here and will be for a few more days. Several people have written to give us suggestions on things to see and do. We are going to take them up on their suggestions.
Casa De Pico in Old Town San Diego
It was past normal lunch time and our plan was to dine at Casa De Pico in Old Town San Diego for lunch so we headed through La Jolla and Mission Beach to our lunch date in Old Town. By the time we got through with this meal we had racked up another "Johnson" experience. Many of you will understand what a "Johnson" experience is. We are not used to experiences like this so close together and as I recall Joyce picked out one of those restaurants when we were in the Palm Springs area less than two weeks ago.
Oh well with that lunch behind us it was time to check out Point Loma and Cabrillo National Monument. Point Loma and Cabrillo National Monument stand watch over the port of San Diego. It is located high on the 422' sandstone cliff on the north side of San Diego Bay and as far west as land extends. In 1854 a lighthouse was erected on this cliff and for the next 36 years, except on foggy nights, it welcomed sailors to San Diego harbor. While ships could see this light from 39-miles out to sea on clear nights ----- fog and low clouds often obscured the light.
Lighthouse at Point Loma, California
Because of the fog and low clouds the lighthouse was moved to the bottom of the hill in 1891.
For some reason Juan Rodriguez Cabrillo doesn't have the historic recognition of other explorers like Christopher Columbus. However, Cabrillo was the first European to set foot on the west coast of what is now the United States. Cabrillo set out on his epic voyage of exploration 50 years after Columbus landed in America. Commanding three vessels, he sailed north from Mexico into unknown waters. He was to claim land for the king of Spain and the viceroy of New Spain, discover a route to Asia and the Spice Islands, search the uncharted coast for a mythical passage that connected the Pacific and Atlantic oceans, and search for gold.
On September 28, 1542, Cabrillo's flotilla entered San Diego harbor and spent 6-days there before resuming his exploration up the coast.
Before the expedition was over they had claimed 800 miles of coastline for Spain.
Now you know who Cabrillo is and why the National Monument is named for him.
View from atop Pt. Loma looking to the east across NAS Naval Air Station North Island and downtown San Diego
In addition to the lighthouse and awesome views of San Diego and the Pacific Ocean there is a huge National Cemetery on Point Loma. The National Cemetery is probably on property managed by the Point Loma Naval Base and not the Cabrillo National Monument.
This is a pic from atop Pt. Loma looking to the east across NAS Naval Air Station North Island and downtown San Diego. The water in the foreground is the pass from the Pacific Ocean into San Diego Bay.
While on Point Loma we navigated to Sunset Cliffs Boulevard where we took in the views from the western side of Point Loma. At the eastern end of Sunset Cliffs Boulevard we crossed the San Diego River to Mission Bay and visited the huge marina complex on the southwest side of West Mission Bay Drive. That marina is probably the largest marina either of us has ever seen. Thousands of pleasure boats reside in slips in that marina complex. A pair of osprey had constructed a huge nest high in the rigging of a private sail boat. We watched a parent and offspring perched on that nest. A boat owner told us that osprey was an "endangered species" and the owner was not allowed to disturb the birds. Osprey is not endangered in Florida but they might be in California. Does anyone know anything about these nesting osprey?
Until next time remember how good life is.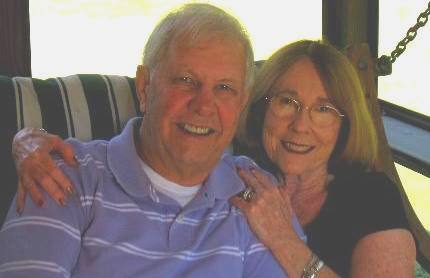 Mike & Joyce Hendrix who we are
We hope you liked this page. If you do you might be interested in some of our other Travel Adventures:
Mike & Joyce Hendrix's home page
Travel Adventures by Year ** Travel Adventures by State ** Plants ** Marine-Boats ** Geology ** Exciting Drives ** Cute Signs ** RV Subjects ** Miscellaneous Subjects
We would love to hear from you......just put "info" in the place of "FAKE" in this address: FAKE@travellogs.us
Until next time remember how good life is.