Southwestern side of the Salton Sea in southern California
Not long after passing through Westmorland the irrigation ceased and desert returned. We were heading up the west side of the Salton Sea although we cannot see blue water for some reason. The Salton Sea is 235' below sea level so spotting the depression where the water in the Salton Sea is heading shouldn't be hard to do. We can certainly see where it should be but there is only something dark in the valley where we think the Salton Sea should be. Possibly the southern end of the Salton Sea is overgrown with vegetation.
By the time we head west on SR-78 we are in serious desert. Along SR-78 there are ATV's and off road motor cycles running up and down the side of the road and along paths in the desert. They seem to be enjoying going fast up and down those hills and moguls, the more dust the better. ATV's and off road motor cycles is a BIG thing along this road. In almost every open area we see RV's and pickup trucks with trailers. Coastal California has moved out here for the weekend to have fun on their ATV's.
The small community of Ocotillo Wells, located on SR-78 around 5-miles east of the Borrego Springs turn off, seems to be the hub of ATV activity or at least where the crowd gets burgers and gas. It appeared that most of these ATV people were dry camping in the desert.
When we turned off of SR-78 onto Borrego Springs Road/CR-S3 we started seeing warning signs about the steep grade ahead. The grade was a decent rather than a climb. I can see why the warning signs were there the grade went down and down and down relentlessly for 15-miles the first part was around 6% grade with the remainder gradually easing to 4-5% grade.
Anza-Borrego Desert State Park in California near Borrego Springs
I didn't need the exhaust brake to help with breaking but couldn't help but think about the climb out of Borrego Springs on that highway. The entire 15-mile drive was through typical desert. This part of the desert was in Anza-Borrego Desert State park and the ATV's were not scooting around like they were outside the State Park.
In Borrego Springs we headed to the State Park campground located on the west end of town. We had heard so much about the campground that we didn't even consider any others. Arriving in Borrego Springs we did the obligatory loop in the traffic circle that is the center of town then headed west on Palm Canyon Drive to the State Park and Campground at the end of Palm Canyon Drive. Within 300-yards of the traffic circle Borrego Springs we had run out of restaurants, Borrego Springs may be well known but it ain't big. A few miles later we enter the State Park and find the Campground at Palm Canyon. What palms? Was our first thought. The campground looked like a desert survival camp. A nice ranger at the gate explained that sites were $29. I looked at Joyce and we both laughed, $29 was he kidding? He wasn't, neither was I when I asked where we could turn around.
Our Motorhome in a commercial campground in Borrego Springs, California
We exited the State Park and pulled over on Palm Canyon Drive with three RV-Parks in sight. We got the phone numbers off their signage and made phone calls. One was $20 the other $29 while the other had a message that they were away from the phone. Bingo, we headed for the $20 per-night place. It had all we needed and more which was electricity and water. However, this was the first commercial RV-Park we have come across that did not have a dump. They told us to "just dump the gray water on the ground that is the way we do it out here in the desert". That surprised me especially since we are in "California"! Something tells me that the State folks wouldn't agree with "that is the way we do it out here". We won't dump any water on the ground since we are only going to be here one day we will carry it with us and dump at the next campsite.
Montezuma Grade on CR-S22 between Borrego Springs and Ranchita, California
After grabbing a bite to eat we decided to take a scenic drive west on CR-S22 to Ranchita. That was a GOOD choice. As far as scenic drives go this is a good one. The "hill" is called Montezuma Grade and is posted as an 8% grade. That is a steep grade in anyone's book. Some sections are probably as much as 9% and the grade lasts for 11-miles. The lower half has many curves and switchbacks each with a dramatic view of the Borrego Valley far below. I am not going to do it --------but there were a bunch of trucks pulling travel trailers up that grade. We did see one large motorhome chugging up at a good clip although we saw it in the bottom half. I wonder if that motorhome continued that pace the entire 11-miles to the summit.
We drove up to the summit then back down. Joyce was snapping pictures right and left. On the way down we pulled into numerous pullouts to take pictures of the valley below. I can't say enough about this scenic drive. It is one of the better ones anywhere. The sheer cliffs and panoramic views of the Borrego Valley below are as good as vista views get.
Montezuma Grade on CR-S22 between Borrego Springs and Ranchita, California
On the way down the mountain those panoramic views of the valley showed bright green irrigated agricultural areas on the north side of Borrego Springs. When we got back to Borrego Springs we set out to find those agricultural areas. They were not hard to find since the north side of town is hemmed in by mountains.
Orange grove in Borrego Springs, California
The green agricultural areas turned out to be citrus groves. Grapefruit, lemons and oranges, hundreds of acres of them, and one good sized date grove were what made up the "green" irrigated plots we saw.
Joyce purchasing citrus at an Honor system fruit stand in Borrego Springs, California
One of the groves had an "honor-system" stand with 8-pound bags of grapefruit for $3. Just drop your $3 in the slot and select your bag of "Seley Reds" Marsh Ruby Grapefruit-Borrego Valley. They were in bags like you see on a grocery store shelf complete with product labeling and all.
We are going to start looking at the labels to see where the fruit and vegetables we purchase are grown. Joyce thinks she has purchased lemons with a Borrego Springs label on them.
Tumbleweeds thrive on the unirrigated areas of Borrego Springs, California
Near the citrus groves tumbleweeds gather on a fence.
Lavender wildflowers abound on the unirrigated areas of Borrego Springs, California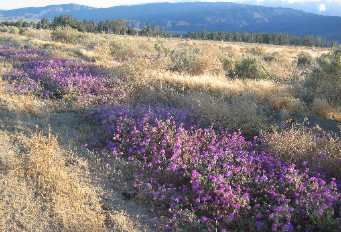 Intermingled with the tumbleweed is patches of lavender. The colors compliment each other making the views strikingly beautiful.
We experienced a good day. Tomorrow we head to Indio about 70-miles north of Borrego Springs.
Until next time remember how good life is.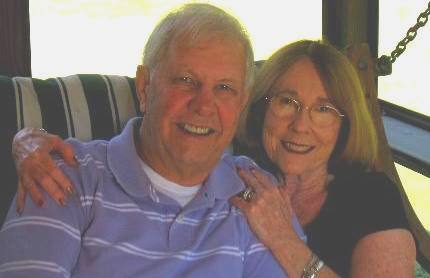 Mike & Joyce Hendrix who we are
We hope you liked this page. If you do you might be interested in some of our other Travel Adventures:
Mike & Joyce Hendrix's home page
Travel Adventures by Year ** Travel Adventures by State ** Plants ** Marine-Boats ** Geology ** Exciting Drives ** Cute Signs ** RV Subjects ** Miscellaneous Subjects
We would love to hear from you......just put "info" in the place of "FAKE" in this address: FAKE@travellogs.us
Until next time remember how good life is.