California: Joshua Tree National Park and Twentynine Palms
Places Visited:
California: Joshua Tree National Park and Twentynine Palms

Monday, April 25 Fair Grounds RV-Park Indio, California-- $20.00. FHU - 50-amps, Gated & paved interior streets & sites N33° 42.770' W116° 13.436'. Entrance & office is on Arabia Street on west side of fairgrounds, turn in Gate #4 office is in building directly in front of Gate #4.
We plan to visit Joshua Tree National Park today along with the town of Twentynine Palms.
One of the murals in Twentynine Palms, California
We continued on SR-62 through the towns of Yucca Valley and Joshua Tree to Twentynine Palms where we toured the small town known as the city of murals. These distinctive murals are painted on buildings and tell the history and story of Twentynine Palms. The only way to see all the murals is to drive the two main streets both ways since the murals can be painted on various sides of buildings. Some vary talented individuals did the art work. Twentynine Palms is also home to Twentynine Palms Marine Corps Air Station. Over the years I have met many military individuals that were either going to or just arrived from Twentynine Palms.
California Fan Palms around an oasis at the Joshua Tree National Park visitor center
In Twentynine Palms we also stopped in Joshua Tree National Park's main visitor center. Although this visitor center is not connected to the main part of Joshua Tree NP they do have what appears to be several hundred acres of park property that is protecting a historic oasis and the plant life surrounding that oasis. The visitor center is protecting a classic example of a desert oasis in every sense of the word. We are in the Mojave "high-desert" with little water around. But here a series of small seeps or springs keeps small patches of ground moist enough to support California Fan Palms and a variety of other desert oasis plants. In the 1800's and early 1900's this was a stopping place for desert travelers. Long ago someone dug a well deep enough that water collected in the bottom. Miner's prospecting in the area would come to this waterhole to get drinking water filling every container available before heading back to their claims or prospecting areas.
Mural on the wall of the Joshua Tree National Park Visitor Center in Twentynine Palms, California
Another stunning mural has been painted on the wall of the Joshua Tree National Park Visitor Center. It looks like a Thomas Kincaid painting with the way light is reflected off rocks in the mural. The lady in the murial is the visionary that fought to have Joshua Tree National Park set aside. She has been immortalized for her efforts.
Joshua trees in Joshua Tree National Park, California
After stopping at the visitor center we entered Joshua Tree National Park where we leisurely drove through miles and miles of high-desert replete with Joshua tree forest and eerie rock formations.
Monzogranite rocks on display in Joshua Tree National Park, California
Molten rock called monzogranite cooled deep within the earth erosion has exposed them here in Joshua Tree National Park, California
Key's View in Joshua Tree National Park overlooking the Coachella Valley, Indio and Palm Springs, California
Somewhere along this drive we stopped at Key's View where from high atop one of the mountains the National Park has provided a viewing area where visitors can stand and see all the way to Mexico on a clear day. On clear days the Salton Sea is visible to the southeast. Today smog from Los Angeles is flowing through the Coachella Valley below. Thankfully, the smog is thin enough that we can see Palm Springs, Indian Wells, Indio and the rest of those communities nestled in the valley. The view from Key's point is worth the drive up here. Volcanic rocks visible throughout Joshua Tree NP tell a series of stories about how molten magma cooled in different manners to produce the different types of rocks and formations. Unfortunately, we have not been able to find either of the California Roadside Geology books that would have educated us on what we were seeing. We are disappointed that neither book was available in the Joshua Tree National Park Visitor Center where these books are normally carried.
Until next time remember how good life is.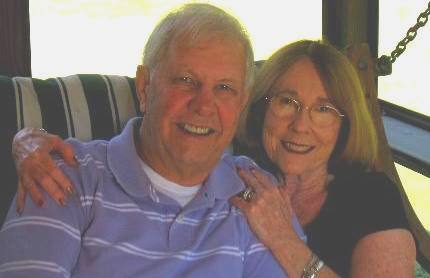 Mike & Joyce Hendrix who we are
We hope you liked this page. If you do you might be interested in some of our other Travel Adventures:
Mike & Joyce Hendrix's home page
Travel Adventures by Year ** Travel Adventures by State ** Plants ** Marine-Boats ** Geology ** Exciting Drives ** Cute Signs ** RV Subjects ** Miscellaneous Subjects
We would love to hear from you......just put "info" in the place of "FAKE" in this address: FAKE@travellogs.us
Until next time remember how good life is.