Places Visited: Arizona: Dateland & Yuma
Tuesday, April 19 Desert Holliday RV Park; Yuma, Arizona--- $19.00 located on 4th street. Full hookup paved interior streets gravel sites N32° 39.692' W114° 37.352'.
We moved the motorhome to Yuma from Why, Arizona today. We were in Tucson but decided to take back roads instead of the interstate to Why & Ajo, Arizona which are located just north of Organ Pipe Cactus National Monument. Between Tucson and Yuma we visited Organ Pipe Cactus National Monument, Ajo, and Why, Arizona and Dateland before arriving in Yuma.
Border Patrol check point on SR-85 north of Ajo, Arizona

The one leaning against the vehicle in the center looking at us is the "ladrido" or barking one in Spanish. VBG
I will explain why this border patrol agent was labeled the "ladrido" or barking one by us.
While heading north on SR-85 north of Ajo we came upon one of the Border Patrol check points. This one was doing more than just waving people through. We were backed up behind a few vehicles with one of the vehicles having to open the trunk. Joyce stood up in the motorhome and clicked some pictures. One of the statues in a Border Patrol uniform unexpectedly came to life and approached our motorhome. Joyce opened the door thinking they were going to inspect the inside of the motorhome. Instead he went off "ladrido'ing" or barking about her taking pictures. "Don't we know it is against the law to take pictures of Border Patrol officers conducting a check point" he barked in his most official tone. It was all I could do to keep from laughing out loud. He didn't want her taking pictures of him and his buddy chewing the fat.
You can never have this much fun sitting at home watching TV.
Date palms in grove at Dateland, Arizona
On I-8 we stopped in Dateland at exit 67. Dateland is a restaurant with a huge parking lot next to a beautiful date palm grove. Interstate billboards were advertising world famous date milkshakes. A date milkshake is something I have never tried, at least not until now. We not only had a date shake we had a cactus shake. Both were good. The date shake is brown while the cactus shake is pink. It was a fun stop and we would do it again just for the date shake. If you are traveling with children they would like it also and there is plenty of parking for your RV.
We chose an RV-Park in Yuma on 4th street close to town. We didn't spend much time setting up the motorhome before we were off to see Yuma and the surrounding area. Our first stop was the old Yuma Territorial Jail then it was on the "Yuma Crossing" and into California. In California we turned north and went for a ride into the irrigated farming area following the All American Canal. This was so different from what we are used to. Fields of grain, probably Durum wheat, are planted next to citrus (mostly lemon) groves, and a smattering of date palm groves. The date groves intrigue us most. The date groves are so beautiful with their dark green foliage and golden orange flower pods juxtaposed against the barren desert mountains. Irrigation is done by flooding fields like we have seen in other desert farming areas. Citrus groves were being watered with huge sprinklers rather than being flooded.
In Yuma we hear the familiar sound of military helicopters especially the big H-53 helicopters. Those helicopters are a familiar sight in Pensacola. I suppose they are attached to the Marine Base here in Yuma.
After our agricultural drive we headed west on I-8 to the Algodones Exit where we turned and headed toward Algodones, Mexico. We stopped and turned around a few hundred feet before the border. We were just checking it out and plan to return tomorrow for an excursion into Mexico.
Until next time remember how good life is.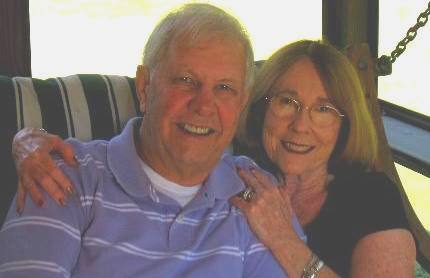 Mike & Joyce Hendrix who we are
We hope you liked this page. If you do you might be interested in some of our other Travel Adventures:
Mike & Joyce Hendrix's home page
Travel Adventures by Year ** Travel Adventures by State ** Plants ** Marine-Boats ** Geology ** Exciting Drives ** Cute Signs ** RV Subjects ** Miscellaneous Subjects
We would love to hear from you......just put "info" in the place of "FAKE" in this address: FAKE@travellogs.us
Until next time remember how good life is.