Organ Pipe Cactus National Monument
Places Visited: Arizona: Organ Pipe Cactus National Monument
Monday, April 18 Coyote Howl RV Park; Why, Arizona--- $18.44 located on SR-85 at the intersection of SR-86. Full hookup dirt interior streets and sites N32° 16.177' W112° 44.487'.
We are headed to Organ Pipe Cactus National Monument 130-miles west of Tucson and a few miles south of Why and Ajo, Arizona. In our travel from Tucson we did not see any of the distinctive organ pipe cactus until we got to Why, Arizona and turned south into Organ Pipe Cactus National Monument. Later we took a ride up SR-85 to Ajo where we saw scattered organ pipe cactus.
However, Organ Pipe Cactus is not the only attraction in this area. We are close to the Mexican border and this is Border Patrol and illegal alien country. If you are riding down the highway chances are you are going to spot activity and we did.
Border patrol and illegal aliens beside the highway near Why, Arizona

We might not have seen any Organ Pipe Cactus on SR-86 traveling between Tucson and Why, but we did see the Border Patrol with a group of 20 to 30 "detainees" on the side of the road. The Border Patrol was issuing them gallons of water to drink. Most of them were sitting in the shade of a big tree. None were being hassled (no hand cuffs or spread eagle tactics) by the Border Patrol it was like the whole bunch was just hanging out. I suspect they were waiting for a school bus or similar vehicle to arrive to haul these illegals off to a hot meal and warm shower.
Mobile Border Patrol observation tower near Organ Pipe National Monument south of Why, Arizona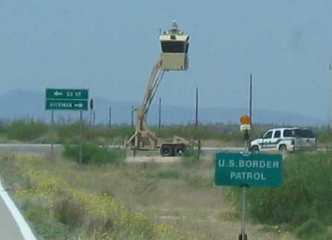 We drove past a mobile Border Patrol observation tower with two Border Patrol vehicles nearby.
We dropped the motorhome at Coyote Howl RV-Park in Why, Arizona then headed south on SR-85 to Organ Pipe National Park. Surprisingly SR-85 goes right through Organ Pipe Cactus National Park then across the Mexican border to Puerto Pensaco / Rocky Point Mexico. Puerto Pensaco/Rocky Point is a Mexican community on the eastern shore of the Sea of Cortez. We thought SR-85 into Organ Pipe Cactus National Park would be lightly traveled. We were wrong! There is a lot of traffic but it is not going to Organ Pipe Cactus National Park, it is going to Rocky Point. RV's, Trucks, boats and all terrain vehicles were headed to and from Rocky Point. It has to be a popular place. Several stores in Why are selling Mexican Insurance as well as gasoline and propane.
Organ Pipe Cactus that Organ Pipe Cactus National Monument is named for
The eponymous Organ Pipe Cactus that inhabits Organ Pipe Cactus National Monument.
Curve-billed thrasher in Organ Pipe Cactus National Monument south of Why, Arizona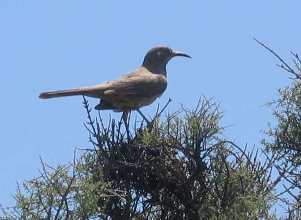 The curve-billed thrasher has a grey color and that distinctive curved bill. We only see them in desert areas along the Mexican border.
The temperature was in the high 80's today and hot. That made desert hiking out of the question for us. Organ Pipe Cactus National Monument is Sonoran Desert topography with the addition of Organ Pipe Cactus. We have seen enough cacti in the past few days to satisfy our "cacti-cravings". After checking out the visitor's center and campground we headed back to Why & Ajo without doing any of the scenic drives in the park. It was so hot we decided those scenic drives would be much more "scenic/enjoyable" if we did them in the winter.
The drive was punctuated by two A-10 air force tank killer aircraft flying a low level mission over the desert across us. We watched as they dodged the mountains surrounding the flat area we were crossing. We are about 30-miles south of the Barry Goldwater Range where I think the Air Force does a lot of low level training.
As we navigated toward Ajo (Spanish for garlic) we could see mine tailings from miles away. Those mine tailings were from a huge open pit copper mine in Ajo, Arizona.
Until next time remember how good life is.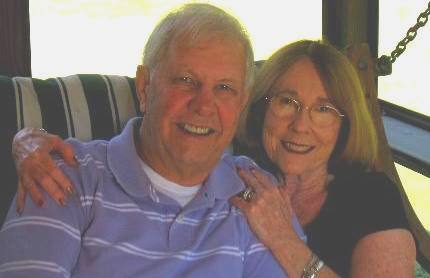 Mike & Joyce Hendrix who we are
We hope you liked this page. If you do you might be interested in some of our other Travel Adventures:
Mike & Joyce Hendrix's home page
Travel Adventures by Year ** Travel Adventures by State ** Plants ** Marine-Boats ** Geology ** Exciting Drives ** Cute Signs ** RV Subjects ** Miscellaneous Subjects
We would love to hear from you......just put "info" in the place of "FAKE" in this address: FAKE@travellogs.us
Until next time remember how good life is.