Montana: Billings, Stock Yards, Bozeman, I-90 between Billings & Bozeman
Wyoming: West Yellowstone, Yellowstone National Park, Old Faithful
Places Visited
Montana: Billings, Stock Yards, Bozeman, I-90 between Billings & Bozeman
Wyoming: West Yellowstone, Yellowstone National Park, Old Faithful

Friday September, 10: Rim Rock Truck GMC, Billings, Montana: N45° 45.340' W108° 34.228' Free boondocking in the repair shops parking lot with 120V 15amps.
Our motorhome at Rim Rock Truck GMC, Billings, Montana
Our mechanic had news for us about 9:30 this morning. The news was that he had installed our new seal-----------that sounded like GOOD news to me. But, there was a but--------------the mechanic had warped or "rolled" it in the process thus it would have to be removed and they would have to go looking for another seal.
Our motorhome at Rim Rock Truck GMC, Billings, Montana
Yesterday they had told me that they had obtained the only seal in Billings from the Chevy Dealer. Joyce and I were realizing that we are going to be in this parking lot in Billings for the weekend. Wow! What excitement!
Hurricane Ivan is wrecking havoc in the Caribbean and heading toward the Florida Keys. I saw an interview with a charter boat captain in the Florida Keys that said they were scared and didn't know what to do. I would be in the same quandary if I were in his place trying to decide what to do with my boat knowing Ivan, with 160-mph winds, was heading my way. Where can he hope to secure his boat and keep himself safe? Boats need to ride out big blows like this behind a bluff where they can be somewhat sheltered from the wind. As we all know the Keys and indeed South Florida has a dearth of "bluffs" to hide a boat behind.
Florida State is supposed to play Miami in their season opening football game tonight. If possible I intend to watch that game. With the luck I have been experiencing this week FSU doesn't stand a chance.
We wandered off this morning and ended up stopping at the stockyard where they were unloading horses for the auction tomorrow. I struck up a conversation with several cowboys that were inspecting each load of horses. I think they were brand inspectors what ever that is.
A number is attached to each horse that is unloaded (a round numbered sticker is glued to each animals rear end). The inspectors look for a brand, they identify the horse as stallion, gelding or mare and state the color and possibly some other items. All kinds of horses were being unloaded. One man unloaded two stallions that looked like great horses to me. One inspector told me they were wild horses that had never been broken and ridden. How did the inspectors know that? They didn't have halters and the man who brought the horses in did not try to lead the two stallions off the stock trailer. The inspectors did not get in the stallions pen to inspect them like they did the horses led off trailers with makeshift halters.
The inspectors said horses that were saddle broke would be ridden into the auction ring hoping to get a better price than wild horses and old ones that most likely would be sold for the food chain (both human food and animal food). I questioned him about who was purchasing horses for human consumption and he said there was a strong market mentioning that the French really liked horse meat. I certainly didn't know that horse flesh was a French delicacy.
I did notice that very few of the horses being inspected had shoes. I asked the inspectors about that and he said that in this part of Montana shoes were not necessary but that shoes were necessary in rockier areas of the state.
A big rig showed up to load cattle that had been purchased at yesterday's cattle auction. I have seen these cattle haulers on the road but had never watched the loading or unloading process. After backing this huge rig up to the loading chutes the driver got out and loaded the cattle into his truck. It was an interesting process as the driver lowered a ramp for the cattle to climb up to the second story of the cattle trailer. Once the second floor was full the driver shut the second floor door and started loading the lower level. Once the lower level was filled the driver closed the entry door. The driver told me he was just the transporter of the cattle from the auction yard to the feed lot that had purchased the cattle. These particular Black Angus cows weighed between 900 and 1,000 pounds each. The feed lot plans to feed these cows for 60 to 90 days and sell them to a packing house. They hope that the cattle will reach 1,400 pounds in the next 60 to 90 days. The driver said that the feed lot hopes to make around $50 per-head. I told him about the cowboy that told me the feel lots was hoping to feed their cattle until they weighed 1,900 pounds. This fellow just laughed. I could tell that he thought 1,900 pounds wasn't feasible or could not be accomplished and still make a profit.
I paid dearly for visiting the stockyard today. After I had my turn at the stockyard it was Joyce's turn at "shopping". I don't understand shopping but Joyce doesn't understand "stockyards" so I guess we are even.
Meanwhile back at the repair shop the mechanic was frantically trying to finish my motorhome. The mechanic did not want to come in on Saturday and we certainly didn't want to spend another day in Billings.
By 6PM I am settling in to watch the FSU vs Miami football game. Wouldn't you know it, by 7PM the mechanic is wrapping up and I have to crank the motorhome and run it through the gears while the mechanic adjusts the linkage to actually go into reverse when the gear shift indicator is behind the "R" and into drive when the indicator is behind the "D". We are doing while the football game is playing on the TV above my head. Finally the mechanic has the linkage adjusted and it is time for me to take the motorhome out for a test drive. Needless to say I am happy to be able to test drive the motorhome but I am not able to watch the football game. After the test drive I pulled the motorhome around to a bay where the mechanic and I used his steam/pressure washer along with a powerful degreaser and scrub brush to clean the oily grime from the back end of the motorhome. Believe me when a gallon of oil leaks out of the rear seal it covers the back end of a motorhome with an insipid, black, filthy film.
By 8:00 or 8:30 Joyce and I have pulled the motorhome outside the repair facilities gate and have parked alongside their building where we are going to spend the night. They have a 15-amp outlet on the side of their building so "technically" we were not "boondocking" but it was awfully close. This will make the 4th night we have spent at the repair shop and we are ready to be on our way.
Thankfully, the repair shop only charged the "book" price for labor to replace the rear seal. The total bill was $750 and that included a gallon of motor oil and several gallons of transmission fluid that had to be replaced plus the $47 seal (the one that the mechanic messed up installing it). The seal that they ended up installing only costs $20 but it wasn't a "genuine GM" seal like I really care. After all it was a "genuine GM seal" that I had to replace so you might say I am not very impressed with "original GM parts" right now!
To top off the night FSU lost to Miami in overtime. Miami owns FSU! They have a habit of letting us lead until the final minute then they close the door and turn out the lights. Oh well I am getting used to it. Bobby Bowden has to be sick of it. And Chris Rex, our QB has now lost 4-times to Miami.
We are off to Bozeman, Montana tomorrow: God willing and providing the diesel cranks!

Saturday September, 11: Wal-Mart Super Store Bozeman, MT: N44° 41.718' W111° 2.737' the parking lot along with around 15 other RVs.
It has been three years since 9-11. We were in Spearfish, South Dakota on that terrible day in 2001. Our nation will never be the same, and we should never forget. It still doesn't make sense.
It feels good to have the oil leak problem solved and be on our way again. We had planned a full schedule of things to do between Billings and Bozeman today. The funny thing about it is NONE of them worked out. Some days are like that.
Since we had been boondocking/dry camping the past four days and nights at the repair shop we felt that it would be prudent if we located a dump station. Thanks to the list of "free dump stations" provided by the Discovery group: http://www.discoveryowners.com/cginfo.htm we located one in the small town of Columbus, Montana at a Pilot (Town Pump) truck stop/travel center. That was a perfect place for us to dump because we needed diesel and we wanted to drop the motorhome in Columbus and stop by the Museum of the Beartooth located a few blocks away. We did everything except visit the Museum because it was closed. The sign on the door said they were open but no one was there and the doors were locked. It is after Labor Day!
We connected the Saturn to the motorhome and pulled out of the parking lot onto the service street when Joyce and I noticed two men dancing around a SUV with the hood up and flames leaping from the engine. One man was scratching his bottom (typical of some types in an emergency situation) the other man had grabbed a floor mat from the vehicle and was in the process of fanning the flames. I stopped the motorhome, grabbed our fire extinguisher and ran to the burning vehicle. As I pulled the pin I asked them if they wanted me to use the fire extinguisher to which I received a chorus of "hell yeas"! One good squirt from the fire extinguisher and the fire was OUT. From the time I exited our motorhome until the fire was out was less than 15-seconds. I walked back to the motorhome and was on my way in less than a minute. I think I was in the motorhome and on my way by the time those two men became coherent. They were extremely happy and were waving like crazy as we drove off. I guess I am relating this story so that readers will reflect on what preparations they have made to deal with similar circumstances. Although I am not and have never been a safety official I think that it is only prudent to have a fully charged fire extinguisher in your automobile (trunk if nowhere else) and at least one near the door of your motorhome. One never knows when it will be needed. Enough said.
We connected the Saturn back to the motorhome and headed west on I-90 toward Bozeman. In the town of Big Timber we wanted to stop at their Visitor Center and the Crazy Mountain Museum. Both places in Big Timber were closed as well. It must be after Labor Day! It did not take long for us to be back on I-90 heading west toward Bozeman.
In Bozeman we took the 7th street exit (306) and pulled into the Wal-Mart Super Center. Numerous RV's had already staked out places for the night and it was just 1PM so we quickly grabbed us one also. In a matter of minutes we were off to lunch in the Saturn. I had a note in Street Atlas where someone had recommended the Lewis & Clark Family Restaurant on Main Street so that is where we headed, but on the way we passed Frontier Pies Restaurant and Bakery. The parking lot was full to overflowing at Frontier Pies and that is a GOOD sign. When we found Lewis & Clark Family Restaurant it was a fancy place with no cars in the vicinity. It looked like it might be a place that was only open for dinner. We turned around in their parking lot and returned to Frontier Pies Restaurant & Bakery. Now that we have experienced the place we can give it a big endorsement. Their parking lot was full for a reason. You can find it at the corner of 7th and Beal or about 3-blocks north of Main Street on 7th (exit 306). It was a good place to eat but their specialty was PIES all kinds of berry and fruit pies. This place would be worth a stop if you are traveling along I-90 and passing by Bozeman just turn off at exit 306 and go south about 10 blocks and you will see the place on the east side of the road. Larger rigs may want to drop the RV in the Wall-Mark or K-Mart parking lot and drive their other vehicle to the restaurant. The parking lot appeared large enough for reasonably sized RV during non rush hours.
After lunch we headed to the Museum of the Rockies located on the MSU Montana State University Campus. You already know that it is -------- drum roll please-------------- after Labor Day. But it also happens to be Saturday and MSU is playing football. Their Stadium just happens to be across the street from the Museum of the Rockies. The street that leads to the museum was blocked off. There were more cars at the game than were in the Wal-Mart parking lot. We gave up. By now we had little faith that the museum would be open and it surely wasn't worth walking from where we were going to have to park just to find out. You can say we struck out.
Joyce had read about a tour of Bozeman's historic old homes and business that lined Main Street and several streets north and south of it. We decided to do that tour on our own but never really located what we though was a "historic-district".
While in the Wall-Mart parking lot we watched a group of magpies doing what magpies do. We usually see them at higher altitudes. I suppose the abundance of readily available food brings them down to the cities. They appear to be eating human food as I see them tearing into fast food bags.
We thought that this being a college town we could locate some good night life on Saturday Night. Joyce tried hard to locate something but failed.

Sunday September, 12: Grizzly RV Park, West Yellowstone, Montana: N44° 39.335' W111° 6.298' $42.52 full hookup paved interior roads and gravel pads.
We left Bozeman and headed to the small town of West Yellowstone located at the west entrance to Yellowstone National Park. The drive was down US-191 along the Gallatin River. This is a beautiful drive that should qualify for someone's scenic drive, we would surely recommend it. As we headed out of Bozeman at 4,800' we started a gradual climb until we climbed over the crest of the mountains in the Gallatin National Forest at 7,400'. The Gallatin River was by our side the entire way to the crest of the mountain providing one scenic vista after another. Fly fishermen were wading and flipping flies along the entire length.
You never see fly fishermen with a fish. The whole purpose of fly fishing isn't to catch a fish. It can't be. I think fly fishermen thrive at LL Bean's and places of that ilk. Each one is decked out in the latest and greatest gear. Have you ever noticed how individual fly fishermen look like an advertisement for "Bass Pro"? In any event it looked to me like the stocking truck hadn't dumped any trout in the stream this week.
At the crest as we started down to West Yellowstone Grayling Creek provided the water beside the road. During that gradual climb from 4,800' to 7,400' it visually appeared that we were going down hill. We weren't we were steadily climbing. I was continuously amazed at how it appeared that we were going downhill when we were in fact climbing. I know there are places where things appear to be going up hill or down hill when in fact they are doing the opposite. Even in those places it is difficult for me to study the area carefully and determine what it is about the topography that creates this phenomenon. Along US-191 this phenomenon presented itself numerous times in the 40 miles or so that we followed the Gallatin River up to the summit. It was such a funny feeling to visually appear to be going down hill while the river next to you is rushing the opposite way. I don't know how many times I remarked to Joyce about this aberration. If any of you take this drive (south out of Bozeman toward West Yellowstone on US-191) please tell me if you experience the same sensation.
Joyce guided us to Grizzly RV Park in West Yellowstone. I would have preferred a cheaper place but Joyce reminded me that we had been boondocking the past 5-days and were going to get full hook ups in a nice place tonight. When the "Boss" explains things like that to me, especially with that tone of voice---------I tend to do as I am told without squawking.
We were told at check in to expect a hard freeze tonight. They advised shutting off water at the parks faucet and storing our water hose in a warm place. It was raining when we headed out to visit Yellowstone National Park. It rained the entire afternoon and into the night. However, the rain was more of a nuisance that something that would really get you wet. It reminded us of the mist constantly present in the Pacific Northwest.
On the way into Yellowstone from West Yellowstone the road follows the Madison River. As usual, a variety of exciting wildlife was in view. The first thing we spotted was two Tundra Swans with about 8 brown juveniles the size of Canada geese. Joyce and I have never seen Tundra Swans before and were not expecting to see any today. Tundra Swan normally nests on arctic tundra, thousands of miles north of here, yet this pair nested along the Madison River very near a big viewing area. To protect these nesting Tundra Swan Yellowstone personnel had closed a portion of the Madison River to fishermen and made sure other humans were not walking around in the vicinity of their nest. The birds were given a space to hatch & raise their clutch without human disturbance and they seem to have taken advantage of it. Even with the restrictions you could get a good view of the two adults and their offspring from the turnout.
Elk along the Madison River in Yellowstone National Park, Wyoming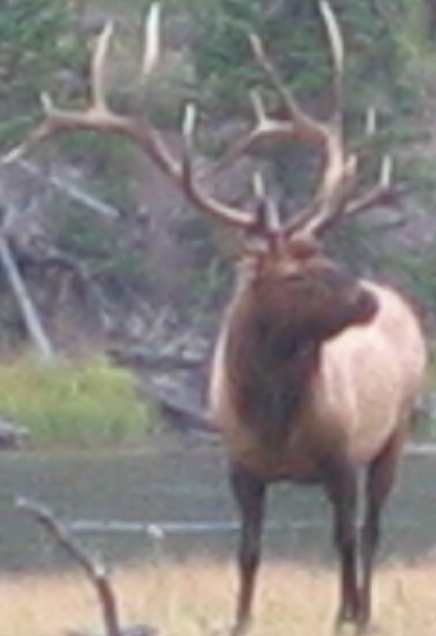 Elk were gathered in harems of 15 to 20 females under the watchful eye of a single dominant bull. These huge bull elk with magnificent racks are keeping close watch over their harems. We stopped and watched group after group of these majestic animals each with a single bull keeping a careful eye on his group of females.
Occasionally we see an impressive bull elk by himself, sans the group of females. While these bulls with magnificent racks look good to us they are obviously not "THE" bull or they would have their own harem of females. Ahhhh, so many females to go around yet many bulls remain lonely. Ain't that the way it is with us humans as well (with both money and females)?
Buffalo in Yellowstone National Park, Wyoming
Groups of buffalo were interspersed between the groups of elk. Big bull buffalo often lead a solitary life. They seem to roam in areas far away from the family groups.
Geysers in Yellowstone National Park, Wyoming
It was cold this afternoon. The cold weather enhanced the areas geysers. The hot water and steam that normally flows from these really shows off in this cold weather.
Old Faithful blowing steam in Yellowstone National Park, Wyoming
We stopped in the Old Faithful area for dinner and to wander around in the Inn and Lodge. The last time we were here we dined in the Inn where we intended to enjoy a "white table cloth" meal. The entire experience was BAD. One thing was for sure we were not going to repeat that mistake. We did wander around in the Inn to admire the beautiful structure. If you are planning a visit to Yellowstone National Park make sure you schedule a visit to the Inn at Old Faithful. They had a roaring fire going in that huge fireplace and everyone was enjoying it.
We decided to dine at the Old Faithful Lodge. The Old Faithful Lodge uses large stone pillars and massive fir logs to give it that wonderfully warm feeling. Unlike the Inn, the Lodge's lobby and dining area offer a commanding view of the Old Faithful geyser. That makes the Lodge a popular place with visitors to relax and dine while keeping an eye on Old Faithful.
We dined at the Lodge and found it to be just fine. It was nothing to brag about but MUCH better than what we experienced at the Inn.
Like most popular things Old Faithful is mostly hype. Many, many places are more spectacular. Old Faithful just does its thing on a regular schedule.
We are keeping an eye on hurricane Ivan. It is projected to make landfall Wednesday in Panama City Beach, Florida. My Mother lives in Panama City along with my baby sister and her husband. We only live 100-miles west of there in Pensacola. Things are dicey for that area. Everyone is preparing for the worst.

Until next time remember how good life is.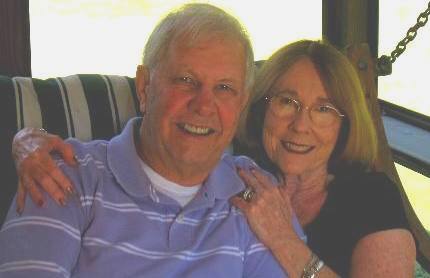 Mike & Joyce Hendrix who we are
We hope you liked this page. If you do you might be interested in some of our other Travel Adventures:
Mike & Joyce Hendrix's home page
Travel Adventures by Year ** Travel Adventures by State ** Plants ** Marine-Boats ** Geology ** Exciting Drives ** Cute Signs ** RV Subjects ** Miscellaneous Subjects
We would love to hear from you......just put "info" in the place of "FAKE" in this address: FAKE@travellogs.us
Until next time remember how good life is.