Hurricane Ivan Pensacola, Florida
Places Visited:
Hurricane Ivan Pensacola, Florida
Saturday September, 18: Wall-Mart Super Center Kansas City, Missouri: N39° 14.524' W94° 27.664' $Free.
View of sunrise from parking lot in the Wall-Mart Super Center in Mitchell, South Dakota
After spending the night in the Wall-Mart Super Center in Mitchell, South Dakota we got up EARLY and went next door to pick up the two generators we purchased last night. After those were satisfactorily loaded into the motorhome (one on each side of our dining room table) we took measurements to see if we could store more generators. We could fit two more behind the drivers chair so I purchased two more. With 4 generators loaded into the motorhome we were on the road by 8AM. We were fortunate that the Menard's store opened EARLY and that they had some generators in stock.
We pushed down the road putting miles behind us. The first leg today took us east on I-90 to Sioux Falls, South Dakota where we turned south on I-29. It is a relief to finally be turning south. We have been, it seems, forever traveling east. In this part of the world there are few north south interstates. It felt good to put I-80 in our rear view mirror as we sped past it. We will be home when I-10 is finally in our rear view mirror.
We broke out of the "high plains" and into a more watered western Idaho and Missouri. Deciduous trees appeared. Corn fields and soy bean fields filled the landscape. Farmers are withholding water from the crops now and the lush bright green fields are now brown. When they first appeared we had trouble spotting the soybean fields. We were looking for the bright, luscious green. Then we realized that it was soybeans that the combines were harvesting in that cloud of dust. Once our mindset changed and we understood that the soy bean fields were now a "dead" brown we didn't have any more trouble spotting them.
The monotonous drone suddenly came to an abrupt stop when around 6PM we hit something in the road. Neither of us saw what it was but we heard or felt a thud. Whatever we hit caused both rear tires on the motorhome to lose air pressure. We stopped and called ERS Emergency Road Service.
This is where the fun began. We were in north Kansas City, Missouri not far from the town of Liberty, Missouri. Road service took my information and started trying to locate help. The road service spent over an hour trying to locate a road service that would respond with two tires to install. When they couldn't locate a road service that had two tires of my size available we started negotiating ------ (a football team in our spot would punt). The road service agreed to send someone to try and get air into the tires so that we could drive the motorhome to a safe spot if necessary or if by chance there was no damage to the tires we could continue on our way.
Around 8:15 the police and roadside assistance arrived. The police were a welcome sight. They stationed their cruiser behind our motorhome and turned on their flashing lights. That is the only time I can recall feeling good at having those flashing lights in my rearview mirror.
Roadside assistance determined that my inside tire was damaged beyond being able to hold air. He removed that tire from the rim. He was able to install a new valve stem and fix the other tire. Now I had to make a decision. We can't continue the trip until we replace at least one tire and preferably ----- if two are available replace both of them.
The roadside assistance representative on the phone would do one of two things. Call a tow truck or if I chose I could try to limp somewhere close by with just one tire on the passenger side instead of two. I didn't want to have the motorhome towed-----that isn't a fun experience also I didn't know where they would tow it. Nothing about that option was appealing. The other option was to try and make it somewhere close by with the one tire on the passenger side supporting the weight of two tires. The police and the roadside assistance guy that had repaired the tire both though I could make it to a Wall-Mart Super Store about 8-miles up the road. If we could do that it was certainly preferable to being towed. I made the decision to give it a try with the police escort behind me.
The 8-mile drive to the Wall-Mart parking lot was uneventful and we waved good-by to the police as they continued on their way. It was 10PM but we are finally out of harms way. Tomorrow (Sunday) we will try to find some tires. That may not be possible until Monday but we will give it a try. At least we are off the highway until we can locate some tires.
Obviously our plan was to get further down the road but things like this do happen. We would have gotten another100-miles down the road before stopping for the night but that was not to be.
We aren't happy about the circumstances but realize that things like this happen when you are out having fun. Things like this don't happen to folks who stay at home and watch TV. With that attitude we just took the excitement in stride.
Sunday September, 19: Lowe's Parking lot St. Charles, Missouri: N38° 47.328' W90° 31.907' $Free.
We slept late. Out like a light. Dead as a door nail. Whatever, the experience beside the highway with the tires plus the LONG day driving took the starch out of us. When we did get up we checked with our ERS (Emergency Road Service) so they could began looking for some tires. Remember that this is Sunday and most tire dealers are closed. However, ERS did find someone with our size tires that would dispatch someone to install them. The catch was that they had to call the on call individual who would have to come in and get the tires then drive to our location to install them. They arrived with the tires around 1PM. The fellow was a young buck that went at the task of removing our wheels and mounting the two new tires. He had the job completed by 2PM. We thanked him and both of us exited the parking lot one after the other.
We drove east on I-70 until dark then stopped in a Lowe's parking lot --- we were looking for the Wall-Mart at that exit but needed some chain saw stuff from Lowe's so stopped in there just before they closed for the night. We were able to pick up some chain saw blades for Jeff, in fact we purchased every one they had in the sizes he needed.
The manager in Lowe's said that they would be happy for us to spend the night in their parking lot. He also told us that they had shipped all their generators out to Florida as well as items like roofing material and chain saws. He said something about being a Red Cross team member or something. I don't know what that means but they must cooperate with the Red Cross to move items they have in stock to disaster areas.
As we traveled west to east across the width of Missouri today we were able to see the fields of corn being harvested. The corn fields being harvested are brown and the harvesters are pulling the ears off the stalks and machining the kernels of corn off the ears. A long snoot from the harvester fills big 18-wheel tractor trailers with the grains of corn. Soy beans were in a state of change. Some fields were brown and dry with only beans on the stalks (sans leaves). Other fields were bright green while other fields were turning a golden color. It appears to us that soy beans go from green to golden then drop the golden leaves with only brown stalks and brown beans remaining to harvest. When we see soy bean harvesters in the fields they are surrounded by a cloud of dust. From what we can see the soy bean harvester stops at the end of rows and unloads his harvest via a snoot into waiting 18-wheel tractor trailer trucks.
Back in Montana along the Yellowstone River we saw some corn fields. (There isn't much corn grown in Montana) Most of the corn we saw in Montana was around Park City and was probably being grown by the same farmer even though he appeared to be growing several thousand acres of it. That corn was still green but he was harvesting it. They were harvesting the entire corn plant and chopping it up.
That differed from the harvesting of the dried corn we were seeing today where they were discarding the stalk and actually shelling the corn saving only the kernels. I suppose that the corn being harvested in Montana was going to be used as cattle feed while the corn being harvested in Missouri was going to be ground into different kinds of feed or sold as whole kernels for things like deer food.
Monday September, 19: Winn Dixie Super Market Parking lot Montgomery, Alabama: N32° 19.595' W86° 16.083' $Free.
We were on the road by 5:45AM this morning. We spent the night in a Lowe's parking lot in St. Charles, Missouri last night and we had to travel across St. Louis (west side to east side) first thing this morning. We thought it would be better to make that dash across St. Louis before the "rush" hour. As it turned out there was plenty of "rush" at 6AM on I-70 heading east into St. Louis. There was steady, heavy traffic for the 35-plus miles we were in what I would call "St. Louis metropolitan area traffic. After negotiating the jammed interstate traffic in the dark for over 30-minutes the "Arch" finally came into view. Joyce and I "high-fived" in relief, since we both knew that once the "Arch" came into view we were less than two miles from the bridge that would take us across the Mississippi River and into East St. Louis where we knew the traffic would quickly dissipate. Just a few miles east of the Mississippi River we exited I-70 onto I-64 heading east toward Mount Vernon, Illinois and I-57 that would take us south. Amazingly, as if on queue, the traffic going east with us on I-64 vanished. Of course the west bound traffic heading into St. Louis was bumper to bumper on I-64 for 30-minutes or so after it vanished from the east bound lanes.
We made good time today. We were in Missouri this morning, then drove across Illinois, Kentucky and Tennessee before finally stopping in Montgomery, Alabama. We put 655-miles behind us today. That is by far the longest drive we have ever accomplished in the motorhome and probably the longest we will ever attempt. Neither of us wants to do it again. With luck we will be home by noon tomorrow. Just last Monday we were in West Yellowstone, Montana driving the motorhome through 86-miles of blowing snow. This Monday we are in Montgomery, Alabama and there is NO CHANCE of snow.
The only significant stop we made today was in Calera, Alabama where we stopped to pick up 10 chain saw blades that my Brother-in-Law managed to get for my son. My son is going through chain saw blades like Sherman through Georgia. Several family friends heading into the area have brought him all they can purchase. In addition to what my BIL was able to get today we have purchased every chainsaw blade we could get on our way back to Pensacola.
Not far out of Montgomery we spotted fields of cotton that resembled "snow". Southern snow, that is. Harvesters were in the fields gleaning those white balls. We are both amazed that hurricane Ivan didn't completely destroy the cotton crop.
Tuesday September, 20: Our son's driveway--Pensacola, Florida: N30° 27.710' W87° 11.662' $Free.
Joyce went into the Winn Dixie grocery store (we spent the night in their parking lot) this morning to purchase the last food/groceries before arriving in Pensacola. Joyce has been on the phone with Kathryn our DIL who has told her what the greatest needs are in the way of groceries. Once the groceries are loaded we get on our way to Pensacola and the destination of this dash home.
The Saturn is FULL of gas and we want the motorhome to be full of Diesel before entering Pensacola. That was NOT to be. We did not locate the first gas station/truck stop that we could pull into with the motorhome. A few were open (not truck stops) just individual gas stations and each of these had horrendous lines wrapping around the block and up the street. We saw stations but most still didn't have water or electricity. A few were operating with generators.
Shortly after leaving Montgomery we started seeing trees down along I-65. It was just a few to begin with but with each passing mile the number became greater. By the time we exited I-65 and turned toward Flomaton on Alabama 113 the severity of this storm became apparent. From that turn on into Pensacola 60-miles to the south trees were down and houses destroyed in a routine manner. Houses without trees on them were the exception. The small border towns of Flomaton and Century were devastated beyond belief. Power lines were still down across the highway through town (this highway is the major north/south artery into Pensacola). Huge trees have been cut from the highway. The only thing removed from the highway is what was actually in the highway. Nubs of the trees have been cut parallel with the curb on each side. No one is removing anything other than what is absolutely necessary to move traffic down the highway. It is like driving through a tunnel with the sides of the tunnel consisting of tree trunks and branches.
By the time we enter the outskirts of Pensacola street lights are working at many of the MAJOR intersections on the highway. No electricity is apparent off the main highway. Some businesses, especially the big ones, seem to have electricity and are overflowing with customers.
By the time we reach our neighborhood (Cordova Park) we are in shock. The whole area looks like one of the disasters you see on national news. Everywhere you look is MAJOR devastation. We have ridden out numerous hurricanes but have never seen this quantity of destruction. New multi-story bank buildings have entire floors that have been gutted. One bank between Lowes and Sams has a second story that you can see through. The third, fourth and upper stories have some damage but the second floor looks like the wind punched in on one side and exited on the other side. Steel girders and framing is what you see when you look through the second floor. You have to wonder where the desks, filing cabinets, etc., are since the Lowes parking lot is located down wind.
Our stick & brick home is relatively OK. We have major chain link fence damage where big trees fell across the fence and buckled it. We have some roof damage but the roof was not punctured and water is not leaking into the house.
We are fortunate in that regard since around 50% of the homes in this neighborhood have holes in the roof or missing shingles and felt. Many if not most homes in the neighborhood have roofing damage on the east facing side. Houses with no shingles on the east side is common.
Our son had not cleared any of the trees in our yard so we could see it and take pictures in case they were covered by insurance. They weren't covered by insurance. Trees on the house and on fences can be covered but our insurance deductable for hurricanes is $3,800.
View of our home in Pensacola, Florida when we arrived
Our home in Pensacola, Florida one tree leaning on the house and one just missing the house
The tree limb that went through our second floor bedroom window took out the window. Jeff has things under control with the heavy plastic over the opening. Joyce will have fun picking up the leaves branches and broken glass scattered around our bedroom.
Mess inside of our home from limb going through 2nd story window during Hurricane Ivan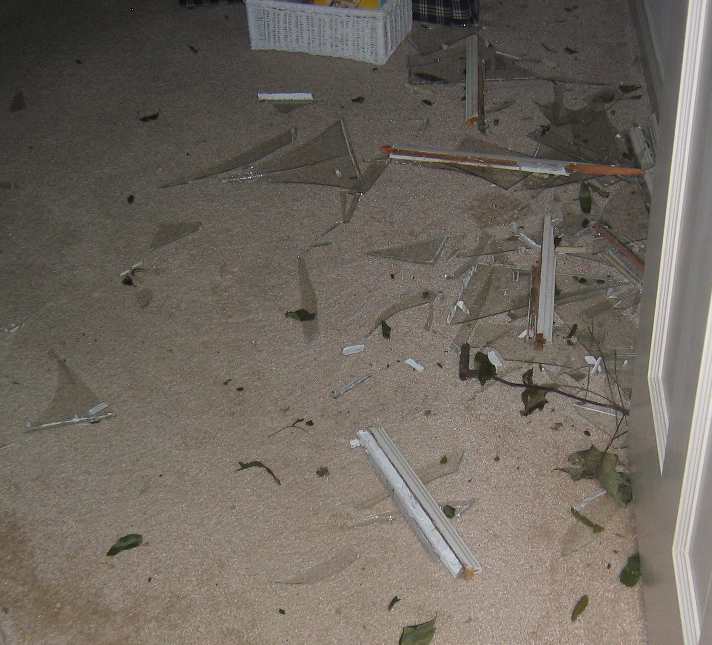 We have so many trees down. We will get a count later. It will be easier to count the stumps and snags
Once we arrived and assessed the damage and of course took pictures an army of friends converged to help with cleanup. My son's crew showed up and cleared our driveway so we could get to our front door. I say my son's crew but good friend Less Fairchild was operating his chain saw with reckless abandon while Jeff's crew carried debris to the street. By the time we called it quits we could navigate from the street to our front door. That was a major accomplishment! At times there were 15 adults carrying debris to the street. That many adults carrying debris made a significant dent in the disaster.
We retired to the "block party" where Jeff's neighborhood was eating under a makeshift canopy. Everyone was sharing stories of what they learned during the day. No one has electricity so the only information available is "word of mouth". Keep in mind that there is no electricity so it is cooler to stay outside with friends sharing these stories. The men are dead tired. When will electricity return is on everyone's mind. Good drinking water is also extremely important.
Wednesday September, 21: Our son's driveway--Pensacola, Florida: N30° 27.710' W87° 11.662' $Free.
Large tree down that crushed our chain link fence
Les and I spent hours felling and chopping trees in my back yard. The objective today was to utilize the chainsaw to chop things up so Joyce and I can carry it to the street when there is room on the street to put it. Les went along my fence line and cut trees that had fallen from neighbors yards into mine. Les cut from the fence into my yard. My trees that fell across the fence into neighbors yards were also cut at the fence line. Cutting at the fence does not mean that neighbors will not help neighbors move debris to the street. I was just getting Les to cut things in my yard while he was here with his chain saw. I suspect Les cut 15 or more small laurel oaks and sassafras trees. The sassafras trees are a rapid growing species and for a short time had acted as a hedge along my back fence. In order to get light they had continued to grow up, up, up with most of the foliage at the top. These spindly things were around 30' tall with trunks only 8" to 9" in diameter. Les cut them around 4' from the ground then chopped the trunks into 6' lengths. The stumps will send shoots out and I will have my sassafras hedge again.
Some houses in the neighborhood had electricity restored by nightfall. Many if not most subscribe to cable TV so for all practical purposes they still do not have access to "TV" news. We do not see cable and phone crews in the neighborhood like we see electricity crews. No one around here has seen any news since before the storm hit.
Thursday, Friday & Saturday (September 22, 23 & 24) Our son's driveway--Pensacola, Florida: N30° 27.710' W87° 11.662' $Free.
Crane getting the tree off our two story house. The crane is holding the piece that was above the 2nd story
Thursday, Friday and Saturday seem a blur. We have the tree off the roof.
This is a picture of the top 30-plus feet of the yellow popular tree that was on my roof. As you can see this crane attached to the tree then the man on my roof (2nd story) took a chain saw and severed this part from the trunk just above the roofline. The crane driver swang that part of the tree around and all but placed it in the street at the foot of my driveway. Once in that location they made short work of dismantling it.
Truck in the middle of my front yard removing trees that were problems for the power company
My trees are out of the power lines. A company with a bucket truck on contract to the power company stopped by to get trees out of power lines. The bucket truck, with my permission, pulled into the middle of my front yard and proceeded to remove the problem trees. They completely removed two big trees and trimmed around 4 more. I am so thankful for the power company. They were extremely generous in helping trim and remove trees and limbs that clearly were not their responsibility.
Bucket truck & chain saw creating a clean cut for this snag in my front yard
We are able to get from the street to our front door. Our driveway is clear. All of my leaning trees are on the ground thanks to Les and his wild chain saw. We still have tons of debris in the yard although the front yard is looking much better.
We will deal with the back yard in the days and weeks to come.
We almost don't want to talk about the destruction of our trees and yard when we have many friends that lost EVERYTHING. When I say everything I meant that. Friends who lived on Pensacola Beach evacuated to the mainland to ride out the storm. Their homes were hit with a storm surge of 12' to 20' that destroyed everything. Some of these individuals do not have a picture remaining. We have several friends that lost their home and their parents lost their home as well. None of these friends live in the same neighborhood as their parents. Some of these people are experiencing post storm trauma or shock.
Our power was restored and we actually slept in our stick & brick house in AIR CONDITIONING. There is no way we can get our motorhome into our driveway there is way too much debris on the street for us to be able to make the turn into our double wide driveway. It may be several weeks before the city removes the debris from the street so that we can get our motorhome back where it belongs--------next to our house.
Until next time remember how good life is.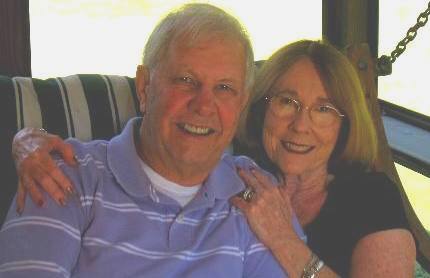 Mike & Joyce Hendrix who we are
We hope you liked this page. If you do you might be interested in some of our other Travel Adventures:
Mike & Joyce Hendrix's home page
Travel Adventures by Year ** Travel Adventures by State ** Plants ** Marine-Boats ** Geology ** Exciting Drives ** Cute Signs ** RV Subjects ** Miscellaneous Subjects
We would love to hear from you......just put "info" in the place of "FAKE" in this address: FAKE@travellogs.us
Until next time remember how good life is.