Swallows nesting on/in the cliff wall near Belt, Montana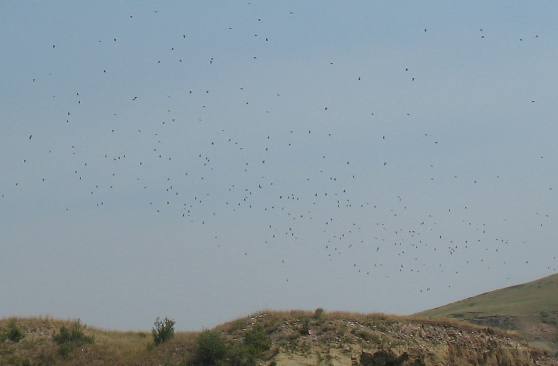 Hundreds, if not thousands, of swallows were nesting on that cliff wall outside Belt, Montana. I could not tell if they were cliff, bank or cave swallows.
The area to the southeast of Great Falls, Montana is a grain growing region like the area to the northeast. The light color is wheat while the darker color is native grasses or perhaps one of the darker grains.
East of Great Falls is a grain growing region

Again the light colors are grain while the darker color is a mixture of land at rest, native grasses or one of darker varieties of grain.
Montana wheat as far as the eye can see
In this picture two different types of grain can be seen. The darker area is hard red winter wheat, while the lighter colored grain is spring wheat.
Combine operators have a lonely existance driving up and down long rows of wheat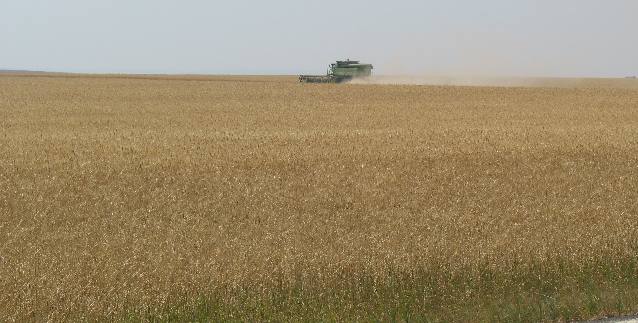 Combines like this one will continue until they are out of sight before making a turn.
You have to be very patient to wait for one particular harvester to make a complete round of these huge fields. Harvester watching is much easier in fields with several combines working the same field.
Large farm operations have their own grain storage facilities
Like in other grain growing areas large operations have their own grain storage buildings. Some of the harvested grain is going in these bins while other trucks are delivering loads to area grain elevators located along rail road tracks.
Resting Montana grain field
This land is resting while a nice grain field ready for harvest is located in the distance.
Back in Great Falls we drove along the Missouri River stopping at one of a series of falls Great Falls was named for.
One of the Falls in Great Falls, Montana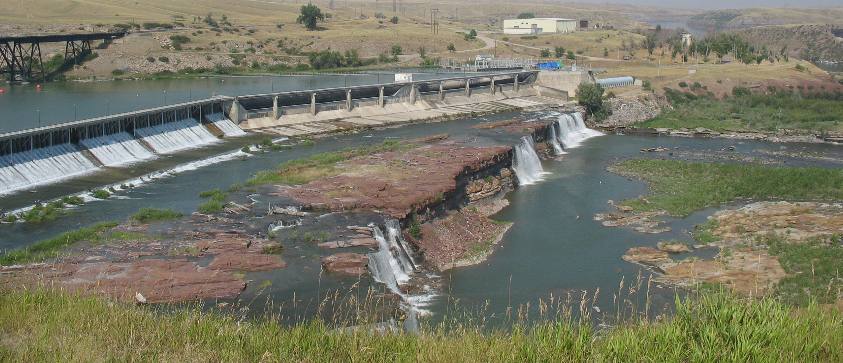 This is Upper Rainbow Falls, one of the "Falls" that Great Falls was named for. It is one of the Great Falls of the Missouri.
Not far from here is Black Eagle Falls. The name came from the journal of Captain Meriwether Lewis where he wrote on the 14 day of June 1805: "...below this fall at a little distance a beautiful little Island well timbered is situated about the middle of the river. In this Island on a Cottonwood tree an eagle has placed her nest. A more inaccessible spot I believe she could not have found, for neither man nor beast dare pass those ----- which separate her little domain from the shores".
Until next time remember how good life is.
We hope you liked this page. If you do you might be interested in some of our other Travel Adventures:
We would love to hear from you......just put "info" in the place of "FAKE" in this address: FAKE@travellogs.us
Until next time remember how good life is.