Billings, Montana plus Cody and Yellowstone National Park in Wyoming
Places Visited: Montana: Billings, Montana.
Wyoming: Cody & Yellowstone, Wyoming.
Sunday, September 2, 2001 Yellowstone River Campground, Billings, Montana. Elevation: 3,160'
note: be aware that Yellowstone River Campground became active in the campaign to have city fathers prohibit RV's from overnighting at Wall-Mart in Billings. Because of this we will not stay with them again.
We worshiped at the Emanuel Baptist Church in Billings, MT then rested. Our RV-Park is on the Yellowstone River and Joyce take walks down to the swift flowing river. We have marveled about seeing the beginnings of this river in Yellowstone National Park. The upper falls and lower falls are within miles of the Yellowstone Rivers origin in Yellowstone Lake. From the mighty falls that we viewed in Yellowstone to the river we see passing the RV-Park here in Billings it is obvious that agriculture has been taking its share of the resource.
In the evening deer emerge out of thickets near the RV-Park and graze in open fields. One field has a half dozen does with spotted fawns. Another field has several adult bucks. Watching deer like this is something special to us.
Monday, September 3, 2001 (Labor Day) Yellowstone River Campground, Billings, Montana. Elevation: 3,160' note: be aware that Yellowstone River Campground became active in the campaign to have city fathers prohibit RV's from overnighting at Wall-Mart in Billings. Because of this we will not stay with them again.
We visited the Moss Mansion in Billings, Montana. This huge majestic mansion was built in 1902 and for the most part has been maintained in its original state. Original carpets, drapes, wall-treatments, cook-stoves, sinks bathroom fixtures were still in excellent shape including the majority of the furniture. It is absolutely beyond my comprehension that women could have lived in this house since 1902 without painting the walls. Think about it men, do you know any woman that could allow a perfectly beautiful wall to go 100 years without painting it? Most of the ceilings showcased beautiful artwork. Elaborate ornamental plaster cornices decorated the showcase rooms downstairs.
This house still had the old "Ice-box" where the deliveryman could put ice in it from the outside without having to drip it through the kitchen. How about that for a modern convenience?
I learned something new today. Do you know what a "Thunder bucket" is? I did not know but it is a euphemism for a "Johnny pot" at least that is the term our docent used. We got a kick out of our 89-year old docent who was having the time of his life taking us through the house. There was nothing slow about this gent. He relished telling us about the history of the house and its occupants. He had gone to school with the youngest son of the owner so knew the family.
Tuesday, September 4, 2001 Absaroka Bay RV-Park Cody, WY. Elevation: 5,400'
This was a wonderful day. It was wonderful from beginning to end.
First thing Tuesday morning we pulled out of the RV-Park in time to arrive at Interstate Diesel (the Allison transmission shop) in time to join the mechanics for morning coffee. To make a long story short they found the cause of my transmission-overheating problem in a very short time. A valve between the transmission and the cooler was routing much of the hot transmission fluid back to the pan instead of sending it through the cooler. That valve is no longer in the system.
With the transmission problem behind us we were headed toward Cody, Wyoming when we got a call from Joyce's sister who is on a 2-week vacation and had just arrived in Cody. We are planning to meet them for supper tonight. Oh happy day! The transmission is running 150-degrees again, the sun is shining, Joyce is smiling, how good can it get?
The ride from Billings to Cody is through farmland with scattered ranches. Hay, sugar beets, alfalfa and wheat seemed to be the crops of choice. Crops along here have to be irrigated. Between Billings and Cody the elevation rises 2,000 feet so this is a good test of the transmission repair. The transmission is performing as beautiful as the scenery we are enjoying.
Once in Cody we finalize arrangements for supper with Joyce's sister and our Brother-in-Law.
We ate a very good dinner and had a good time visiting with family before it was time to say our good buys. It was great to get to see these relatives while they were out this way.
Wednesday, September 5, 2001 Absaroka Bay RV-Park Cody, WY. Elevation: 5,400'
We slept late before getting up and heading into town. For being a small town (pop. 8,500) Cody has a lot to see and do. We decided to experience the "IRMA" for lunch. The IRMA is a hotel, restaurant, bar built in 1902 by Buffalo Bill Cody. The place is historic. On one side of the restaurant is the famous Cherrywood bar given to Buffalo Bill by Queen Victoria. At the time the bar cost more than the entire hotel complex. To say that Queen Victoria liked Buffalo Bill is an understatement. We learned later in the day that Buffalo Bill was quiet a lady's man. At one time Buffalo Bill Cody was the most "recognized" individual in the world. This was during the time he was touring the world with his Wild West Show. Our lunch was nothing to write home about but the cherrywood bar was.
In one area of the IRMA there was a display of mounted sheep that represented a hunters "Grand Slam" of 12-different varieties of sheep taken by a single individual. To accomplish this feat the hunter had to travel the world over. Some were from Wyoming near Cody, British Columbia, Mexico, South America, Iran, Iraq, Europe and Africa.
Later in the afternoon we took a trolley ride of historic Cody. The couple running this attraction did an excellent job. We thoroughly enjoyed the hour we spent with them and highly recommend their trolley ride.
Around 6:00pm we watched a staged "shootout" outside the IRMA. It was good entertainment. The "shootout" features local actors garbed as heroes and desperados. The good guys in our show were Wild Bill Hickock, Doc Holliday, and Buffalo Bill Cody. I did not recognize any of the "bad-guys". The actors use real guns with blanks. There is a LOT of noise and action.
Thursday, September 6, 2001 Absaroka Bay RV-Park Cody, WY. Elevation: 5,400'
Today is our 32nd Anniversary. Joyce has a place picked out to eat and dance the night away tomorrow night. It seems since it is after Labor Day that the band only plays on the weekend so we will put off the big celebration until Friday night. When we talked with our son and he asked what we were doing to celebrate Joyce said we were going to do something special. He blurted out "you have been doing something special for the last 5-months". We all got a big laugh.
Everyone that mentions Cody always says to visit the "museum". This was our day to tour "The Museum". The museum everyone is referring to is the Buffalo Bill Historical Center (four world-class museums) under one roof with a fifth dedicated to natural history under construction. James Michener called the Buffalo Bill Historical Center, "the Smithsonian of the West". Michener said it best; this museum is truly Smithsonian quality. We spent 7-hours and only got through the Buffalo Bill and Plains Indian sections. We plan to return tomorrow morning and tour the Gallery of Western Art and the Firearms Museum housing the world's largest collection of American-made firearms, as well as European arms dating to the 1500s.
The high temperature yesterday was 93 then last night a cold front came through. It sprinkled rain all night and today. The wind was gusty all day and the temperature dropped into the low 40's by nightfall. It was snowing 40-miles west of there in Yellowstone National Park and the Bear-Tooth Mountains a short distance to the northwest. Local expect snow here tonight. The motorhome is rocking from wind gusts as I write this. Rain is welcome in this area. They have been suffering from a lack of rain this summer. The rain should help control some of the wildfires ravaging the west.
News of the last two weeks has been about the wildfire burning on the west side of Glacier National Park. The homes being evacuated are the homes of the 60 to 80 people that live along that road to Polebridge we wrote about several weeks ago. It would be interesting to ride along that road again, in someone else's vehicle, and see what remains of the forest. We wonder if the restaurant at Polebridge escaped the fire.
Friday, September 7, 2001 Trek mileage: 30,31
Absaroka Bay RV-Park Cody, WY. Elevation: 5,400'
After breakfast at Granny's it was back to the museum. The weather has changed so drastically that our options on what to do are severely reduced. Two days ago it was 93 degrees the high today is in the low 50s with freezing rain and hail. Tonight's low is supposed to be 35 degrees with a 40% chance of snow. The wind is howling. In sum the weather is miserable. Visibility is so bad that we can't do some of the scenic trips we were looking forward to. The museum that we only got halfway through yesterday beckons us back.
This time we tour the firearm and western art section. Viewing thousands and thousands of guns can get boring in short order. However, included in the firearm exhibit was a head and horn exhibit of world record bear, deer, elk, moose and caribou. Boone and Crocket record animals are on exhibit in a special room. While in the museum we heard a loud noise like the building was under attack. We ran to large plate glass windows and watch as an intense thunderstorm dumps marble size hail. When it was over the ground was white, covered with frozen marbles. Shortly after the hail storm the building was abuzz with news that the east entrance to Yellowstone National Park was closed. This time is was not a fire but fugitives in a stolen truck. We met RV'ers that were run out of the RV-Park at Fishing Bridge just inside the east entrance. A park ranger knocked on their door this morning and told them to leave immediately. They evacuated to Cody and were touring the museum while waiting to see if they would be allowed to return to their RV or would have to spend the night in a motel in Cody.
Nightly news tells us that early this morning a park ranger spotted a suspicious pick-up truck near Fishing Bridge. Upon running a license check they learn that it is a stolen vehicle containing fugitives. The truck disappeared for 10-minutes and the occupants flee. At this point everybody (workers and tourist) was evacuated from the Fishing Bridge area. Everything at Fishing Bridge including stores, the RV-Park, the service station, and seasonal-worker dormitories were evacuated and closed. It appears that those evacuated RV'ers will be spending the night in area motels.
Since we did not adequately celebrate our 32nd anniversary Thursday Joyce found Cassie's Supper Club that features a live band for us to celebrate. Joyce did a good job with this one. Two weeks ago Vince Gill and wife Amy Grant ate there and afterward Vince borrowed a guitar and treated the guests to a 90-minute show then jammed with the house band for a while. On the wall was a "tabloid" headline and story about Tanya Tucker getting in a catfight with a cowgirl who was coming on to her "man". We got a kick out of this and wondered if we were going to be lucky enough to see some of this action. The hostess told us that Vince and Amy were spending the week at a nearby dude ranch where they had a great time. On Wednesday night of that week an entertainer was at the dude ranch for her normal Wednesday night sing around the campfire. Gill and her performed some of his songs together and they became friends. It just so happens that this girl also sings at Cassie's during the dinner hours. When Gill asked her where they could get a good steak of course she said Cassie's. When Gill made reservations he included all of the staff and families at the dude ranch. Wow! What a tip!
We did not get to see Vince Gill in a 90-minute set but the house band was good and we had a good time.
On the way home we see a bank sign flashing 44-degrees.
Saturday, September 8, 2001 Absaroka Bay RV-Park Cody, WY. Elevation: 5,400'
This morning's newspaper says the fugitives, two teenage boys and a juvenile girl, were captured about 6:00pm last night. The trio took off on foot around 5:30am after they abandoned a stolen truck in the Hamilton Store parking lot at Fishing Bridge. Many of you are familiar with the Hamilton Store at Fishing Bridge. With three armed and dangerous fugitives on the loose Park officials evacuated the immediate area. I suppose virtually everyone in the park was on the lookout for these teens. According to the newspaper the group had walked about 10-miles when they were spotted in the Harden Valley. The girl was barefooted. The group was reported to be tired and cold.
We drove from Cody to Fishing Bridge and back today. This is a 150-mile round trip. On the way we toured the Buffalo Bill Cody Dam and Visitors center. The 75-mile ride between Cody and Fishing Bridge in Yellowstone is one of the most scenic drives we have been on. Just outside of Cody the road traverses a narrow canyon with three tunnels. At the west end of the canyon is the Dam and Visitors center. From there to the east gate the drive is through a wide valley lined with dude ranches and Buffalo Bill State Park. Once inside of the park the awesome scenery doesn't stop as the road winds over 8,530' Sylvan Pass then along Yellowstone Lake. RV camping opportunities are numerous between Cody and the east gate. Beautiful campsites are available along the reservoir in Buffalo Bill State Park. From what we can see from the road these spots do not appear to have hookups. Other than the State Park several Mom & Pop operations are offering RV-Parking.
Mike & Joyce Hendrix
Until next time remember how good life is.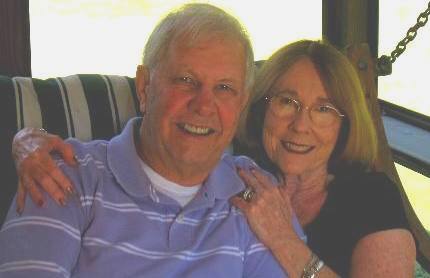 Mike & Joyce Hendrix who we are
We hope you liked this page. If you do you might be interested in some of our other Travel Adventures:
Mike & Joyce Hendrix's home page
Travel Adventures by Year ** Travel Adventures by State ** Plants ** Marine-Boats ** Geology ** Exciting Drives ** Cute Signs ** RV Subjects ** Miscellaneous Subjects
We would love to hear from you......just put "info" in the place of "FAKE" in this address: FAKE@travellogs.us
Until next time remember how good life is.