Places Visited:
Monday August 2, 2004 Campus RV-Park Independence, Missouri: N39° 5.287': W94° 25.410' $23.00 for full hookup 50amps (cable & onsite phone available)
We got an unexpected knock on our door this morning. The lady that owns Campus RV-Park was here to tell us that someone in the full hookup area was leaving ahead of schedule. We could move to a 50-amp full hook up site. It is SO hot here. We need the 50-amps where we can run both air conditioners and do all the other things we want to do with the electricity. Running both air conditioners with reckless abandon is important when it is this hot, otherwise we do not need or even want full hookup.
That was the good thing that happened to us today. The BAD thing was my main computer is having MAJOR problems. I had called my "main-most" computer guru on Sunday and he had informed me that I would have to Fed Ex my computer to him in Panama City Beach, Florida. This is something I have not dealt with well. Being without my main computer for a week is difficult to comprehend. Finally, this afternoon I broke down and Fed Ex'ed it to my Brother-in-Law. I know he will take good care of me but being without my main computer for a week will be difficult.
Oh well, it has been done. Life goes on.
We toured the Vaile Mansion in Independence this afternoon. The mansion was constructed in 1877 for Colonel and Mrs. Harvey Merrick Vaile. Mr. Vaile was a lawyer by education but made the bulk of his money delivering mail from Independence, Missouri to Santa Fe, New Mexico and other Star routes servicing the western frontier. He was also a gentleman farmer, breeder and owner of the finest registered cattle, and an expert maker and authority on wines.
Vaile Mansion in Independence, Missouri
Colonel Vaile designed and built the "Crown Jewel of Independence". The inspiration came from a large French home in Normandy, France that Colonel & Mrs. Vaile visited on vacation. Victorian is the best way to describe this mansion from my perspective. Before we even enter the doors the bay windows, roof ornimation, multiple towers, cupolas and virtually every form of external opulence available has prepared us for the opulence we would experience indoors. The National Register of Historic Places describes the style as Gothic adaptation of true Victorian.
Once inside the thirteen-foot ceilings bring our eyes upward. Each ceiling had been individually hand decorated by imported Italian, French and German artists. Hand painted cherubs, birds, butterflies, flowers and plants adorn the ceilings in vivid colors. One ceiling depicted the cultural tastes of Colonel Vaile such as harp, books and globe. Chair rail accents both the ceiling and upper walls. Ten-foot doors are the norm throughout. Huge pocket doors seal off each of the twin downstairs parlors.
The entry doors are 10-foot ornately carved doors trimmed in solid bronze, setting off a Dutch tiled entry. Inside the entry etched glass panels and transom frame another set of magnificent doors. The entry hall is accented by a stunning black walnut stairway replete with grandiose hand carved banister. A skylight in the 3rd floor ceiling floods the entire staircase with light. Bathtubs featured rich wood railing with polished copper tubs. Toilets were ornate rich wood seats with a center hole leading to a bowl. Wood vaults mounted on the wall high above the toilets provided the flushing power.
Period furniture, chandeliers, lamps, window treatments, vases and other accessories adorned each room.
The Vaile mansion was and remains the crème de la crème of elegance and haute sophistication in Independence.
We also stopped by the old Jailhouse here in Independence. The old jail just oozes history. This is the jailhouse where during the Civil War the Union Officer had all women and children put in the jail. They were so crowded that it was standing room only. This would be the same Officer that burned all the houses in the counties bordering Kansas. The same one that Mr. Bingham painted the picture about. In addition to the jails use during the Civil War it was also held Frank James (older brother of Jessie James) until his trial for bank robbery where he was acquitted. It is where the James Gang was brought to justice. Southern sympathizers as well as the famous Civil War guerrilla, William Quantrill were housed here. In the early 1900's the 2-foot thick limestone walls were used to confine chain gangs.
Independence and Jackson County paid a heavy price for the War Between the States. Whether a southern sympathizer or a loyal unionist, many people lost their homes, wealth, and even their lives. Out of these tumultuous times rode Missouri's most notorious outlaws. Decades after the war ended in Missouri, the citizens of Jackson County felt the lingering bitterness and uncertainty of the great conflict. Outlaws like the James Gang and Youngers used the remaining animosities from the outrages of the war to stay a step ahead of the law for nearly twenty years.
The James brothers fought along side the Youngers as guerrillas during the nasty border wars that raged in Missouri and Kansas. Like many of the guerrilla fighters in Western Missouri, the James's fought as much for personal vengeance as for southern loyalties. It is interesting to note that many guerrillas entered the conflict as young teenagers after suffering personal losses at the hands of Union forces. In 1866, the James gang began a long chain of robberies across the state. Many western Missourians held the boys in high regard. After all, these border bandits had been willing to put their lives on the line resisting the Union forces during the War. As they traveled through the states, they received aid from the local citizenry in the form of food and lodging. Their daring deeds brought them fame and fortune.
In the spring of 1882, Bob Ford murdered Jesse James. Jesse's older brother Frank then began negotiations with the Missouri Governor to surrender because he feared assassination. When Frank surrendered in 1882 he was brought to this jail to await trial. Frank James was treated very differently from the other prisoners. Old friends furnished his cell with furniture, rugs and pictures so that his stay might be more comfortable. He enjoyed a certain amount of freedom in the jail and generally had meals with the Marshal's family.

Tuesday August 3, 2004 Campus RV-Park Independence, Missouri: N39° 5.287': W94° 25.410' $23.00 for full hookup 50amps (cable & onsite phone available)
This was our day to do the National Frontier Trails Center. We spent the entire day in the place and still did not read everything available. They have a very good video. In addition to that video they take you through each of the trials; Santa Fe Trail, California Trail, Oregon Trail and Mormon Trail. They had many good exhibits like wagons and ox yokes in addition to excellent paintings covering entire walls. However, the main thrust was information printed on the walls as you made your way along each of the trails.
Until reading the exhibits we did not know that nearly half of the individuals working the Santa Fe Trail were of Spanish/Mexican heritage. We never read about them possibly because those with a "Spanish" native tongue did not write about the journey. Wouldn't it be neat to read accounts of their experiences, from their perspective?
Prior to the first group leaving Independence for Oregon over the "Overland Trail" it was widely predicted that the rigors of the journey would cost the lives of 90% of those that undertook the endeavor. As it turned out, 90% of those that started made it to their destination whether it was California, Oregon or the Great Salt Lake in the case of the Mormons. While a 10% fatality rate is very high it is a long shot from 90%.
We keep running into little antidotes about Kit Carson the famous explorer, Mountain Man, and Army Scout.
On October 6, 1826, that indispensable chronicle of the frontier "The Missouri Intelligencer" published the following item:
"Notice is hereby given to all persons, that Christopher Carson, a boy about 16 years old, small of his age, but thick set; light hair, ran away from the subscriber living in Franklin, Howard county, Missouri, to whom he had been bound to learn the saddler's trade, on or about the first of September last. He is supposed to have made his way towards the upper part of the state. All persons are notified not to harbor, support or assist said boy under the penalty of the law. One-cent reward will be given to any person who will bring back the said boy. David Workman."
Who was this runaway apprentice with a disdainful one-cent award on his head? Actually the bored young boy had hired onto a Santa Fe wagon train------and he became that ultimate frontiersman, Kit Carson.
New Mexico was to become a state largely because of the Santa Fe Trail and the economic engine it provided.
Most of us tend to think of the Santa Fe Trail and other of the trails west as being this neat highway with all wagons following one another like 18-wheelers on an interstate. That isn't how it was. For most of the journey each wagon found the "easiest" way to go which meant in many instances not following the wagon in front of you. The wagon trains had to keep their stock fed and watered. If every trail took the same route all the grass would be eaten so subsequent groups would have to veer off to one side or the other to find good grass. A campsite that was ideal if you were the first wagon train that year might be useless if you were later in the season. The firewood would have been used, and the grass had been grazed. The later wagon trains would have to swing a mile north or south in order to find suitable grazing and fire wood.
But, in some places geography came into play. "The Narrows" was one such stretch of the Trail. Here the drainage of the Wakarusa River on the north and a stream called the Marais de Cygnes to the south forced wagon trains onto the ridge in between. It was near this location that the famous Oregon Trail of the pioneers branched to the north to seek their destination much further to the Northwest. Here is where the "professional" freight wagons rolled to the Southwest loaded with trade goods while the pioneer wagons with families making the only transcontinental trip of their lives would head west determined to walk clear to Oregon and California. The seasoned "teamsters" (mule & oxen drivers) had to admire the motley crews heading west. They didn't have the expertise of many crossings; they had WOMEN along, which certainly changed the nature of a crossing. Just as certain were the pioneers in their farm wagons as they reflected on every bit of advice they'd received form the seasoned Santa Fe teamsters.
Chroniclers often commented on the "characters" drawn to the Santa Fe Trail. Each train heading out would have novices and scarred veterans. Profane "mule skinners" to those that quoted Virgil. The Trail seemed to attract the unique -------the ones that lasted were competent and ended up making multiple trips. To give you an idea of the make up of one of these wagon trains In 1856 James Larken wrote: "In our train we have quite a number of nations represented----Americans, Mexicans, French, Germans & Pawnee Indians---numbering about 16 men." A train's teamsters were divided into "messes," usually ten or so in each, which cooked and ate as a group. One observer wrote that his "mess" had four Germans, two Irishmen, two Americans (whatever that meant), a Mexican, and an Englishman.
These were tough people of that there can be no doubt. They had a HARD job to do and there was no halfway. They either got the wagons and cargo to Santa Fe against awesome obstacles, or they didn't. This show revolved around the "bullwhacker" and his whip, his panache. Panache as it is used in today's vernacular means flash or flamboyance in style or manner. Well that is what he had with his whip-----panache. This whip was no ordinary back yard toy is it was a monster, suitable for driving oxen or mules dragging three tons up the slope of the prairie to the Rocky Mountains. This whip started with a three to four foot stock of heavy wood, and then braded rawhide lash up to twenty feet long. On the end was a replaceable "popper," or eight-inch piece of rawhide that could crack like a pistol shot or cut hide like a knife. Cutting hide wasn't the objective. A "bullwhacker" or teamster would brag if he got to Santa Fe and back without drawing blood.
The object was to "pop" the whip at just the right spot, by the correct animal's left or right ear, to guide and inspire him. They got to be quiet good at this and it let to the showing off that we now see in carnivals, rodeos and such where they pop off someone's cigar and suck. The old muleskinners would brag that they could pop the head off a rattlesnake at 20-feet. It is said that rattlesnakes did not exist along the trail after the first few years having fallen victims of this "sport".
One story goes this way---- A teamster's comment to shipping firm owner William Waddell. "Boss, the trouble with them oxens is that they don't understand the kind of language we're talkin' to 'em. Plain 'Gee and 'Haw ain't enough under the present circumstances. Now, if you could just find it convenient to go off on that hill, somewhere, so's you couldn't hear what was goin' on, I'd undertake to get them oxens out."
I got a real kick out of that story. Sounds to me like that bullwhacker might not be able to brag at the end of this trip that he made it without "having drawn blood".

Until next time remember how good life is.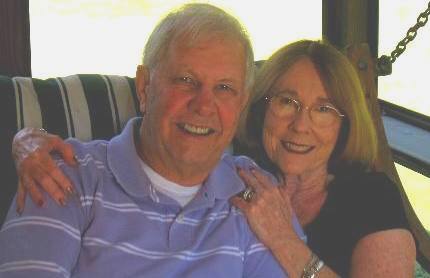 Mike & Joyce Hendrix who we are
We hope you liked this page. If you do you might be interested in some of our other Travel Adventures:
Mike & Joyce Hendrix's home page
Travel Adventures by Year ** Travel Adventures by State ** Plants ** Marine-Boats ** Geology ** Exciting Drives ** Cute Signs ** RV Subjects ** Miscellaneous Subjects
We would love to hear from you......just put "info" in the place of "FAKE" in this address: FAKE@travellogs.us
Until next time remember how good life is.