Missouri: Independence, Liberty & St Joseph
Kansas: Levenworth
Places Visited:
Missouri: Independence, Liberty & St Joseph
Kansas: Levenworth
Saturday August 7, 2004 Campus RV-Park Independence, Missouri: N39° 5.287': W94° 25.410' $23.00 for full hookup 50amps (cable & onsite phone available)
Does it get any better? It would be hard to beat this. The hot humid weather we experienced earlier in the week has given way to unseasonably cool dry air. For an August day-------it is simply divine.
We headed to the small town of Liberty located about 15-miles north of Independence. While Independence is located south of the Missouri River, Liberty is north of the Missouri. In the early 1800s along with Independence it was a fast growing town in western Missouri. Liberty itself was a large part of the history of this area in the mid-1800s. Liberty is in Clay County, if you remember from a few days ago when the fine folks of Jackson County (Independence) ran the Mormons out of Jackson County they fled to Clay County. About this same time, 1833, the citizens of Liberty constructed a massive jail. Not MASSIVE in size but the walls were much too massive to escape from. This historic jail is where the Mormon Prophet Joseph Smith spent approximately 4 months and received revelations from God, some of which are recorded in the Mormon Doctrine & Covenants.
This jail is now a Mormon "historic-site" much like the Wailing Wall is to the Jews. Mormons have purchased the property and have constructed a large building over the old jail site. Visitors now enter this new building to view the old historic jail. Over time most of the jail crumbled and the individual limestone building blocks were removed for use in other buildings. However, the basement & foundation of the old jail still remained.
The original basement (this "basement" was the "dungeon" where Joseph Smith & four of the Church's leaders were jailed for 4-months in 1838) has been used as the foundation for the restoration of the upper story. What is now visible is a cut away of the original "dungeon" and a cut away of the recreated top floor. Life size manikins are in the jail depicting Joseph Smith and the others. It is a SMALL place to spend 4-months. The floor was jagged limestone bedrock that the jail was constructed in.
The Mormon's tell a powerful story of what was happening to them in the 1830s here in western Missouri. It is a story that is not too pretty. As more and more Mormon's gathered in Western Missouri the Southerner's who had settled here realized that they would no longer be in the majority and 1888 was an election year. That is when all hell broke loose in this part of Missouri. There had been trouble before but now there was an extermination order issued by the Governor to the state Militia. Joseph Smith and 4 church leaders were arrested and placed in jail. Governor Boggs ordered Joseph Smith and the other church leaders to be executed. The order was given to Alexander W. Doniphan who not only refused to carry out the order but retorted that to do so would be nothing short of cold blooded murder and that if anyone else carried out the order that he would personally hold those involved responsible and bring them to justice in a Clay County Court. Joseph Smith and the other Mormon leaders were not executed. I would like to know more about this story but information is scarce. And sitting in a motorhome with limited (cell-phone) access to the WWW makes research difficult.
Back to the saga of Joseph Smith and the "old Jail", after 4-months in jail the jailers realized that Joseph Smith and the other Mormons were being held on false charges and let the prisoners escape. Joseph Smith and the others quickly made their way to Illinois. That is all I know of the story. It is interesting the parts ordinary people play in this saga. It was a "jailer" that let them escape. It was the senior officer of the Militia that refused to carry out the execution order.
Alexander W. Doniphan, the officer that had defied the Governor of Missouri and not carried out his execution order later assembled a group of Missouri Militia to help the United States in its battle with Mexico. Doniphan's Missouri Regiment arrived in Chihuahua, Mexico after an epic 12-month 3,000-mile march. On the last leg of that march Colonel Doniphan led about 850 troops south from Santa Fe to capture the Mexican city of Chihuahua. The time was December 1846. The American troops commanded by Colonel Doniphan defeated a Mexican army at El Brazito on Christmas Day. Doniphan's army then fought and won the furious Battle of the Sacramento, fought just outside Chihuahua on Feb. 28, 1847. The Americans occupied the city on March 1.
From Mexico Doniphan and his army of Militia marched to California. In the end the Mexicans were defeated. The United States gained more than 525,000 square miles (1,360,000 square kilometers) of territory as a result of the Mexican War. That new territory is most of today's New Mexico, Arizona and California.
The small town of Liberty is also noted for being home to the first successful daylight bank robbery during peacetime. That robbery in February 1866 was attributed to the James Gang. We toured the actual bank that the robbery occurred in. The town has preserved the place as a museum. Missouri folks have raised the James Gang to almost cult hero status. It is eerie. We joined others that were interested in this bit of history as we toured the bank and listened to the docent as she reenacted the actual robbery. One passerby a 17-year old boy was shot to death outside the bank as the gang of 12 was shooting up the place on their way out of town. So in addition to a bank robbery the gang had committed its first murder. This was to be the first in a series of train and bank robberies attributed to the James Gang.
For 16-years the James Gang robbed Trains and Banks with impunity. Jesse James and his brother, Frank, were two of Missouri's most famous sons, whose characters were undoubtedly molded by the turbulent years marking the bloody decade following the Civil War. During the War, their persona grew as they rode with the guerilla fighters serving with Quantrill and Bloody Bill Anderson.
Liberty, Missouri has the distinction of being where Jesse James last lived
Cultural icons and legends in their own time, Jesse and Frank James became part of America's Wild West legacy. One of the Gang members shot and killed Jesse in 1882, Frank turned himself in to the Governor, stood trial and was acquitted. When I questioned the docents about how Frank was acquitted he said: "the jury consisted of his peers". "Banks and Rail Roads represented big business and as such were "fair-game" if someone got killed in the process they were just in the wrong place at the wrong time."
I guess bank robbers and murderers in Missouri were like the KKK in the "old-south". Even if one was caught and put on trial they were always acquitted by a "jury of their peers".
So much for that: "with Liberty & Justice for all" stuff. Words, just words, kind of like the "In God we Trust" on our coins. Those that haven't darkened the doors of a church or synagogue suddenly become irate when someone mentions removing them. That Liberty & Justice for all becomes a mute point when it is applied to certain things i.e., "gays" that are currently in an official "free fire zone". In previous days it was Mormons that were denied "Liberty & Justice" then it was "bank robbers & murderers" that didn't receive Justice in Missouri while in the south Blacks were denied Liberty & Justice at the same time the KKK in the old south could commit murder and not receive Justice. My how things change----yet stay the same. And to think that the worst of these things happen smack in the middle of the Bible Belt, yet NONE of them sense any of the irony.
Doniphan - Hubbell House in Liberty, Missouri
One visiting Liberty today would think that the town would be making a HERO out of Alexander W. Doniphan and his band of Missouri Militia that gathered arms and went to help determine the southern border of the emerging Unites States. Or immortalize the Alexander W. Doniphan that had the moral courage and fortitude to defy an order of the Governor of Missouri to execute Joseph Smith and the other four Mormon leaders. But NO Missouri spends their efforts immortalizing the James Gang. Go figure!
The big news in Missouri this week is the election where it was decided to define marriage as a union between one man and one woman. We all know that issue. It is different than previous issues this time the "gays" are different. It is OK now because it is MORALLY wrong at least that is how one local justified this vote. Amazingly, they know the wrong done to the Mormons but "gays" are different. OK------ I guess that is what you can expect with a church on every corner.
Joyce and her niece Lana located an establishment advertising "Karaoke Saturday Night". Joyce and I love entertainment and Lana loves to sing. It was decided that we would see what the place was about. It turned out to be a local dive that attracted a fun-loving group of working class people out for a good time. It was a real friendly bunch all having a good time and for the most part all participating in the karaoke. One group of locals even got me to participate in singing "Margarita Ville" Jimmy Buffet's signature song. A big deal was made about me no longer being a karaoke virgin. We shut the place down a bit after 1:00 AM. That is way past my bedtime but I am no longer a "karaoke virgin".
Sunday August 8, 2004 Campus RV-Park Independence, Missouri: N39° 5.287': W94° 25.410' $23.00 for full hookup 50amps (cable & onsite phone available)
We slept late. How late I ain't saying. Actually, I didn't know we could stay in bed that long.
We ate lunch at a special place we have found then spent the remainder of the day reading and planning ahead. Actually, we made a tentative schedule from August 9th to September 20 when we are going to meet our son his wife and our grandson in Yellowstone National Park. There is so much to see and do between here and Yellowstone and so little time. Joyce and I are going to have to kick it in afterburner. We determined places we had to be by certain dates so that we can be in Yellowstone by the 20th. We will have to cram both North and South Dakota into 19-days. We could spend an entire summer in that area. I have a high school friend that we are going to visit around Devil's Tower and we narrowed that date down to 13 September. Can you imagine a Florida girl living on a spread near Devils Tower? I can't but we are going to see it.
Monday August 9, 2004 Campus RV-Park Independence, Missouri: N39° 5.287': W94° 25.410' $23.00 for full hookup 50amps (cable & onsite phone available)
We finally got around to visiting the Harry S. Truman Library and Museum. We totally missed the library part but I think that is by design. The only individuals entering the library portion are those doing research or so I have been lead to believe. The Museum part is what you would expect in a museum paying tribute to the life and times of Harry Truman. Truman for the most part didn't get caught up in the pomp and circumstance of being president of the United States of America. It was by fluke that he got there. FDR was running for his 4th term as President. Truman was a second term Senator from Missouri. FDR's health was fading fast. His current Vice President wasn't popular for some reason and the party decided to find a more acceptable Vice President to run with FDR. Truman made the short list. Truman didn't have any baggage and the main object was to put forth anyone but the current VP. Truman's name was number one on that short list for no particular reason but he ended up as the VP nominee. Once they were elected FDR virtually abandoned him. Docents say FDR and Truman only had two meetings between being elected and FDR's death.
FDR died suddenly shortly into his 4th term. Truman ascended to the Presidency. He is the only President in the 20th century that was not a college graduate according to our docent. He was extremely well read but not a college graduate. He was to comment later in life that the experience/training that served him best in the Presidency was the 10-years he spent farming. Farmers have to deal with changing circumstances as a way of life. When things broke the farmer has to fix it. When the animals get sick they depend on the farmer. In short everything on the farm depends on the farmer. Washington was like that only on a bigger scale.
Before becoming Senator from Missouri Truman was the County Administrator running things in Independence and Jackson County, Missouri. In a letter to Bess he wrote that the Presidency was like running things in back in Independence only on a bit larger scale.
FDR had not communicated with Truman as Vice President so Truman had a lot to learn and learn quickly when the Presidency was thrust upon him. The Atomic Bomb was being developed and was almost ready for test and deployment and Truman had NO CLUE about it. Yet after being briefed he approved the deployment and use if it against Japan. This was a controversial decision and much second guessing took place.
Truman made many controversial decisions as president. One of the most controversial had to do with desegregating the military. Strom Thurman would have none of it and led a strong contingent against his reelection because of it. The Marshal Plan and Truman Doctrine were both controversial as was the Berlin Airlift. Then there was the firing of General Mc Arthur over his disobeying orders in Korea. However, by firing McArthur Truman solidified forever the concept of Civilian Control over the military and emphasizing WHO was Commander In Chief.
After his presidency Truman returned to Independence where he lived the remainder of his years. This Museum is a truly magnificent tribute to a truly magnificent man. It just goes to show that when someone has his head screwed on right he can make good decisions and be a good leader no matter the community he is raised in.
This was our last day in Independence, tomorrow we are moving to St Joseph, Missouri about 68-miles up river.
Tuesday August 10, Beacon Campground/RV-Park St Joseph, Missouri: N39° 45.520': W94° 48.323' $25.35 for full hookup 50amps (cable available / extra)
We got up early since we had a big day scheduled. We are moving the motorhome to St Joseph some 68-miles north of Independence. On the way we are going to get in some side trips like a tour of the Harley Davidson factory in extreme north Kansas City, Missouri. With the Saturn in tow we pulled into the Harley Davidson parking lot shortly after 9AM for our scheduled 10AM tour. To our surprise they greeted us at the door and put us with an earlier tour.
Now the Harley Davidson factory tour was a GOOD one. They aren't really manufacturing many items in this plant it is mostly an assembly plant with 350,000 square feet of assembly space and 900-happy employees.
They were stamping out gas tanks and fenders from a blank piece of metal. A numerically controlled laser machine cut the excess metal off the stamped out pieces. The left and right sides of the 3.5 gallon fuel tank were then welded together by a robot machine. Another robot was buffing out the welds on the tanks so that it is all but impossible to see the seam. The laser cut out a fill hole for the gasoline and a small hole for the fuel line. A pressure test was next---then on to paint.
The frame was the other thing actually being manufactured in the plant. I enjoyed watching an automatic machine bending tubing to exacting specifications. Next a robot welder connected the different pieces of tubing and bracing to make a frame. This frame had to be plasma coated and painted.
From this point the plant is pure assembly. With the frame mounted on a movable work station the "assembly line" starts. The engines and gear cases are assembled and bolted to the frame, electrical wiring is attached then cables are attached. Wheels are assembled. Tires have to be mounted on rims. Spokes have to be installed between hub and rim. Machines torque the spokes then another machine and operator adjust the assembly for roundness/true. Tweaking the torque on certain spokes appeared to be the technique used to bring the assembly into perfect true.
Each completed Harley is connected to a fuel line in a test chamber and run up to 60-mph on a dynamotor. This is done without putting fuel in the fuel tank. The customer will be the first one to put fuel in the tank.
By noon we were back in the motorhome and headed to our adventure. We parked the motorhome in the parking lot of an antique mall near the interstate and took the Saturn into Leavenworth, Kansas. We checked on the COE Park located under the bridge across the Missouri. This COE Park has a good campground that would be a good place to stay sometime. RV'ers take note of this campground located right on the river in downtown Leavenworth.
Leavenworth is also home to the oldest continuously operating Army Base west of the Mississippi. We were visiting Ft. Leavenworth because of their Frontier Army Museum. When Lewis & Clark passed this way they commented that it would be a good place for a fort. In 1827 Fort Leavenworth was established.
A visit to Ft Leavenworth is a good stop especially for military buffs. It contains monuments to the Buffalo Soldier and to the Berlin Wall. It is home to the Army's Command and General Staff College and a national cemetery. The housing on Ft Leavenworth is worth driving by Officer Housing is ANCIENT as in 1800s ancient. And to think that I thought Officer Housing on board Naval Air Station Pensacola was ancient. One home "the Rookery" is the oldest residence in Kansas.
For those of you that are not familiar with DOD and how money is appropriated those old houses "Officer Housing" is there because individual Base Commanders can pretty much do what they want to with Maintenance and Repair dollars so they keep "Maintaining" those old houses. DOD has not seen fit to allocate the funds to construct new Officer Housing. Ask me how I know. No don't that wasn't one of the more pleasant jobs I had while working my way toward retirement.
The Frontier Army Museum documents the Army presence and mission in opening the west. From protecting wagon trains to exploration of the frontier Ft. Leavenworth was the base of operations. Custer was sent out of Ft Leavenworth on his ill fated mission. The museum was a good one.
Next we headed to Weston State Park across the river from Ft. Leavenworth, Kansas into Missouri and just south of the small historic town of Weston. The park has a nice campground. RV'ers keep that campground in mind. Hiking seems to the main activity in the park. However, we stopped by because of the "overlook" described by Lewis & Clark. It was HOT when they passed through here. They had to rest frequently because of the heat. Clark also commented on the abundance of deer and turkey in the area. The overlook on a bluff overlooking the Missouri was worth the drive. We could see Ft Leavenworth across the river and a bit south of us. The old military jail and the building with the clock tower were plainly visible.
Weston was next on our schedule. Weston is a small historic town with numerous buildings dating to Civil War days. The main street is narrow and crowded with shoppes; you know those doodad places with cutsie stuff in them. I held my breath as we drove through the town without being directed to stop. Then it was time to turn around and drive back though. I held my breath again as we eased through the crowded streets. Again there was no order to "stop"! I don't know what happened but I slowly exhaled and we were on our way back to the motorhome. This was my lucky day.
Back in the motorhome we headed into St Joseph less than 30-miles up the river.
Not to let one accumulate moss gather we headed out to see St Joseph when we got the motorhome connected to essentials. It was too late to get into the National Pony Express Museum or Jesse James Home but we did visit River Front Park that runs for several miles along the Missouri. We drove many of St Joseph's Boulevards, something very unique for a town this size. Billed as one of the finest boulevard systems in the United States, St Joseph's Parkway ribbons through the city for 26-miles. Developed in 1918 by internationally known landscape architect George Burnap, St Joseph was one of the first cities in the United States to prepare and follow through with an imaginative and comprehensive parkway plan. The system includes a green belt from north to south in the city, which was placed on the National Register of Historic Places in 1995. The parkway is used for walking, jogging, biking and a touring attraction.
It is too bad that other cities do not have this green belt running the length of their city. To have one someone has to allocate a LOT of acreage to the green belt as it has several hundred yards of "green-way" on both sides of the extremely limited access boulevard. This boulevard or parkway almost divides the city into because only 1 in 10 streets that would normally intersect this parkway actually intersect it or have overpasses allowing access to the other side. You either live east or west of the boulevard if you live in St Joseph. Ritzy houses have yards that abut the boundary of this parkway but as you can imagine they are located some distance from the parkway itself and generally face another street.

Until next time remember how good life is.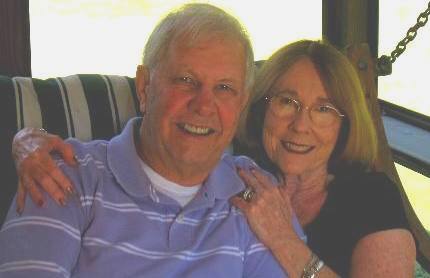 Mike & Joyce Hendrix who we are
We hope you liked this page. If you do you might be interested in some of our other Travel Adventures:
Mike & Joyce Hendrix's home page
Travel Adventures by Year ** Travel Adventures by State ** Plants ** Marine-Boats ** Geology ** Exciting Drives ** Cute Signs ** RV Subjects ** Miscellaneous Subjects
We would love to hear from you......just put "info" in the place of "FAKE" in this address: FAKE@travellogs.us
Until next time remember how good life is.