Places Visited:
Wednesday August 4, 2004 Campus RV-Park Independence, Missouri: N39° 5.287': W94° 25.410' $23.00 for full hookup 50amps (cable & onsite phone available)
The weather was so much more pleasant today. A thunderstorm passed through during the night and today was overcast all day. Temperatures barely got into the 80s if it got that hot. It was pure heaven compared to the mid-90s earlier in the week.
The cool weather gave us a chance to do one of the outdoor things we had been putting off and that was a visit to Ft Osage. So we headed to Ft Osage this morning. It is located about 15-miles east of Independence on the south bank of the Missouri River where it rests on a high point of ground in a bend of the River. During Lewis & Clark's journey west Clark had written in his journal that this place would make a good fort. Two short years after their return from this epic journey William Clark returned to this with Captain Eli B. Clemson and a group of soldiers where they erected Fort Osage in 1808. The fort was to serve several purposes. First and foremost, it functioned as an outpost in the newly acquired Louisiana Purchase, housing soldiers to guard the new territory and to protect the United States "Factory Trade House" there. Fort Osage also aided the American government in befriending the area's Osage Indians. Finally, the Fort offered Missouri's early settlers and explorers a sanctuary from which to venture westward.
Establishing trade with the Indians was a major role of the Fort. Under the direction of George Sibley, trade flourished at the Fort and relations with the Native Americans grew stronger. However, by 1822 private traders who resented the Fort's competition lobbied Congress to end the Factory System. The lobbying proved successful and because settlers pushed the frontier further west, both traders and soldiers abandoned the Fort by 1827.
According to the Osage Treaty of 1808, a blacksmith and blacksmith shop was provided by the U. S. Government to make and repair items for the Osage Nation. Examples of these items would include gun repair, tools, hardware and cooking utensils. At this point in our history we were being "good" to the Native Americans. Other blacksmith's operated around Fort Osage but one was there to make items for the Indians.
In the center of the Fort within feet of the flagpole was a "Disciplinary Post". Punishment, (enlisted personnel) most of it in the form of flogging (abolished in early 1812), was administered at the disciplinary post, commonly called the "whipping post". It is good to see a few things have changed in the military.
The Corps of Discovery also held Court-Martials and sentences of lashes were ordered for disciplinary purposes. Most Court-Martials are presided over and impaneled by officers. In the case of the Corps of Discovery, however, trials were conducted by the soldiers themselves, acting as a jury of peers, with either or both of the captains overseeing the proceedings. For them a usual court consisted of one sergeant and four privates, although the numbers sometimes varied. In some cases more than one man was tried.
In one instance three privates were tried for being absent without leave. Two were sentenced to "25-lashes on their bear backs" the third who plead guilty to additional offenses received 50-lashes.
Two of these same men were tried again the following month for getting drunk while one of them was on sentry duty. One was given 50 lashes while the one on Sentry duty received 100 lashes.
In July 1804 Private Alexander Willard committed the cardinal sin of falling asleep while on guard duty. This was a crime that could be punishable by death, and for that reason the court-martial was carried out by the captains alone. Willard pled guilty to lying down but not guilty to falling asleep. He was found guilty of both charges and sentenced to 100 lashes a day for four successive days.
To all this I say, I am thankful I was not in that Army!
Fort Osage was unique in that it had the "Factory Trade House". I do not know that I can adequately describe a "Factory Trade House" but it resembled a private enterprise. The Indians as well as frontiersman and trappers could bring in items to trade. Indians wanted guns, gunpowder and lead balls, cooking pots and other steel items. Everyone wanted food items like corn and flour, clothes, bedding and other things from civilization. What they traded as far as I know was furs but probably other items. There was a mechanical press in the Factory Trade House that would compress a pile of hides/furs into a remarkably compact package for storage and shipment back east.
There were several docents around the fort one was a specialist in plants and we got to talking. When we showed an interest in the names of some of the trees he volunteered to take us on a waking tour of the property where he pointed out a variety of trees and plants. We jumped at the chance to accompany someone who was proficient in his ability to identify trees. We knew the names of many of the trees but were not sure of others. As we walked around the grounds we became comfortable with identifying ash, elm, hackberry, walnut, locust, male and female mulberry and black cherry. Most of these we were familiar with but were just not absolutely sure of the identity. With his help and being able to view these trees under multiple situations helped immensely with our gaining confidence in our identification skills.
Mike in buckskin attire at the Factory Trade House at Fort Osage, Missouri
Inside the Factory Trade House the docent, Mike Duane, dressed me in buckskin attire and felt hat then handed me a musket so Joyce could take my picture for our grandson. It should be a neat picture and may appear on the web page.
Naked Lady, Pink Lady and Surprise Lily are just some of the names for this beautiful lily
We took the opportunity to ask Mike what the pink flowers, shaped like lilies, that Joyce and I had been seeing in flower beds were called. The flower is a delicate pink and shaped like a lily or amaryllis with a stalk that just appears overnight with no greenery apparent at the base. It is always in clumps of 5 to 8 stalks that just seem to burst out of the ground on stems or stalks about 18'-tall and like I said, from the road we can not observe any foliage. One person had already said she thought they were called surprise lily because they would just pop out of the ground one day. The docent laughed and said he knew them by the name naked lady or pink lady but some did call them surprise lily. I can see where all of the names would be appropriate. He said that they came from a bulb and would just pop out of the ground one hot summer day. They sure make a spectacular show of color wherever they pop up. Some gardeners have utilized them to pop up in the middle of other types of blooms where those blooms would be less than 12" high. As spectacular as they are they are dead and gone within a week.
Several of the docents told us about orchards and farmer's market type operations operating between Fort Osage and the town of Buckner. Always looking for something different we stopped at both of them. They were featuring apples, cider and peaches along with jumbo blue berries and giant blackberries. We tasted samples of the peaches and settled on some "white" and "loring". Those were the sweetest by far. We also ended up with fresh sweet corn, green beans, tomatoes and a huge cantaloupe.
We headed home to fix all these goodies and they sure were good.

Thursday August 5, 2004 Campus RV-Park Independence, Missouri: N39° 5.287': W94° 25.410' $23.00 for full hookup 50amps (cable & onsite phone available)
I spoke with my BIL Brother-in-Law this morning. He has fixed my computer and is FED-EX'ing it back to me. That is GOOD news but it will be even better when the computer is back in my possession.
Today was our day to tour President Truman's home here in Independence. It was an extremely interesting tour. It was interesting to see how a past president of the United States actually lived after leaving the White House. Truman's house, only a few blocks from Independence Square, was built by Truman's wife's maternal grandfather, George Potterfield Gates, who was a partner in the Waggoner-Gates Milling Company, the Milling Company that produced "Queen of the Pantry" brand flour. You will remember George Potterfield Gates, that mill and that brand of flour from one of our travelogues earlier in the week. When Truman married Bess he moved into the house with Bess and her Mother, Bess's father was deceased, as were the grandparents.
Truman was NOT a college graduate but by age 14 he had read all the books in the Independence public library. In his early years Truman was a failure at business and farming. It was not until his political career that he hit his stride. At age 50 Truman was elected to U.S. Senate where he served for 10-years. Then in 1944 he was elected vice president of the U.S. with FDR who was in his fourth Presidential term. Truman became the U.S.'s 33rd President upon FDR's death and within a month is able to announce the end of war in Europe. Later in 1944 he authorizes the use of atomic bombs, which led to Japan's surrender in August of 1944.
The business and farming failure had finally hit his stride.
After another term as President Truman and Bess returned to their home in Independence. Back then Presidents didn't retire with huge pensions or secret service protection.
Back in Independence the Truman family was not flush with money. The house was adequate nothing more. They lived a simple life. Appliances were not replaced until absolutely necessary. Kitchen linoleum had holes worn through with nails holding down the edges. His daughter's piano was in the living room as was the TV. The docent told us that the TV was a gift but no one watched it. The docent pointed out that the TV was facing the back end of the piano where no one could see it much less sit in a chair and see it. The docent was pointing this out to make the point that the Truman family were avid readers and shunned television.
After the Truman House we decided to take in the Visitors Center for the Church of Jesus Christ of Latter Day Saints. This was certainly an informative visit. We were assigned to an intelligent young lady that was to be our guide. She led us through a series of well-prepared narrated indoctrinations professionally presented in special rooms with full-wall murals and special lights that told the spiritual background of the Church of Latter Day Saints. We paid attention to all of these carefully crafted presentations until we got to a point where I could ask questions and to my surprise this young lady sat down was able to provide answers.
From what this "church" representative tells me the docent from the other day had things mixed up a bit.
We were visiting the Visitors Center for the Church of Jesus Christ of Latter Day Saints. They are the "original" Mormons who after an extremely rough time in Missouri finally migrated to the area around the Great Salt Lake.
The Church of Jesus Christ of Latter Day Saints is headquartered in Salt Lake City, Utah.
Across the street from this Visitor's Center is the Community of Christ Temple. It is the one that I described earlier as having the large round sanctuary at the base then a funky offset glass & stainless steel spiral reaching high into the sky.
"Temple or "Community of Christ" a breakaway group from the original Church of Jesus Christ of Latter Day Saints in Independence, Missouri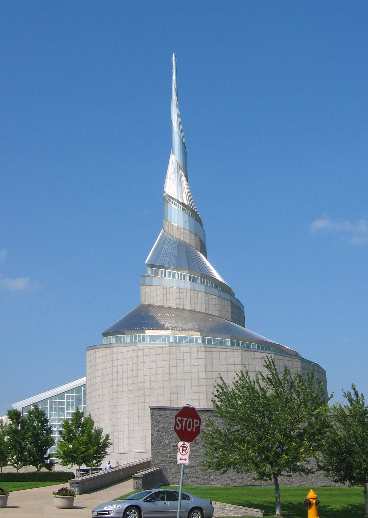 Notice that the "Temple" is the "Community of Christ" who happens to be a "breakaway" group from the original Church of Jesus Christ of Latter Day Saints". They broke away in 1844 and 1845 and finally formed the Reorganized Church of Latter Day Saints in 1860. Then in April of 2001 they changed their name to "Community of Christ".
Another "breakaway" group also had a building near here and she said they were something like "Church of Christ" but not the Church of Christ we are familiar with.
These folks don't call themselves Mormons but do respond to that designation.
I suppose they all come from the same group of original "Mormons", so I can see where the local population just calls them Mormons and don't try to distinguish between the variations.
I asked the young lady about Jesus coming back and the young lady calmly said that the original Church of Latter Day Saints believed that Jesus would return to "Jackson County" not in any particular spot in Jackson County. It seems that in 1831 one of the Church leaders received a revelation from God that Jackson County, Missouri was Zion or something to that effect. Anyway, the Mormons started moving into the county and purchasing land whenever possible. As more and more of them arrived it was apparent that they would shortly have a majority in the political arena. Blacks were not allowed to vote back in the 1830 but it would be difficult to keep these Mormons from voting since they were white. It would be difficult if not impossible to keep them from voting just because they were from "New York" or "the North" and ate boiled food instead of fried food. So the locals resorted to violence to drive them out of Jackson County.
They settled in another county, Clay County, north of Jackson then were forced out of Jackson then in 1838 then Governor Lillburn W. Boggs issued an "Extermination Order"-------The Mormons must be treated as enemies, and must be exterminated or driven from the State if necessary…This order was sent to Headquarters of the Militia and signed by Boggs, "Com. in Chief"
With this order the Missouri Militia eliminated the Mormon presence in Missouri. The Mormons fled north into Iowa and east into Illinois.
Amazingly, this Executive order stayed in effect from October 27, 1838 until June 25th of 1976 when then Missouri Governor Christopher S. Bond rescinded it.
Here is the entire Executive Order rescinding that original "Extermination Order":
On official Stationary complete with the seal of the great State of Missouri.
From: Christopher S. Bond Governor
EXECUTIVE ORDER
WHEREAS, on October 27, 1838, the Governor of the State of Missouri, Lilburn W. Boggs, issued an order calling for the extermination or expulsion of Mormons from the State of Missouri; and
WHEREAS, Governor Boggs' order clearly contravened the rights to life, liberty, property and religious freedom as guaranteed by the Constitution of the United States, as well as the Constitution of the State of Missouri; and
WHEREAS, in this Bicentennial year as we reflect on our nation's heritage, the exercise of religious freedom is without question one of the basic tenets of our free democratic republic;
NOW, THEREFORE, I, CHRISTOPHER S. BOND, Governor of the State of Missouri, by virtue of the authority vested in me by the Constitution and the laws of the State of Missouri, do hereby order as follows:
Expressing on behalf of all Missourians our deep regret for the injustice and undue suffering which was caused by this 1838 order, I hereby rescind Executive Order Number 44 dated October 27, 1838, issued by Governor Lilburn W. Boggs.
IN WITNESS WHEREOF: I have hereunto set my hand and caused to be affixed the great seal of the State of Missouri in the City of Jefferson on this 25th day of June, 1976.
Christopher S. Bond
GOVERNOR
ATTEST
James ??????????????
SECRETARY OF STATE
Looking back on what was going on in this corner of Missouri in the mid-1800s it is ironic that this bunch that trampled on the rights of the Mormon's in the 1830s were on the receiving end of this same type treatment when the Union General arrived and issued that infamous Order No. 11 that drove all them off their land, and burned their homes. Remember how they squalled when "what they were so good at" was turned against them. They squalled that it wasn't right… it wasn't just. All those things they were blinded to when they were the perpatators driving out the Mormons. Isn't it amazing how the position of bully changed in a mere 25 short years?
That reminds me of the story a friend (Jimmy Johnson) used to tell about "Rover can dish it out but Rover can't take it". I am sure some of you are familiar with that story about Rover.
Until next time remember how good life is.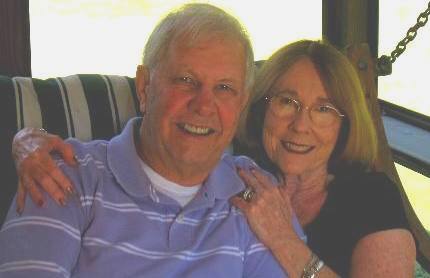 Mike & Joyce Hendrix who we are
We hope you liked this page. If you do you might be interested in some of our other Travel Adventures:
Mike & Joyce Hendrix's home page
Travel Adventures by Year ** Travel Adventures by State ** Plants ** Marine-Boats ** Geology ** Exciting Drives ** Cute Signs ** RV Subjects ** Miscellaneous Subjects
We would love to hear from you......just put "info" in the place of "FAKE" in this address: FAKE@travellogs.us
Until next time remember how good life is.